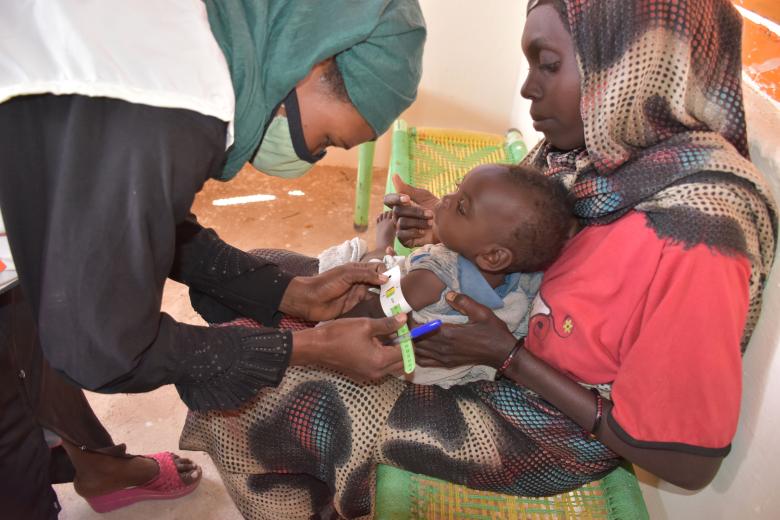 World Vision helps increase access to health and nutrition services for vulnerable populations
Thursday, April 1, 2021
My name is Sojoud, Elgarrai, I am fairly new to World Vision.
Recently, I had the opportunity to visit Otash camp for Internally displaced persons (IDPs) in South Darfur, for the first time. Here, I saw firsthand, World Vision's contribution to improve the well-being of children and their communities.  
Inside the Otash camp, a clinic operated by World Vision with funding from the European Union Humanitarian Aid (ECHO) was teeming with mostly mothers (and their children), who had come to seek healthcare services.
Thousands of IDPs, refugees and the host community members, flock into this clinic to receive essential services, offered for free. The services range from: free consultation with the medical doctor, routine check-ups, vaccination, antenatal care, free medicines, access to laboratory, and therapeutic feeding programmes for children severely and moderately ill due to malnutrition.
What a relief for the residents, I thought, because it must be tough trying to meet all the other competing needs in their household, especially when you don't have decent income, or any at all.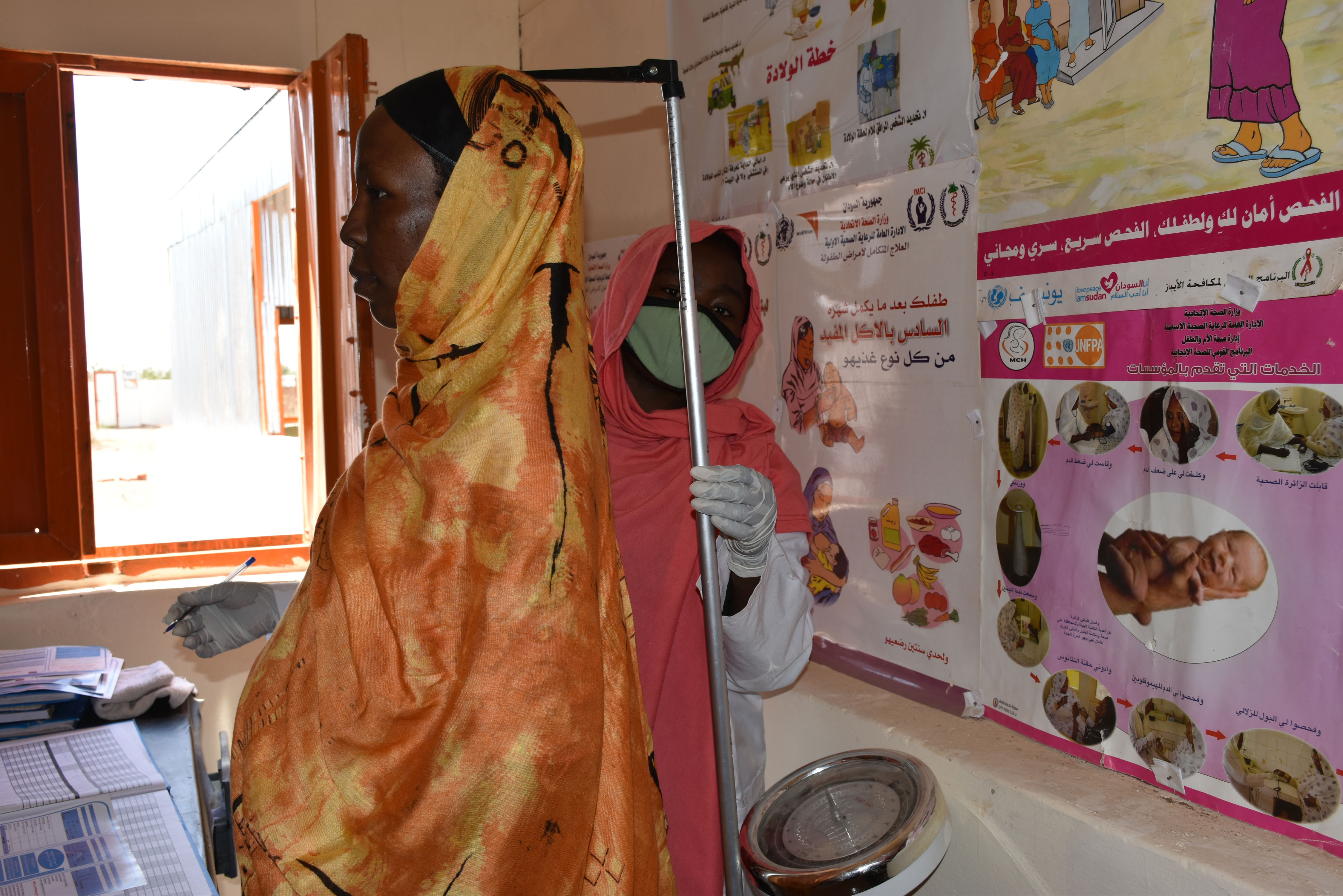 At the clinic, I witnessed children under five years old receiving their shots of vaccination. This guarantees their protection against life-threatening childhood illnesses. World Vision is also at the forefront of mass immunisation campaigns for children.
In another section of the clinic, expectant mothers were being attended to by Aisha, a skilled midwife, with over 20 years of experience. She was nurturing as she dealt with the mothers, one after the other. These mothers are so lucky to be in the care of someone as experienced and filled with empathy, I thought to myself.
Aisha told me that, monthly she cared for and assisted at least 90 women to deliver at the health facility.
It is important that women have access to skilled birth attendants, she noted. "When pregnant mothers come for regular visits, I am able to monitor them during different times of their pregnancies to make sure they are well cared for, prescribing their prenatal vitamins, and in general to make sure the pregnancy is progressing well," she explained.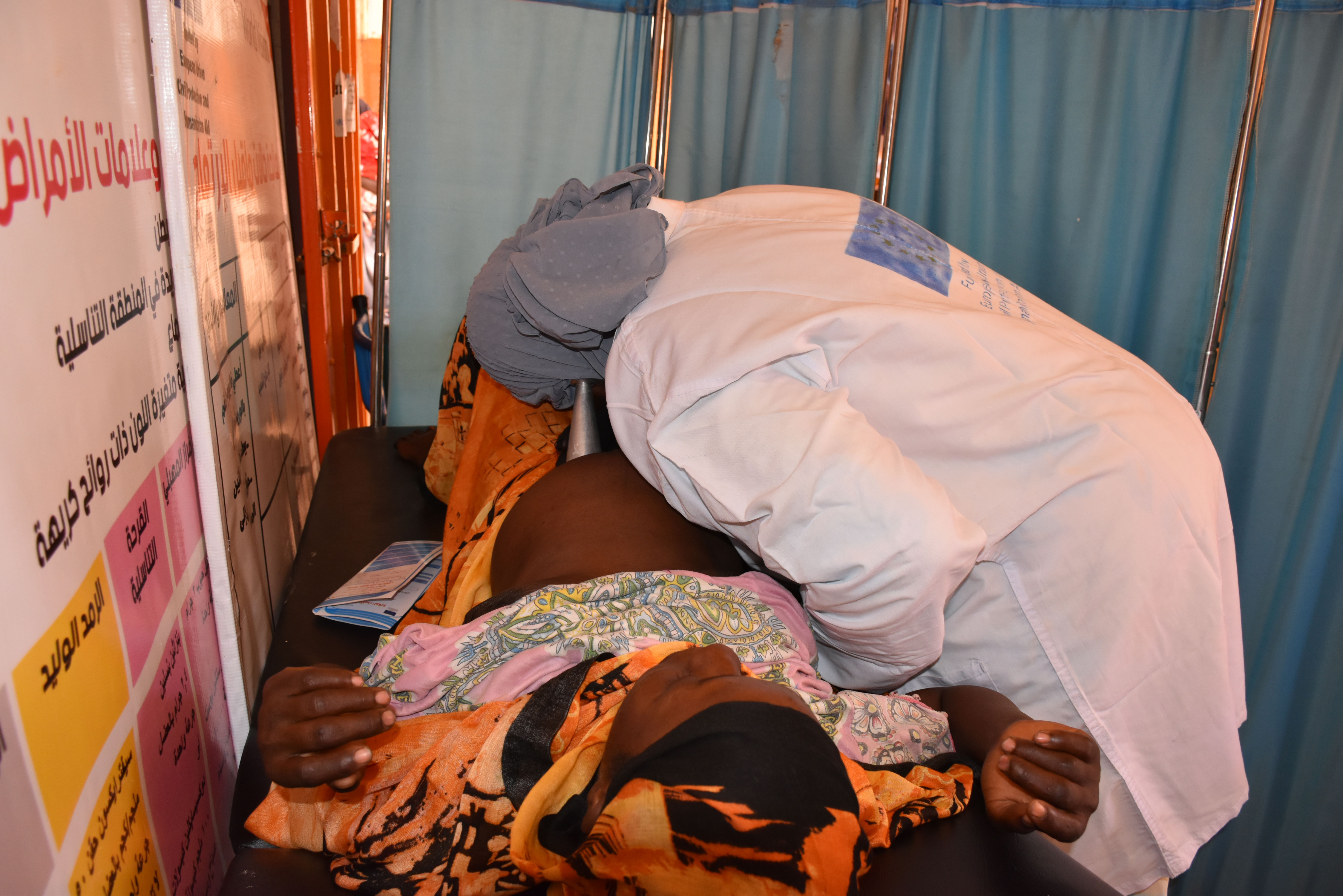 Khadiga is one of the tens of mothers who had been waiting at the reception for their turn to see the midwife. In her third trimester now, she was visiting for her routine check-up and also to get her vitamins and iron supplements.
She was grateful to be able to access essential antenatal care and supplies for free here, she shared, adding that she visited the clinic regularly, and that her two children had been vaccinated in this same clinic. Now, she was expecting her third child.
At this clinic, mothers like Khadiga have access to antenatal care services and experts such as Aisha to advise them on how to take care of themselves during their pregnancy.
Here, expectant mothers are sensitised on the importance of antenatal care, and they also take it upon themselves to spread this awareness back in their communities, encouraging other mothers to take advantage of these pre-birth services, for their well-being and that of their children.
In 2020, at least 8,900 pregnant women delivered under the care of skilled midwives, at World Vision operated health facilities. Once the mothers give birth, there are follow-ups to ensure mothers and their children continue to be well cared for.
Addressing the threat of malnutrition
The clinic also has a nutrition section where children admitted with malnutrition or related complications are treated and cared for until they regain their weight and health.
World Vision is partnering with mothers and caregivers to promote other nutrition approaches, as preventive measures to address child malnutrition. Some of these are educating mothers and caregivers on hygiene when handling food, good nutrition, improving drinking water sources, and promotion of good sanitation and hygiene; things often attributed as contributing to malnutrition.
Malnutrition is life threatening, especially for children under the age of five. An estimated 3 million children under five, are reported to be suffering from acute malnutrition, 570,000, of which have severe acute malnutrition (SAM), according to the Sudan Humanitarian Needs Overview report for 2021. Seeing such programmes geared towards addressing the threat of malnutrition, gave me some sense of relief and hope for vulnerable children.
Altogether, World Vision operates 10 such clinics and 11 nutrition programmes in South Darfur.
Ensuring continuity of essential services while responding to COVID-19
With the continuing threat of COVID-19, World Vision has intensified efforts to sensitise people. Clinics such as these are also information centres, a lot of awareness creation happens. As I looked around, there were information posters everywhere with COVID-19 preventive messages. World Vision has also supported to ensure there are isolation centres, provided personal protective equipment, and trained health staff on COVID-19 infection, prevention and control, for staff to be better equipped to handle coronavirus-related cases.  
More about the EU Humanitarian Aid funded project in South Darfur
According to World Vision's Eissa Khadad, ECHO project coordinator, the project's interventions are in health and nutrition, water, sanitation and hygiene (WASH), and cash and voucher-based assistance, with protection mainstreamed in all of these.
The project targets internally displaced persons, refugees and host communities and its main objective is to contribute to the reduction in disease and death, as well as address the needs resulting from new displacements, such as food insecurity.
The implementation of the project is also made possible with support from World Vision Germany and in partnership with national NGO partners- National Humanitarian Aid Organization (NAHA) and National Initiative for Development Organization (NIDO). Since April 2019, an estimated 346,000 people have been reached, through the nearly €6 million euros budget project, that ends in March 2022.
Sojoud, Elgarrai, is a communications officer with World Vision Sudan, based in Khartoum. Editing by Lucy Murunga
To learn more about World Vision's programmes in health and nutrition, click here.