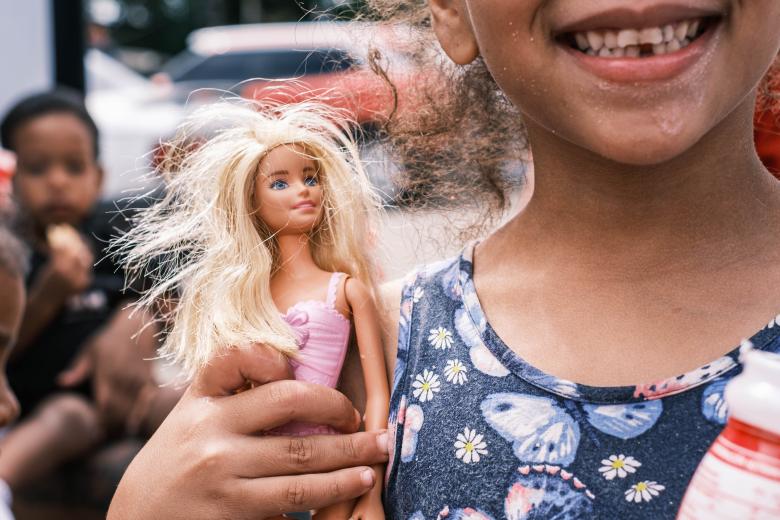 A birthday without celebrations: The resilience of migrant children
Wednesday, October 11, 2023
No baby should have to leave home at four months of age.
No child should celebrate her birthday while crossing the dangerous Darien jungle.
Six-year-old Amber did.
Her mother, Guadalupe, was one of the victims of Venezuela's food crisis that began in 2016.
In early 2017, she and her family decided that more than seven million Venezuelans had made to leave their country in search of better opportunities.
For almost five years, they lived in Colombia. They were struggling to find stability amid uncertainty. However, seeing that they did not have access to certain services vital for their family's development, they decided to undertake a second trip in July 2023.
While crossing the Darien jungle, one of the most dangerous stretches of the route, Guadalupe and her family were victims of criminal groups threatening the integrity of thousands of migrants crossing from Colombia to Panama. 
Amid the difficult circumstances, Amber's sixth birthday arrived, and although they could not get out of the jungle, she was looking forward to celebrating with a cake. Their arrival in Panama allowed them to receive humanitarian assistance and medical attention. In Amber's case, she received a cake and a doll she named Escarlata. Since then, they have been inseparable, crossing together Panama, Costa Rica, Nicaragua, and now Honduras.
Despite the fatigue, skin diseases, hunger, and all the obstacles that have come their way, Amber is the one who motivates her family to keep going.
"Come on, mommy, we're going to make it," the little girl says repeatedly to Guadalupe. After all, their feet may get tired, but never their souls.
Beyond thinking about a specific country, they dream of feeling safe and full of hope in a place they expect to be able to call home very soon.
Written by Catherine Turcios, Communications Coordinator at World Vision Honduras.
_________________________________________________________________________________________________________________________________________
Amber and her family are among the more than 32,000 people served by the Mobile Information Service (SIM) as part of World Vision's Multi-Country Response to the Migrant Crisis. The centers have been established at seven border points in Honduras as part of a partnership between World Vision Honduras and UNHCR. The SIM provides migrants in transit with information in Spanish, English, and Creole related to the context, migrant rights in Honduran territory, migration processes, and internet access and refers protection cases to the competent authorities.