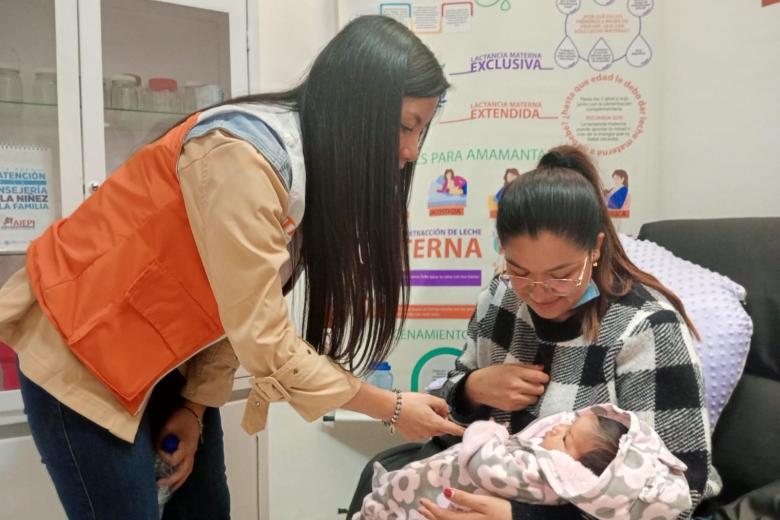 BREASTFEEDING TO SAVE LIVES
Wednesday, September 27, 2023
VenEsperanza program, implemented by the humanitarian organization World Vision Colombia, aims to promote, facilitate, and contribute to breastfeeding in a safe and equipped space to support pregnant and lactating mothers in vulnerable conditions.
With the support of USAID's Bureau of Humanitarian Assistance and World Vision, a breastfeeding space was established in the municipality of Suesca, Cundinamarca, located in the central region of Colombia. The objective is to raise awareness among mothers and caregivers about the importance of breastfeeding infants in their early months of life.
During the inauguration, the Municipal Government, the Municipal Secretary of Social Development, the management and research team of the Municipal ESE, and the legal and assistance team of the Municipal ESE, all participated. They will promote this space to encourage the healthy growth and development of mothers and their children, including complementary feeding for up to two years postnatally.
These spaces are crucial in vulnerable communities because optimal breastfeeding in children under two years of age has more impact on survival than any other preventive intervention. Moreover, in developing countries, nearly 1.4 million deaths in children under five and 20,000 annual deaths in women due to breast cancer could be avoided.
Migrant, returnee, and host populations
The breastfeeding space in Suesca has been identified as a pressing need, especially for the migrant, refugee, and host population in this municipality. They do not have the resources or necessary documentation to access health services, including breastfeeding.
Therefore, as part of the comprehensive response of the VenEsperanza program, these spaces are set up with all the tools and elements necessary for mothers, fathers, and caregivers to receive advice on complementary feeding, accompanied by nutritional screenings for mothers and children under five. In addition, they are provided with recommendations for healthy and seasonal foods to support the families' economy.
In addition to these training sessions, to help mothers follow the recommendations for feeding and breastfeeding, it is expected to provide some maternity kits to complement the awareness campaigns.
VenEsperanza is a program that provides humanitarian assistance to Venezuelan migrants and refugees, returning Colombians, and host communities in Colombia. This is a free program made possible thanks to the support of USAID / Bureau of Humanitarian Assistance, in collaboration with humanitarian organizations: International Rescue Committee, Mercy Corps, Save the Children, and World Vision, in support of the humanitarian response of the National Government of Colombia.
Written by: Bárbara Melo, Coordinator of Communications at World Vision Colombia