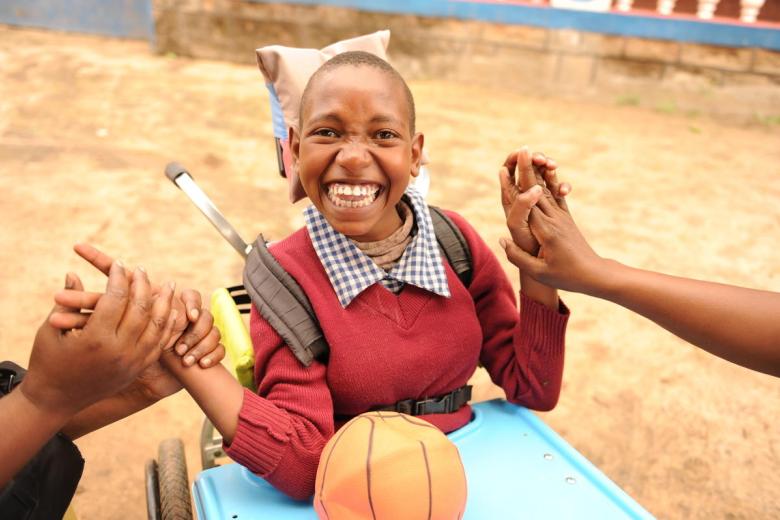 Finnish Presidency has disability inclusion high on its agenda and so does World Vision Finland!
Friday, December 6, 2019
World Vision talks disability inclusion to EU Member States
In October 2019, Miikka Niskanen, Head of Humanitarian Aid and Grants at World Vision Finland, was invited by the Finnish Representation to the EU to present World Vision's work on disability inclusion to the Council working party on Humanitarian Aid and Food Aid (COHAFA). As part of their Presidency of the EU, the Finnish representatives in Brussels were keen to showcase how to include people with disabilities. This also included within humanitarian contexts, which explored how it can be done and the promotion of projects funded for that particular purpose.
Over 30 people attended Miikka's presentation, representing at least 25 EU Member States. He gave the EU and its Member States solid advice about addressing negative thinking towards disability and inclusion. As the topic was quite new for many of the participants, several representatives raised question, which made for a fruitful discussion on how to improve disability inclusion in humanitarian settings.
Typically, there are three main perceptions about disability inclusion: 1) it is expensive; 2) many are not specialists; and 3) it is a heavy burden. However, Miikka explained that being inclusive is not expensive if it is "thought-through" from the beginning. By including disability at an early stage, during the design phase of a project, and if done properly, it is not expensive. What is costly is repairing what was not thought-through beforehand!
Further, there is no need to be an "expert" on disability inclusion, but by collaborating with Disabled People's Organisations (DPOs), especially at the local level, you can gain the expertise needed for successful disability inclusion. For humanitarian workers, working on disability inclusion can be extremely rewarding. Individuals with disabilities are often kept hidden throughout their lives and when they are finally enabled to come out, they feel empowered with a renewed sense of dignity.
Since 2014, The Finnish government has been prioritising WASH (Water, Sustainability and Hygiene) disability and livelihood opportunities for host communities and refugees across its humanitarian and development programmes. The promising engagement between World Vision and the Finnish Government helped to strengthen relationships and ongoing engagement as well as ensuring World Vision's recommendations to EU and its Member States break the negative thinking of disability inclusion.