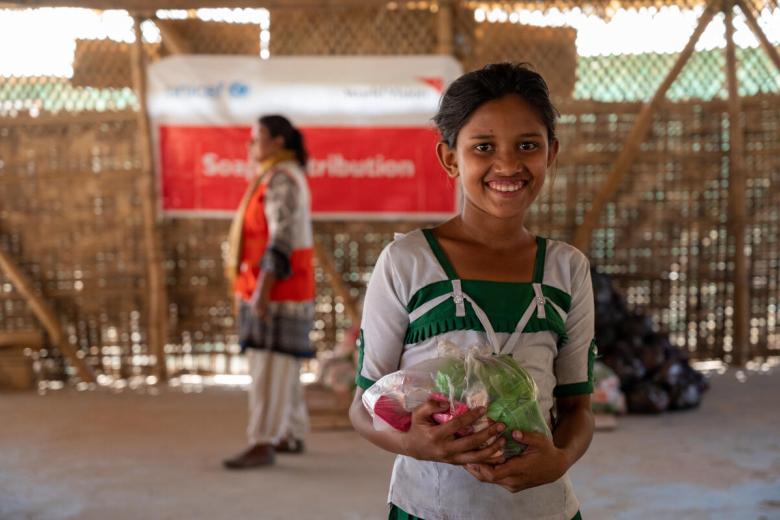 Building awareness and helping prevent COVID-19 in the Rohingya refugee camps
Sunday, April 5, 2020
Rohingya families living in the world's largest refugee camp in southern Bangladesh are concerned about the COVID-19 pandemic. Parents want to keep their children safe from the deadly virus. But extreme over population in the camp's small area, inadequate knowledge about prevention and limited access to medical facilities make the refugees especially vulnerable to the virus.
Refugees have mixed information about the virus, according to a recent report produced by BBC Media Action. [1] Men from both the Rohingya and host community said that they thought the coronavirus could be spread through the air, by sneezing, coughing and touching. Women mentioned that they thought a person could contract the virus by touching someone who was already infected, or through the air. Women also believed that the virus could be spread by talking to or meeting a person who had Coronavirus.
We learned that we have to keep distance between community people, avoid gathering, stay at home ... But, we don't have enough space to keep distance from one another in the camp, so it is now a big challenge for us to stay safe.
"We heard about the fever. It's a dangerous virus (COVID-19). Symptom of the virus are fever, cough, headache and asthma," says Hasina, 30, a mother of three children. "We learned that we have to keep distance between community people, avoid gathering, stay at home, wear a mask and wash your hands regularly. Everyone is being asked not to go out from home, not to go to the crowd. But we have to go for food or some distribution where there many people gather together. We don't have enough space to keep distance from one another in the camp, so it is now a big challenge for us to stay safe."
Hasina's neighbour Ayas, 29, a father of two children, is also concerned about his family members and his business. "I know about Coronavirus. It's dangerous and deadly to humans," he says. "We are really in problem because we live in an over-populated camp. Moreover, I am running a grocery shop in the camp. I have to close down my shop to protect myself, my family and community."
Ayas adds, "I have heard that if we stay clean then the risk will be less. We know how to wash our hands properly through World Vision's hygiene promotion activity in our block, and we follow the instructions that we received. In our block, the majhi circulated information through a community announcement in the mosque."
Following the World Health Organization's declaration of COVID-19 as a global pandemic, World Vision immediately declared a global health emergency response. In Cox's Bazar, World Vision staff are working on the ground to help Rohingya refugees to protect themselves. They are disseminating prevention messaging during community meetings in the camps and host communities in World Vision's community cooking and learning centres, learning centres for children and adolescents, voucher distribution points, e-voucher shops and general food distribution points, nutrition feeding centres, women's safe spaces and cash-for-work activities. Messaging includes information about frequent handwashing, social distancing, advising elderly refugees to stay indoors as much as possible and other recommended actions.
In partnership with UNICEF, World Vision distributed soap to Rohingya refugees to help prevent COVID-19. Each family receives 10 pieces of bath soap (100 grams per piece) and five bars of laundry soap (130 grams per piece) each month for washing hands, bathing and washing clothes.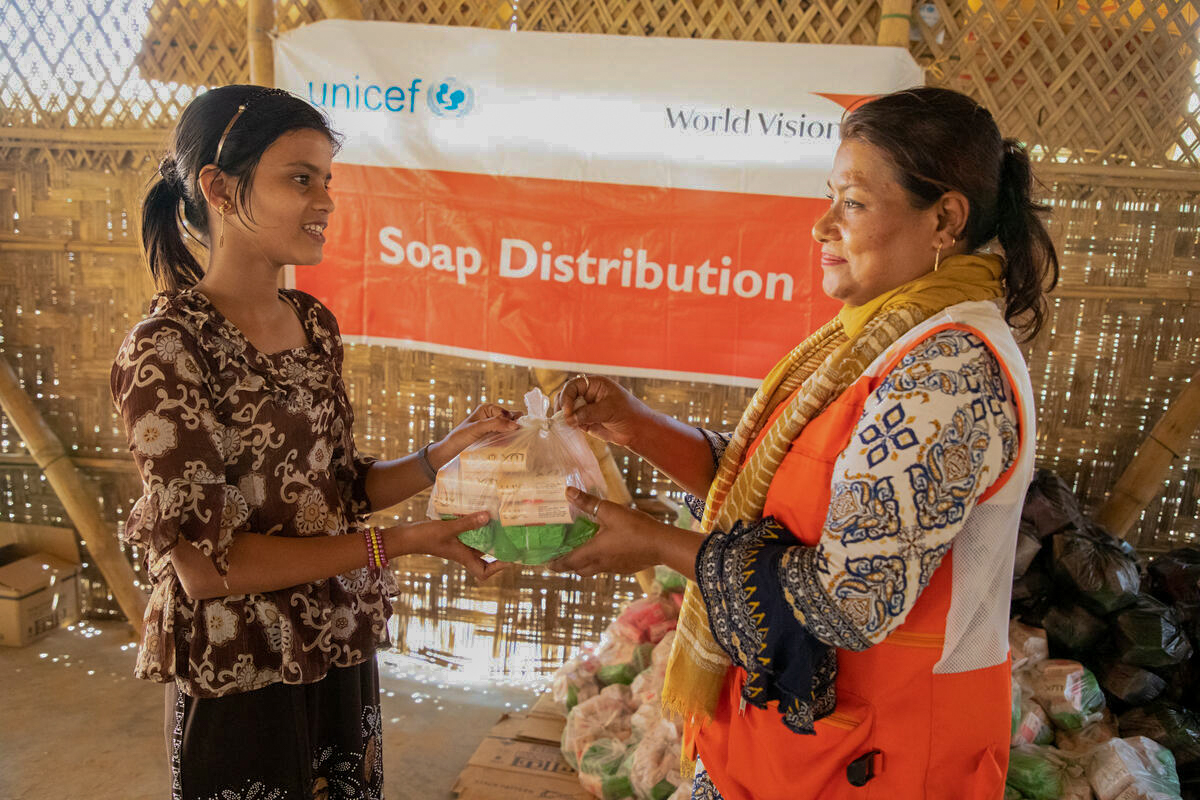 Since June 2019, World Vision has distributed 264,975 pieces of soap to 17,665 families (88,325 refugees).
"We're providing bath soap to help keep children and family members clean and safe during the COVID-19 crisis," says Shahin Ara Chowdhury, World Vision's distribution team leader who has served in the camps for more almost three years.
World Vision's staff members have been raising awareness about proper handwashing since the beginning of the response in 2017 through our learning centres for children and many other programmes in the camps.
To reinforce hygiene practice, handwashing stations equipped with soap and water have been set up in all our field distribution points and camp facilities, including WFP food assistance points, women's safe spaces, learning centres and multi-purpose centres.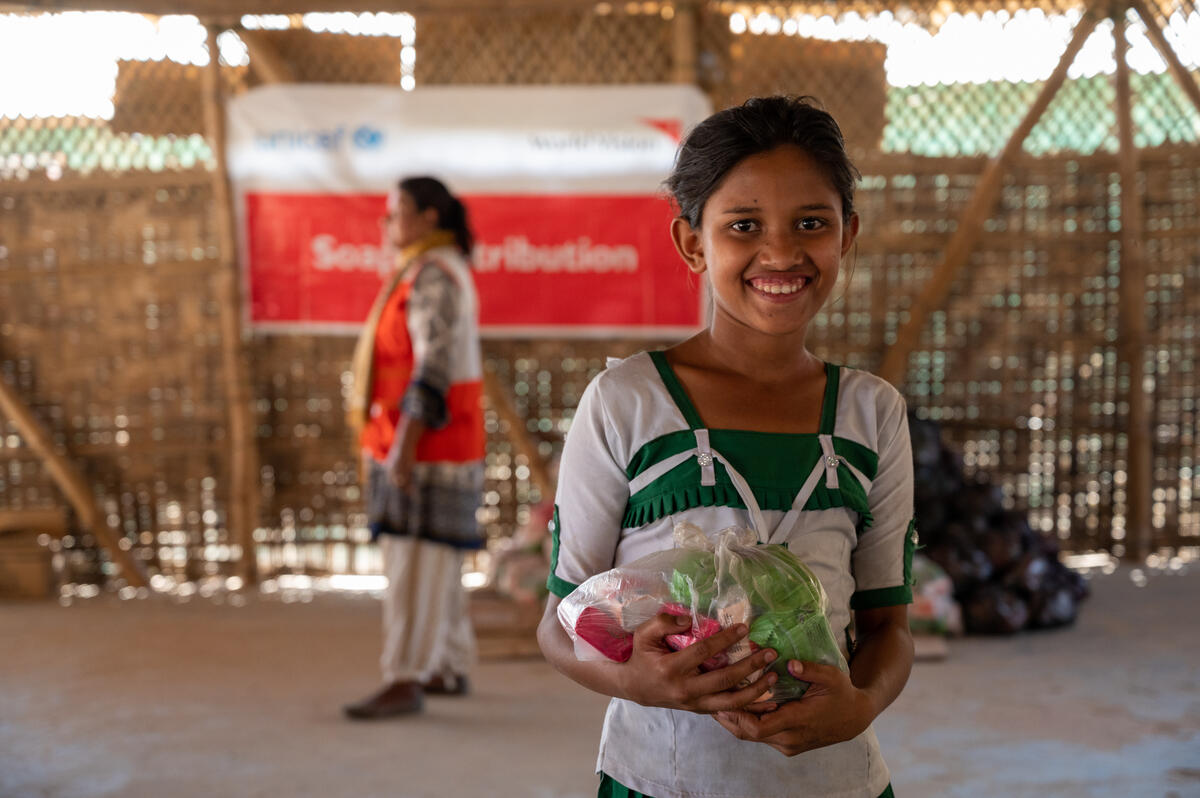 "We will wash our clothes, take baths and wash our hands with the soap," says Nurankis, an 11-year-old girl, whose family received received soap. She learned about hand washing at one of World Vision's 12 learning centres for children. "People can die if infected by the Coronavirus. I have to put on sandals when I use the latrine and then wash my hands with soap. I need to avoid dirty places, crowds and going outside unnecessarily," says Nurankis.
To save lives, World Vision will continue working with local leaders, including imams, majhis and leading women, with whom we already partner regularly on community engagement.
Story: Himaloy Joseph Mree
[1] WHAT MATTERS? Humanitarian Feedback Bulletin on Rohingya Response