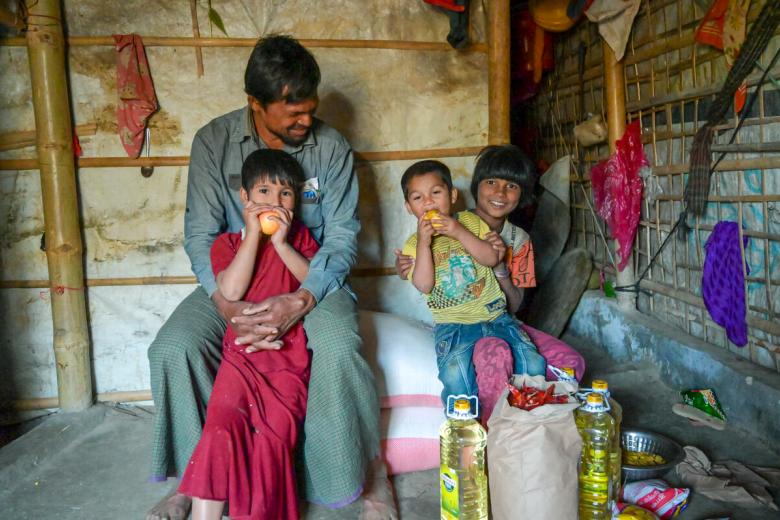 Providing dietary diversity to Rohingya refugees through e-vouchers
Thursday, March 19, 2020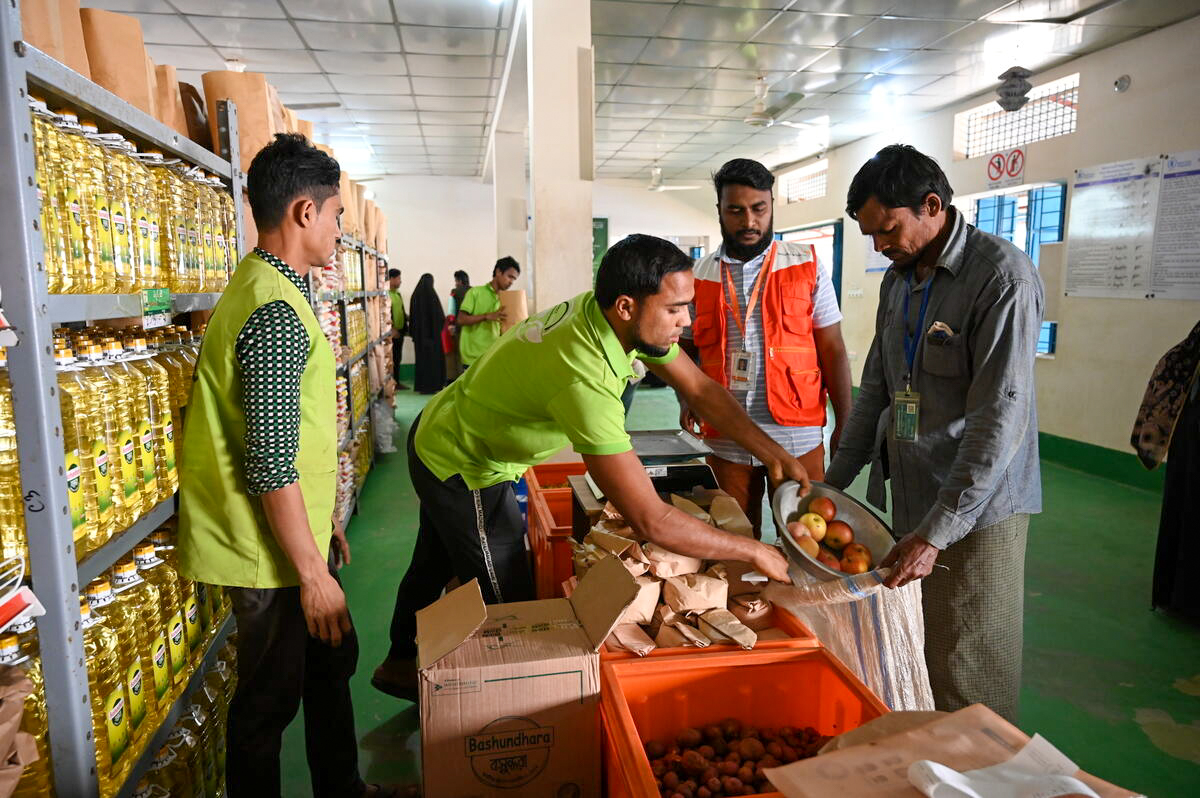 Najir, 42, carefully picks through the bushel, selecting a kilogram of perfectly shaped, unbruised apples for his seven children. Apples and other fresh fruit are a rare treat for Rohingya families living here in the world's largest refugee camp in Cox's Bazar, Bangladesh—home to 1 million Rohingya Muslims from Myanmar.
Najir enjoys choosing food for his family at the large e-voucher store run by the World Food Programme (WFP) in partnership with World Vision. Since the store opened last year, he shops regularly for basic supplies like rice and sugar, along with fresh fruit, vegetables, and live fish and chickens. His family's diet is more diversified and more nutritious.
Like all 1 million Rohingya refugees, Najir and his family rely on humanitarian food assistance from the WFP. They are not permitted to work and have no land on which to grow their own food.
Previously, all refugees were required to queue up for monthly monotonous but life-sustaining rations of rice, lentils and oil.
"Before my family had no choice over what we ate," Najir says.
Najir's wife, Somsida, 37, recalls how difficult was to eat the same food constantly. "Every day it was the same rice with lentils," she says. "My children wanted to eat fish and meat. We had none. We even could not even afford vegetables."
Quantity was also an issue. "The amount of rice we received was not enough for us for the month," says Najir. "We had to borrow from our neighbours and pay back the next month." Some refugees sold some of their rice to buy vegetables, fish and eggs to balance their diets.
To address this problem, WFP runs 14 e-voucher outlets in the camps serving more than 400,000 refugees, including four run by World Vision. Najir is one of the 223,805 refugees (44,761 families) from 10 camps who can shop at one of the four outlets run by World Vision. Each family receives a food assistance card loaded with 840 taka (USD10) per family member per month. Refugees can select from a wide choice of food items.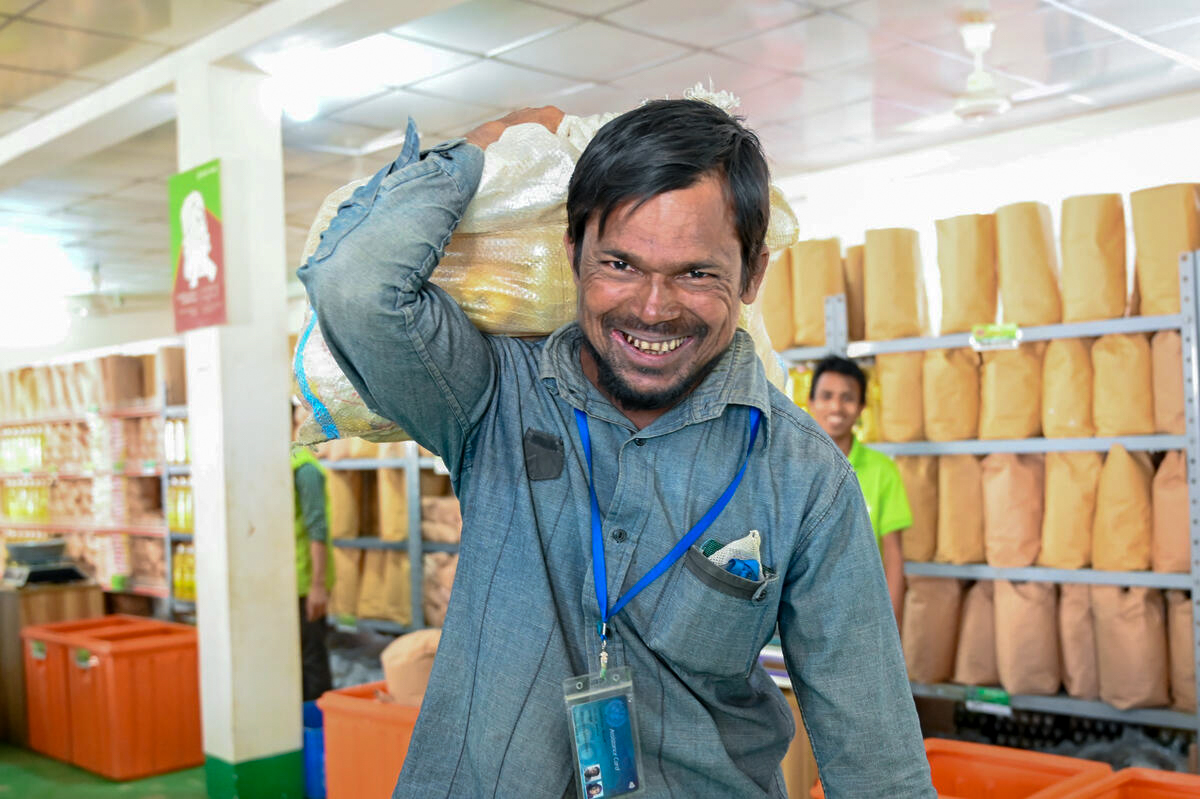 Najir's card allows him to shop at one of 14 WFP stores in the camps, choosing from 20 fresh food items, including fish, chickens, fresh fruit and vegetables, dried fish, eggs, salt, spices and sugar.
World Vision works with WFP to provide life-saving food and nutrition assistance to refugee families. We support the innovative e-voucher programme that gives refugees more choice, dignity and dietary diversity—while also strengthening local markets.
The e-voucher stores are open five days a week from 9:00 a.m. to 4:00 p.m. Najir no longer needs to queue all day with thousands of others at centralized distribution points to collect food. He can shop when he wants for what he wants.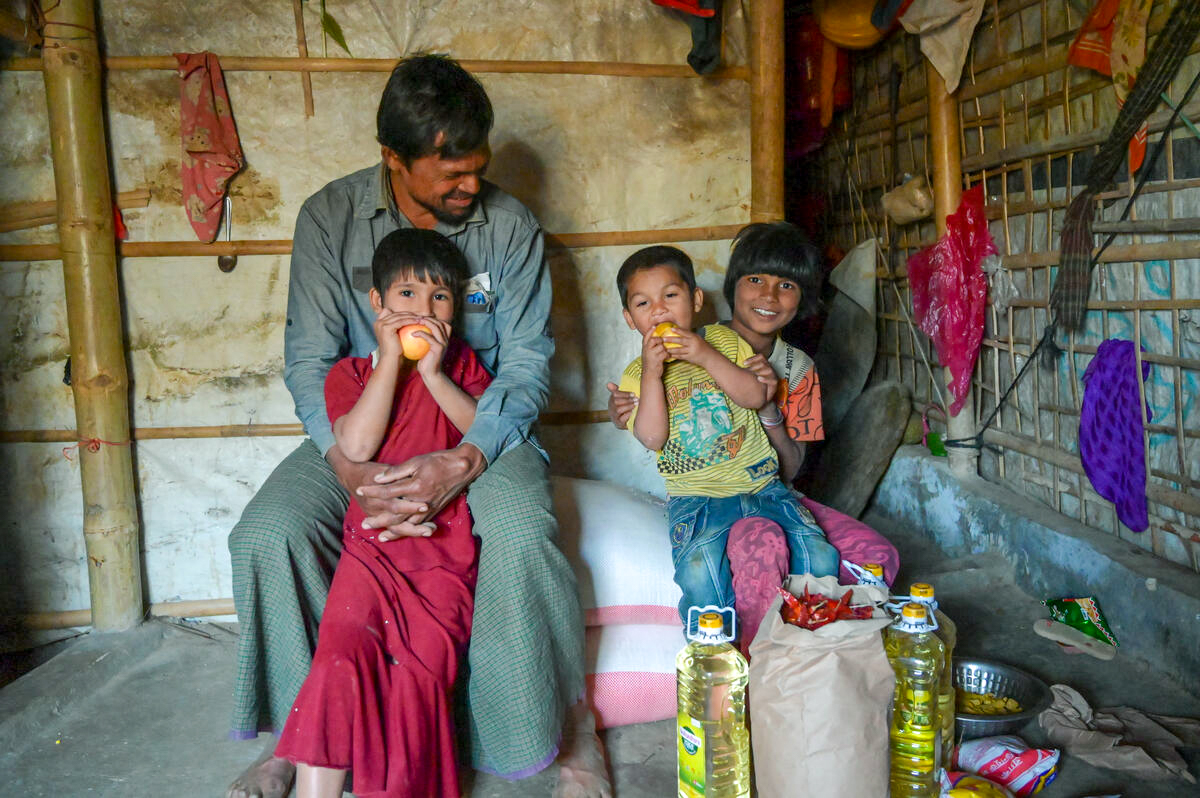 "Now using my e-voucher card, we can buy enough rice and other items from the shop," says Najir. "My children like apples. Every time I go to the shop, I make sure I keep enough money on the card to buy some for them. When I see them eating apples and smiling, I feel peace."
World Vision plays a critical role in managing the e-voucher shops, in partnership with WFP. Staff members go door-to-door in the camps to inform refugees about the new system and register them. They also handle any complaints or concerns, such as lost cards, and work with vendors to ensure that every shopper's food is accurately measured, weighed and properly debited from the e-voucher card.
"The e-voucher programme is a very effective way to ensure that refugees have more choice over the food they eat, while supporting their dignity and dietary diversity," says Geoffrey Ocen Kotchwer, World Vision's food assistance manager.
"Our staff are trained to explain clearly how the system works and help ensure that all people who come to the shop are treated respectfully," says Geoffrey.
World Vision also provides porters who carry heavy sacks of food home for single mothers, the elderly and disabled refugees. World Vision help extremely vulnerable people, including those with physical disabilities and special needs, to get their food from the store to their shelter. Last year (February-December 2019), we assisted almost 1,000 vulnerable people.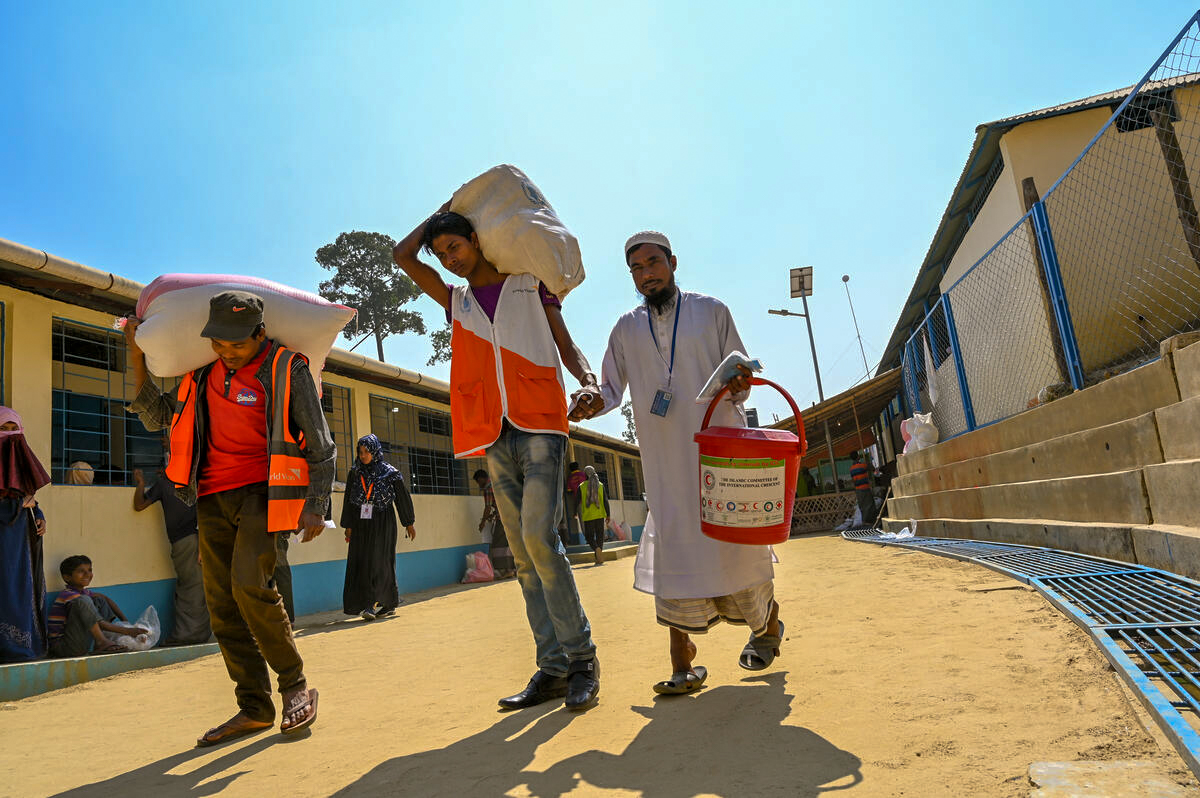 "World Vision staff help me whenever I go to collect my food in the store," says Khaled, 38, a person living with a disability. "They assigns a porter who carries my food to my shelter. Otherwise it would be very difficult for me to get my food items home."