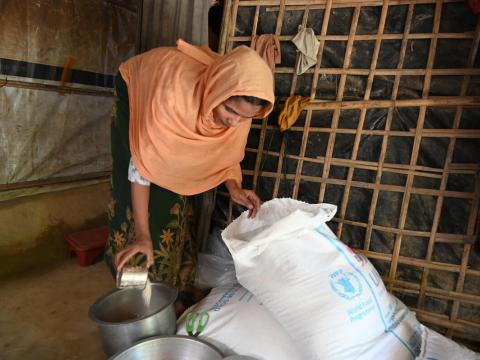 World Food Programme and World Vision: Putting food on the table for 54,200 Rohingya refugee households—one family at a time
Tuesday, September 22, 2020
Nur, 43, a Rohingya mother of four children, queues patiently alongside 15-20 fellow refugees on this humid, sunny morning. They have gathered here to collect their monthly rations of rice, lentils and oil at World Vision's distribution point in Balukhali 2 camp. About 500-700 refugees are served daily. To avoid crowding during the current COVID-19 crisis, each person is given an appointed time to collect their food.
Nur, her husband, Zokoria, and their four children are among the 740,000 Rohingya Muslims who fled extreme violence and decades of persecution in Myanmar in August 2017. Today, three years later, they live in the world's largest refugee camp in Cox's Bazar, Bangladesh—now home to 860,000 people. Not legally permitted to work in the camps and with little space to grow food, the refugees remain dependent on food assistance.
"We arrived in Bangladesh after a 12-day walk from our home in Myanmar," recalls Nur, whose youngest child, Fatema, was only 40 days old at the time. "We had nothing with us to eat. In Kuanchi Bon, to survive we ate waste food that people threw outside their homes. When we arrived in Bangladesh, as we were walking along the road, a kind woman gave us 50 taka (USD63 cents) and a hijab (Muslim head covering) for me, and one for my daughter."
During the following days, Nur and her family struggled to eat, competing for food with hundreds of thousands of people. "On the main road, we saw a lot of refugees were standing beside a truck crying for food and water," says Nur. "From the truck, some people were throwing money or food or water bottles. Some of them were taking photos of us. We collected 150 taka (USD1.90) that day."
Nur, Zokoria, 53, and their children (Monira, 20, Sumaiya, 9, Shouaib, 6, and Fatema, 3) found shelter in the home of a fellow Rohingya refugee who had settled in Bangladesh years before. They stayed there for two months. "My husband went out every day to collect food from the kind and generous [local] people," she says.
Gradually, the couple built a shelter of their own alongside many other families. "The land around the shelter where we live now was full of trees and bushes. My husband and I cleared trees and levelled the ground," says Nur. "We bought tarpaulins with the money we received from the kind strangers and made a small shelter. Later, aid agencies and the Bangladeshi government provided food, water and shelter materials."
Conditions have improved dramatically since those early days following the influx. For the past three years, all refugees have received regular food rations from the World Food Programme (WFP). Since 2019, World Vision has worked in partnership with WFP, distributing a total of 12,506 metric tons of food in monthly rations to more than 54,200 Rohingya refugee households.
The refugees receive rations according to their family size. Nur's children and family receive 60 kg. of rice, 18 kg. of lentils and six litres of cooking oil each month. Nur also receives supplementary food for her youngest child, Fatema, consisting of 25 packets (each 50 grams) of high-energy biscuits and three kgs. of Super Cereal Plus, a special wheat soya blend, to help prevent malnutrition in children under the age of 5.
World Vision plays a key role in managing the food assistance process. Staff members go door-to-door in the camps to share information with the refugees prior to the monthly food distributions. World Vision staff also handle beneficiaries' complaints or concerns, such as lost food tokens or spoiled food. They also ensure that extremely vulnerable families are identified for special assistance.
WFP is in the process of transferring all refugees to the e-voucher system, whereby they can buy a wide of staples and fresh food items at WFP shops using pre-paid debit cards. Nur and her family hope to soon be registered for e-voucher cards, which will give them more choice over what they eat and a more diversified diet.
Currently, meat, fish, spices and sugar are beyond her family's reach. "My children want to eat meat and fish. I try to make them understand our situation, but my heart breaks. I feel very bad," says Nur.
Nur's two children, Sumaiya and Shouaib, chime in. "We like to eat goshto (meat)."
"Last Eid-ul-Adha, we got one kg. of meat from the Camp-in-Charge (government official in the camps) and another half kg. from our next-door neighbour," says Nur, smiling. "But we had no spices. We borrowed some money to buy spices. I could not stop my tears when I saw my children's happiness in eating meat and rice."
"I am thankful for the essential food that we receive each month," says Nur. "It has saved our lives and the lives of thousands of other refugees like us."
The camp is home for the foreseeable future for Nur and her family. Recently, she was selected to be a female team leader in her community. She participated in training about COVID-19 prevention—information that she is passing on to her neighbours.
"We can protect ourselves from the deadly virus by maintaining proper personal hygiene and cleanliness, such as washing our hands frequently with soap for 20 seconds," explains Nur. "We also need to avoid crowds and gatherings, and not leave our homes unnecessarily. I discuss this with my neighbours to make them aware."
Story by: Xavier Sku/World Vision