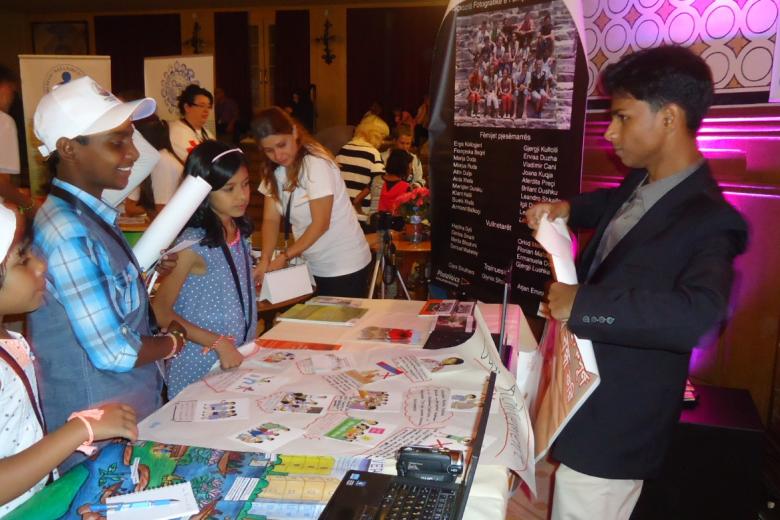 CRC@25: Children working together, changing the world
Monday, August 25, 2014
The right to be heard and taken seriously is one of the fundamental values of the Convention on the Rights of the Child. This right has also been one of the most challenging to implement. However, as I discovered while attending a recent child participation conference in Caux, Switzerland, when children are given the opportunity to make their views, experiences and perspectives known, they can radically impact decisions affecting their rights and wellbeing.
The Children as Actors for Transforming Society conference offered an occasion for children to safely express their fears and concerns, as well as their hopes and expectations for the future. It also allowed them to present their own ideas on how to ensure a world fit for children.
Most importantly, the conference was a place where adults listened. The aim of the conference was not just to shed light on children's issues, but also on the solutions they bring to improve their own lives and that of their peers. Every child possesses gifts and talents which go beyond their difficulties, their scars and their actions.
Children's testimonies from around the world filled the room with courage, hope, activism, joy and passion. Junior (16) shared his experience as a street child in Cusco, Peru. He now works as a carpenter thanks to training provided by a local organisation.
Andrei (17), Emma and Paul (18) explained their relentless fight against child trafficking in Romania through World Vision's A.R.T project.
Benjamin (6), raised in a foster care institution in France, presented his experience of child-to-child education, as he helped younger children find their own interests and skills.
Aarushi (11) from India, explained the simple social accountability monitoring activities she carried out with her peers to rate the services delivered in her community, including tying different coloured ropes around a tree according to government's actions.
Nizam (17) from Bangladesh, who has been advocating for child rights since an early age, presented how he lobbied his Minister for Women and Children to successfully prevent a number of child marriages. Nizam also worked with the Minister for Education to ban corporal punishment in all educational institutes. 
We were also presented a case from the Democratic Republic of Congo, where the child parliament in Kinshasa worked over a five year period for the adoption of a law protecting street children.
These children are not exceptions. There are countless young advocates around the world just like them who long to be listened to. Despite their cultural differences, these young activists have a common dream:
"A world of peace and security… where children's voices are taken seriously... where all children have a perspective… where children can grow in a healthy and safe environment… and where all children's rights are recognised and fulfilled."
Yet, too adults many still assume children cannot make informed choices. A lot needs to be done to change attitudes and shift norms towards the creation of safe spaces for children to participate.

The place for these conversations cannot remain within the walls of the Caux conference centre. Meaningful child participation must become a reality in all instances where decisions for and about children are taken. Children's voices should be heard anywhere and whenever their rights are at stake.
As we celebrate the 25th anniversary of the Convention on the Rights of the Child - and work towards shaping the development framework to replace the Millennium Development Goals - we need more than ever to recognise that children are citizens of today and genuine actors of change.
When children work together, they change the world for better. 
Watch a video from Children as Actors for Transforming Society here.
Discover World Vision's CRC@25 blog series.
About the author
Alexandra Newlands is the policy and advocacy officer at World Vision's Brussels office. Among other issues, she works to promote the participation of children and youth at the European Union level.