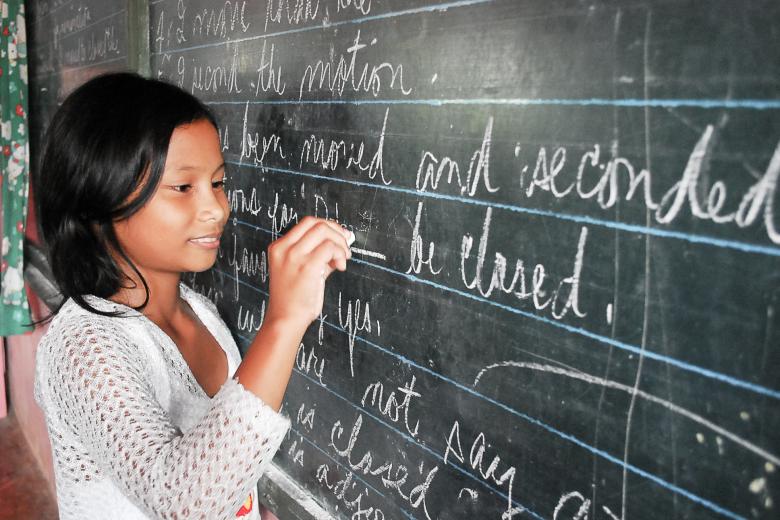 CRC@25: Educating girls equals exponential growth
Thursday, June 26, 2014
As we celebrate the 25th anniversary of the Convention on the Rights of the Child (CRC) it is encouraging to note the world has made great steps towards the achievement of universal primary education and in closing the gap between enrolment levels for boys and girls in basic education. However, Article 28 of the CRC not only acknowledges the right of all children to a free primary education, but adds that children should be 'encouraged to reach the highest level of education they are capable of'. 
For many girls, this is still a right that seems a long way from being realized; retention remains a key issue to be addressed. USAID estimates that across sub-Saharan Africa less than one in three girls enrolled in school actually attends school regularly; less than one in 10 will graduate from secondary school.  
So what are the major barriers to girls' staying in school and completing their education?  The quality of education at all levels is a factor – one that affects both girls and boys.  In many countries, rising enrolment rates have resulted in a drop in the standard of education. As governments lag behind in meeting the demand for schooling, under-qualified teachers struggle to teach in overcrowded classrooms.
The biggest barriers to girls' education are those that affect females in particular, such as violence, attitudes towards girls and harmful traditional practices.  For example, girls are more likely to be taken out of school to carry out domestic roles in supporting their families.   International Center for Research on Women reports that one third of the world's girls are married before they are 18. One in nine girls in sub-Saharan Africa and South Asia are married before they are 15-years-old. For these girls, school is thought to be irrelevant to their roles in their communities. 
UN estimates suggest every year, around 60 million girls are sexually assaulted on their way to or at school.  Violent actions targeted at school girls in Nigeria and Pakistan have highlighted how threatened some groups feel about the idea of girls gaining a broad-based education.
Why should we care so much about education for girls? Girls' education is the single most powerful development multiplier. Educating girls can accelerate the fight against poverty, inequity and gender discrimination. Educated young women are six times less likely to be married as children. They have smaller families. A child born to a mother with a secondary school education is 50 per cent more likely to survive beyond the age of five. In sub-Saharan Africa in 2008, this would have amounted to 1.8 million children's lives saved – a 41 per cent reduction in child mortality in this region.
Research conducted by the World Bank, World Economic Forum and the OECD show that an extra year of primary school boosts girls' eventual wages by 10 to 20 per cent, and an extra year of secondary school by 15 to 25 per cent. There are direct links between increased rates of girls school enrolment and increased GDP. The economic development of a whole country can be influenced positively by educated women – powerful stuff!
The CRC 25th anniversary is an opportunity to reinforce our commitment to the right to education and to work within the CRC as a normative framework in order to ensure that girls are equipped with the knowledge, tools and skills to develop, grow and take control of their lives.
There is surely nothing more effective in multiplying development interventions across maternal and newborn child health, economic development, good governance, child protection and rights, than educating girls.  This is why some feel so threatened; this is why we should care.
Discover World Vision's CRC@25 blog series.
About the author
Kerin Ord is Strategy Advisor for the Education and Life Skills team at the Global Centre.  Her role includes ensuring World Vision's programming in education aligns with broader World Vision strategy and with global trends in the sector.  Kerin also has a special focus on gender and education, education technology, advocacy, and evidence building around World Vision's work in the education and life skills.