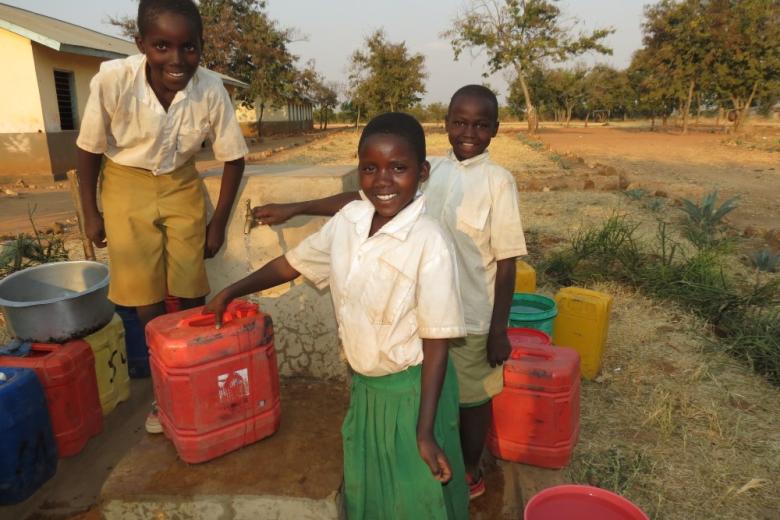 CRC@25: A place for the global
Tuesday, August 12, 2014
The stats are shocking enough, let alone the impact of these on each and every life:  one in three girls around the world are married as children; one hundred and forty million women and girls worldwide have undergone FGM/C. How on earth do you go about addressing challenges such as these?
The UK government hosted, at the end of July, the first Girl Summit aimed at mobilising efforts to end female genital mutilation and cutting (FGM/C) and child early and forced marriage (CEFM) within a generation.  The Summit ended in a Charter where participants publically stated their commitment to address the issue.  You can easily ask yourself so what?  Is this really the most effective way to make a difference?
Alice Farma (16) and Alfred Williams (16) from Sierra Leone – having participated in the Summit - think they have an important role to play.
Both Alice and Alfred have been working hard within their own community as part of their local Children's Club, to speak up against FGM/C and early marriage, two of the biggest fears amongst them and their peers.  Last year they achieved something remarkable:  at 15 and 16 years old and in front of District chiefs, community elders, their peers and community members Alice and Alfred spoke up. Their community leaders listened, implementing laws against early marriage and FGM/C. Children in their community are now – as a result - feeling safer and living free from the fear of early marriage and FGM/C. 
For them however the challenge does not stop there.
"I never knew other people around the world-adults as well as children alike were so concerned as much I do about Female Genital Mutilation and Early Forceful marriage... I have been challenged to do more than what I have been already involved in at local level. I have to mobilise and network with my peers to influence national level legislation against both practices to save thousand of children who are at risk of going through FGM and early marriage in order to save our generation." 
And Alfred: "I started to reflect how important our little advocacy in our community could form a global agenda to end an aged long practice that is eminent not only in my country but also in other parts of world... This event served as an inspiration to me and opened my mind to how we would work as youths in my community to mobilise a mass orthodox of children across Sierra Leone to gather as much evidence as possible and put pressure on our government to enact a national law that protect children from FGM, child marriage and other forms of abuse to ensure that our generation get as much protection as possible." 
Addressing complex issues such as FGM/C and CEFM effectively involved working at a number of levels. Global standards and declarations often create an environment within which positive national and local action can flourish.  The CRC has shown us that over the past 25 years of its existence. Let's hope the Girls Summit also has long and lasting effects.
In  Alice's own words: "May I thank the UK government through DfID, UNICEF and Plan for organizing this very important event and to World vision UK for their continual support to children in Sierra Leone and helping us to be part of this great learning event. My sincere ask is for all governments in the world to rally behind the call to end Child FGM and Early Forceful marriage on in our generation."
Read more about the Girls Summit. 

Discover World Vision's CRC@25 blog series.
About the author
David Westwood heads up the Programme Effectiveness & Country Engagement team within WVUK.  As such he is responsible for leading the organisation's geographical and programmes strategy, its evidence and accountability work, and overseeing relations with partner offices world-wide.