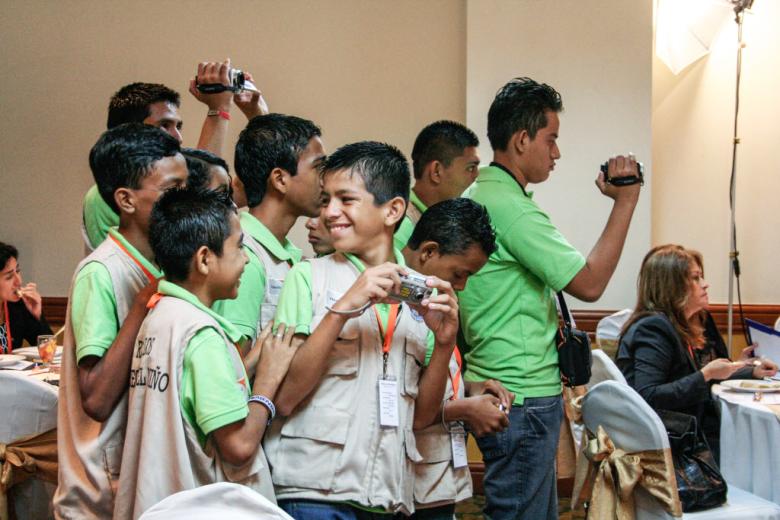 CRC@25: The right to freely associate – networks for positive change
Wednesday, November 5, 2014
"We want to change the way people in our country view young people," Tatiana and Elvis told me. They co-lead a young communicators group in Limon, Costa Rica. To promote their work the group manages a Facebook page and creates programming for a local TV station which gives them an hour each Friday to broadcast.
"We deal with local issues that are of interest to adolescents and young adults', continued Elvis. "It's often about sports and issues that are of interest to us, and show young people contributing positively to their communities and volunteering with World Vision."
As the 25th anniversary for the Convention on the Rights of the Child approaches, children, adolescents and youth across Latin America are finding ways to connect and express their ideas, promote causes they care about, and act in their communities to improve services and safety. Over 160,000 of them alone are involved in the evolving networks facilitated by World Vision in 14 countries. Many more are involved in movements and networks across the continent facilitated by peer agencies or led by young people.
However, forming, nurturing and sustaining networks isn't an exact science. The challenges are arguably greater when these networks are formed by children and adolescents. Whilst Article 15 of the CRC states the right of children to freely associate, making this work in practice in a safe and meaningful way can be challenging.
I write this blog at a meeting of child participation practitioners from the Latin America region. World Vision in Latin America has a clear cause and set of priorities – the protection of children and the empowerment of millions of children adolescents and youth.
The primary portal to achieve this is through the establishment and growth of Child, Adolescent and Youth networks. As the networks begin to find their voice and identity, they naturally begin to prioritise issues that are of concern to them. Some of these may not match up with World Vision's cause. "We need to recognize" argues a colleague from Bolivia, "that the children and adolescents will have their own priorities. We can't force them to adopt our advocacy agenda."
These moments provide opportunities for growth. The networks need to own and drive their agendas, and look for partners to provide support to and sustain their efforts. World Vision's desire is to see these networks create a movement that shapes the future democratic, spiritual and cultural spaces within the region, whilst at the same time focusing on specific issues that it wants to address.
There are no guarantees. Some networks will fail. Undoubtedly, there will be surprises along the way. A movement may never coalesce, or perhaps different issue based movements or campaigns may arise. Some networks could be hijacked by political ideologies or autocratic leaders.
So where will it all end, and what does success look like? Fulfilling the right to freely associate is a step in the right direction. Other successes include partnering with the children and adolescents as they muddle through tough decisions, create democratic structures, and exhibit pro-social behavior that upholds the rights of others.
Sustaining change and network vitality includes developing a strong portfolio of partnerships and support, becoming recognized within their families, communities and society for what they contribute, and knowing when to stop. Participating in networks can also lead to personal development, and cultivating active, creative and courageous citizens working towards the common good.
My colleagues here believe that these networks can operate democratically and sustainably:  "Some of the networks who have not been around long define success in material terms… finding somewhere to meet, building a playground etc. But those who've been functioning for a while, and who have matured in their leadership define success as being recognized by their neighbours, or when the mayor or other local organisations 'come to us rather than us going to look for them'."
Discover World Vision's CRC@25 blog series.
About the Author
Paul Stephenson is the Senior Director Child Development and Rights Technical Cluster at World Vision International. The Child Development and Rights Team focuses on child protection, child participation, gender equality, disability inclusion and children's spiritual nurture.  Paul has worked in humanitarian relief and development for 25 years, specializing in education, child rights and community development. Paul has worked in Latin America, Africa and Asia.