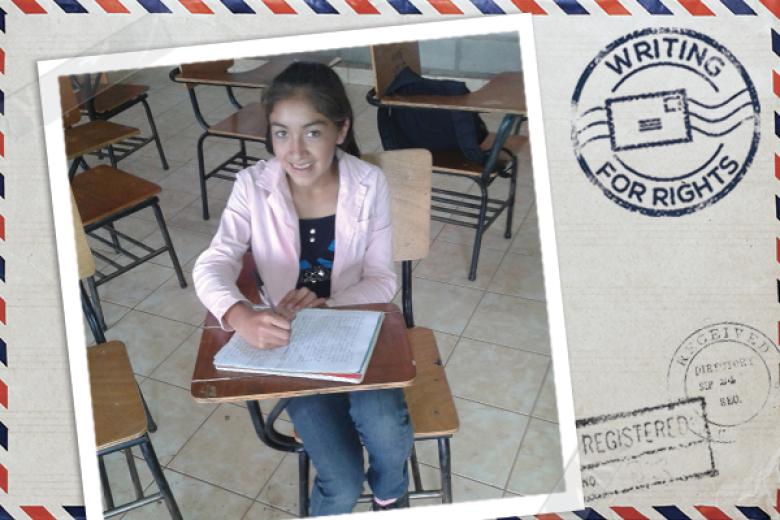 Writing for Rights: Dina, 14, Honduras
Sunday, November 16, 2014
We, children from Honduras, are sending warm greetings to all children of the world. This year marks 25 years of having passed the Convention on the Rights of the Child. This is a good time to reflect on the compliance by Member States that committed themselves to comply to it. We Honduran boys and girls want to share our experiences of what we have learned and lived in terms of our rights as well as the difficulties we face in our country.
Our country is a young country since almost half of the population are children and we have many resources and potential. As children, we have hope and want to have a better lifestyle today and in the future. Every country has difficulties. In Honduras the main ones are insecurity, violence in schools and communities, migration and poverty.
This time we want to focus on the issue of migration of children, since this is an issue that the government has been focusing on since more than 20,000 boys and girls have migrated from our country to the United States seeking better life choices and due to the harsh situation in our country.
We as children feel the problems, and we know that the harsh situation we are experiencing is due to the lack of financial resources, limited employment opportunities, domestic violence, different forms of abuse and few educational opportunities for middle and upper level people.
With this type of situation the people who suffer most are the children from our country who have many hopes and dreams. But these dreams appear dark and unrealistic, knowing that many of us want to live a decent life with many opportunities and build a new healthy environment free from anything [negative] affecting our well-being.
From meetings and trainings where we have participated and the information we have acquired by other means, we have realised that many of these problems are the results of the lack of implementation of the Convention on the Rights of the Child by the government. So, we children from Honduras daily experience violations and aggressions to our rights and well-being.
Knowing that children are the present and future of our country, we demand that the Honduran government implement the convention and the various treaties and laws that benefit children. We also demand that the state plan and invest in us, the boys and girls in Honduras, through programmes and projects aimed at improving our education, health, welfare and protection. 
Furthermore, we ask to establish in every town spaces for recreation, to bring secondary and higher education to our communities and to create jobs for our parents to prevent migration. This way we can be sure to meet the requirement set in the Convention on the Rights of the Child that aims at ensuring the best interests of children in the world.
The knowledge that we have about our rights and the convention itself is due to the things we have learned in the schools and in different workshops in which we have participated. This helps us a lot in order to fight for our rights to be respected, starting within our homes.
On behalf of all children in Honduras, we celebrate our rights and say yes to participation and fulfilment of our rights.
God bless!
By Dina, 14-years-old, Honduras