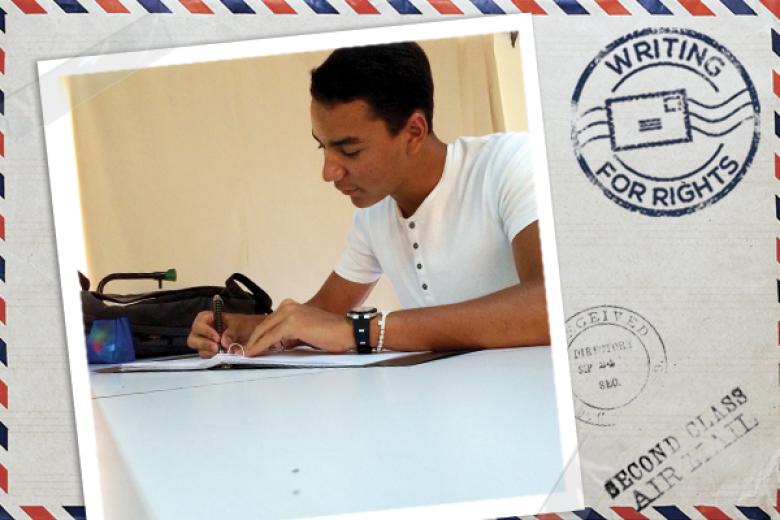 Writing for Rights: Julien, 16, Haiti
Sunday, November 16, 2014
Twenty-five years ago the UN adopted the Convention on the Rights of the Child. The CRC is the first legally binding international instrument protecting our rights, the rights of children. In my country, Haiti, this text was ratified on 8 June 1995.
The provisions of the convention have been legally binding on our state for at least 20 years. However, a lot of citizens feel that the state should act much more regularly to enforce these rights in the country. So why is there still so much poverty in this country, and why are so many fundamental children's rights ignored? We must talk about the problems of course, but we must also discuss progress.
I have many friends who have left their families to work. One told me she was beaten several times a day, was not sent to school and was forced to do all the housework; some days, she would work for 14 hours.
Basic health rights are still violated in Haiti: Indeed, only 40 per cent of children in my country have access to health services. The heath centre closest to home, for example, is located tens of kilometres away. You cannot get there if you do not have any money. This system severely limits visits to health centres for my family. In addition to all these constraints, it is not certain, once you get there, that you will find a qualified doctor who will really help you. Most good doctors fled Haiti because of political instability and lack of security.
I dream of a Haiti where all children of my age would have access to medical resources and skilled doctors. Maybe one day I will see this. Meanwhile, infant mortality is extremely high in my country, especially because of diseases such as diarrhoea, respiratory infections, malaria, tuberculosis and AIDS. My little sister died at birth of an unidentified disease. Sometimes I wish I lived in a country where no child would die at birth, or no parent would have to live the atrocity of losing a child. But this is not my reality, and I have to accept it.
As for malnutrition, it is one of the greatest tragedies of our youth. I have many friends who cannot get enough to eat because they cannot afford basic food. This malnutrition is devastating for their health and often leads to serious problems in their growth. I would like to see a Haiti where all children are healthy and can get to adulthood healthy and strong.
Our educational rights are still violated: In Haiti, although education is technically free, only half of children are enrolled in primary school. The vast majority of schools are private, thus leaving families unable to pay for tuition. Additionally, uniforms, books and other school materials are very expensive. The initiative of the current government has improved the situation dramatically; however, much progress still needs to be made to ensure that Haitians all have the right to a good education and a good future. I dream to see in the future a country with skilled and educated people!
Our rights to identity and freedom are also trampled: The number of Haitian children working as domestic workers is extremely high, and 80 per cent of them are girls. I have many friends who have left their families to work. One of them told me she was beaten several times a day, was not even sent to school and was forced to do all the housework without exception; some days, she would work for 14 hours.
Where is the dignity? Where is the respect for the rights of children? Imagine under what conditions these children are evolving. What will happen to Haiti, which has a population of about 40 per cent of children younger than 17 years old, if so many young people find themselves in the streets, with no education, with no future?
But we must also mention progress. Indeed, more and more the government, as well as local and international organisations, are promoting the CRC and doing advocacy to ensure respect of children rights. During the past three years advocacy has increased, and some laws for children have been adopted, such as a law reforming adoption; a law on human trafficking; and a law on fatherhood-motherhood and paternity.
The goals established 25 years ago have not yet been achieved, despite great advances. It is therefore imperative to set new goals to achieve and allow decent living conditions for the poorest children of the nation, because every sacrificed child is a great loss for the nation, one less chance for our country!
Julien, 16-years-old, Haiti