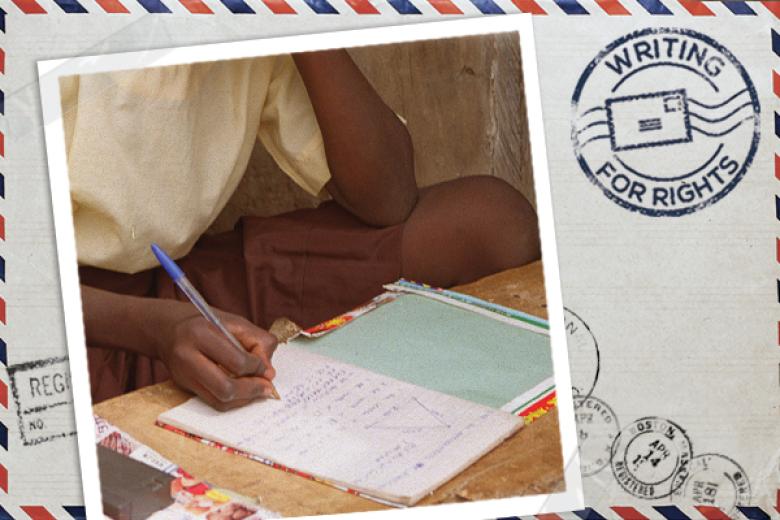 Writing for Rights: Khadijah, 17, Ghana
Sunday, November 16, 2014
My name is Khadijah.
I am 17 years of age, and I come from Tolon in the Tolon-Kumbungu district in the northern region of Ghana. I am currently attending Savelugu Senior High (SHS) and am in SHS 1. I come from a family of six, with four boys and two girls. My community is very traditional, and many times girls are given out in early marriage. Many girls in the community don't go to school not by choice but because parents prefer to educate the males. The topic I have chosen and discussed with my colleagues to write about is the right of every child to education in Ghana.
Ghana was the first country to ratify the Convention on the Rights of the Child and has since taken steps to address some of the rights of the child. In Ghana, every child has the right to education, as stated in the article 23 and 28 of the Convention on the Rights of the Child. No child should be denied this right, no matter where he or she is, the religion, the tribe or who the child is, whether a disabled or normal person. With education, one can enjoy the basic rights such as the right to survival, the right to protection, the right to participation and the right to development. Besides, education is the key to success.
One can only make a contribution to the country and achieve his or her aim when he or she gets access to education. So I can say that since the inception of the Convention on the Rights of the Child things have improved a lot for children. Education, though not the best, is accessible in many places for children, and the same can be said for health care and other services. However, there are still some challenges faced by children due either to neglect, non-enforcement, weak legislation or lack of political will.
Education is the bedrock of development for every nation, but when education is handicapped, then future generations suffer and quality human resources for tomorrow's leaders are compromised. The following are challenges in the education sector that deny children their right to education.
Inadequate infrastructures is one challenge that prevents children from being in school. Though the government has been trying its best on the expansion of infrastructures, there are still some gaps that need to be filled. Some infrastructures of which there are not enough are classrooms, which brings about sitting under trees to study; furniture, including tables and chairs; libraries; and science and I.C.T. laboratories, which also prevent children from doing necessary research. Also, the insufficient teaching and learning materials such as textbooks, supplementary readers, and syllabi among others are hindering children from having access to quality education. For example, in most schools two or three pupils have to strain their necks to share a textbook during lessons.
Another factor impeding children's right to education is parental neglect. This is so because a number of parents and guardians in hard-to-reach areas within the country do not see the importance of taking their children to school. Children are rather engaged in domestic chores such as cooking, cleaning, farming and other commercial activities which keep children away from school entirely.
Continuing, some cultural practices also serve as barriers to children from accessing school. Some of these cultural practices are female genital mutilation (FGM), the Trokosi system, fostering, early marriages, and so on. These practices also inhibit children's access to education. In the northern part of Ghana children are sent to their aunties and uncles as foster children and many of these children are used as house girls and shepherd boys; others are sent to the cities to work as head porters (Kayayo).
Out of these children, 10 per cent have the privilege of being in school, of which only 3 per cent are girls. Most of these 'Kayayo' girls end up by getting pregnant during their teens, which brings about high rates of teenage pregnancy; others are raped and kidnapped due to their exposure to all forms of dangers, which is also increasing the rate of social vices in the country.
Child employment is another factor that prevents children from going to school. Parents and guardians sometime employ their wards in some petty working area, in order to get or earn money to cater for the family. Some of these children are asked to crack stones at quarry sites, sell on the streets (streetism), illegal mining popularly known as 'galamsey,' whereas some are also employed in shops to work as a store or shop attendants. In this situation the children do not get the opportunity to be in school. Some of these children too do not like the idea of being in school since they earn money from the work they do and think they can provide for their needs with the little money they earn.
In order to solve all the challenges mentioned above, the government should invest more in the expansion of educational facilities or infrastructures in order to make sure that the districts, municipal and metropolitan assemblies enforce the existing laws to make it compulsory for every child to be in school.
It would also be appropriate for the government to invest more in the training of quality teachers so that teachers will help improve on the poor performance of children at their basic level of education. Also there is a need for government to scale up the school feeding programmes, especially in the rural areas, in order to meet the survival rights of children at their basic level since not all children in rural areas get access to the school feeding programme.
Furthermore, non-governmental organisations (NGOs) and other agencies should help the government to support children to be well educated because education is the key to success. Parents should also make sure that their children are in school by visiting them in their various schools to ask of their academic performance and their punctuality at school.
Finally, it is essential that government together with NGOs educate parents in both rural and urban areas on the benefits of education so that every child gets access to quality basic education.
Khadijah, 17- years-old, Ghana