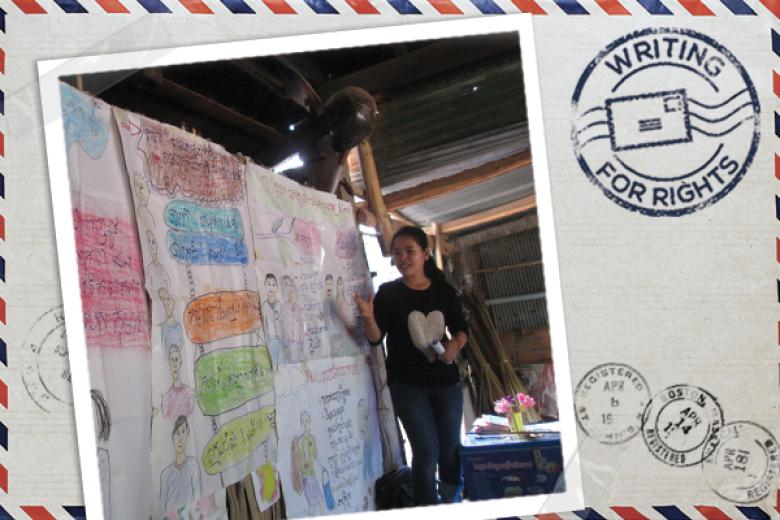 Writing for Rights: Srey, 17, Cambodia
Sunday, November 16, 2014
Greetings from Cambodia!
On behalf of children in Cambodia I would like to send warm greetings to all children around the world. This year marks 25 years of the Convention on the Rights of the Child. I am very happy to have a good chance to share my experiences on what we have learned and lived in terms of our rights situation as well as the challenges that we face in my country.
Poverty and corruption force most students, especially female students, to drop out before finishing secondary school.
My name is Srey, 17 years old. I am the oldest sister with one sister and one brother. I am a Youth Group leader in Kandal province. I have attended many training courses organised by World Vision; Child Rights is one amongst them. I understood well about child rights. I knew that children have the right to live, the right to be protected, the right to development and the right to participation. I know that I have had these rights.
After I attended this course in 2010, I continued teaching the children in my communities about their rights because previously I saw many kind of common issues in my village related to child protection due to lack of education; children are vulnerable to abuses such as child labour, domestic violence and rape.
Poverty and corruption force most students, especially female students, to drop out before finishing secondary school. In many families children play an important role in family survival, helping with various tasks such as farming and selling their labour. Up to now, there are about 80 children (girls: 55, boys: 25) who have learned about child rights from me.
In addition, I taught them literacy, numeracy, drawing, song, hygiene, morality, the Peace Road curriculum for children, and personal safety. When I started teaching the children, my neighbours and the parents of the children didn't support me. They criticised me and didn't value me, but after they have seen their children demonstrate some changes such as working hard, studying hard, the ability to think broader, going to school regularly and having more confidence, they then started motivating and encouraging their children to go to school. They don't use violence but start using soft and sweet words to their children, and also they have talked about good points of their children with the neighbours.
Beside teaching children, I have also participated in many activities such as role play to educate communities and children not to drop out of school, on child sexual abuse, and a campaign to encourage parents to register and send their children to school. I also educated parents about nutritious food and joined a public forum on child labour. I believe these activities have awakened the community to pay more attention to the children.
Thank you, World Vision, for implementing in my village and commune. The children in my community understand and are aware of their rights now. In the future I want to be a teacher and help my community through working with World Vision.
Thank you.
Yours sincerely,
Srey, 17-years-old, Cambodia