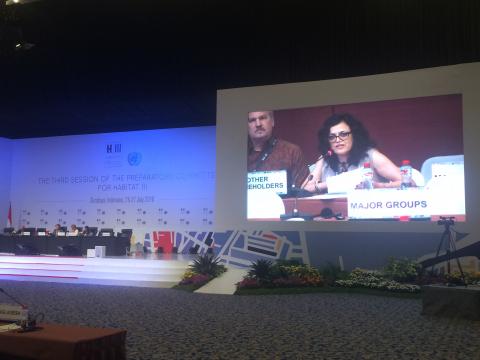 Migration, Data, Resilience and Interfaith Dialogue are Critical Points for the New Urban Agenda
Friday, July 29, 2016
This week in Surabaya, Indonesia, 130 UN member states and 4000 delegates, representing UN agencies and key stakeholders, including World Vision, came together for the third Preparatory Committee Meeting for the UN Conference on Housing and Sustainable Development – the final opportunity to provide input into the New Urban Agenda.
The New Urban Agenda is a set of commitments and measurements that will guide UN member states in the implementation of the SDGs in urban areas, specifically Urban SDG#11 "Making cities inclusive, resilient and sustainable" for the next twenty years, which will be launched at the Habitat III Conference in Ecuador this October.
As Co-Chair of the Children and Youth Group in the General Assembly of Partners, World Vision is calling for the New Urban Agenda to ensure the recognition of children's rights, their right to protection from urban violence, abuse, exploitation and discrimination, full participation in city planning, the provision of safe spaces to learn, develop, and grow in a healthy and stable environment.
During a statement to UN member states, Joyati Das, Senior Director of World Vision International's Global Urban Programmes highlighted, "The complex dynamics of rural-urban mobility is presenting new risks to city planning and decision making authorities. Most city governments and local institutions are struggling to deal with the issue and often overlook migrant voices and experiences. Migrant children are more vulnerable to being exploited to child labourers in the city"
"Data on children's vulnerabilities, well-being and extreme poverty that is experienced in urban slum communities can be obscured by the relative affluence of their neighbouring communities. Local governments must engage in participatory approaches to data collection, working with local institutions and private sector to fill in the data gap issue." 
Ms Das also called upon the New Urban Agenda to highlight the importance of social resilience and resilience to conflict and chronic urban violence, and the need for interfaith dialogue and partnerships to promote peacebuilding in cities.
During a side event on "Prioritising Children and Youth in the New Urban Agenda", Ms Das linked the data gap issue with participatory approaches to data collection, drawing upon examples from India, Honduras, Brazil and Kenya. These case studies demonstrated how children and youth have used technology to map their city, thereby reducing barriers to information accuracy, exchange and creating opportunities for civic participation in urban governance.  
World Vision believes that city authorities have a critical role in promoting children's participation in urban development processes - activating a city-wide Children's Rights Strategy; establishing a Children's Rights Unit or coordinating mechanism and allocating children's budget. 
In a side event, co-led by World Vision, on "Human Rights the Right to the City: Towards Inclusive and Equitable Cities", Ms Das stated, "Children and youth can drive social, political, technological and economic transformation in the city, rather than be considered mere beneficiaries. They must be given access to platforms where they are able to contribute their knowledge to public debate and discussions".