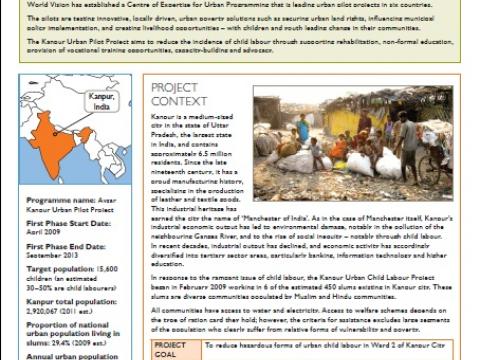 Kanpur Urban Pilot Project
Wednesday, July 31, 2013
Located in India's Uttar Pradesh, Kanpur has grown from 1.42 million in 1975 to 2.92 million in 2011. The city is an industrial centre with good trade and transport links to the rest of the country and features a diverse informal economy including street vending, rag picking and urban farms. As a result, there is a large demand for the low-skilled and poorly remunerated labour that engages children.
World Vision's Kanpur pilot project aimed to reduce the incidence of child labour through supporting rehabilitation, non-formal education, rehabilitation services, vocational training opportunities, capacity-building activities and advocacy initiatives.
The project established transit schools for child labourers to help them enter the formal education system. It set out to partner with the Department of Education, the District Level Task Force on Child Labour, and other NGOs operating in Kanpur. Youth underwent capacity building activities to lead change in their neighbourhoods. School enrolment campaigns mobilised religious leaders to encourage their communities to send their children to school. Self-help groups, youth associations and children's clubs were also formed and underwent vocational training to support livelihood development.