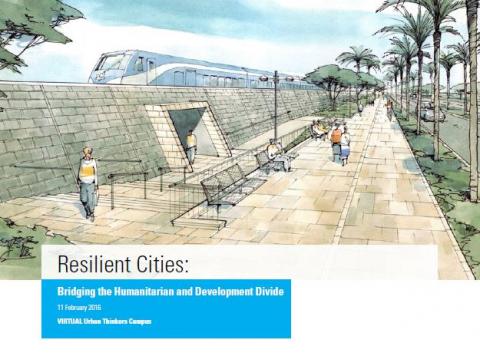 Resilient Cities: Bridging the Humanitarian / Development Divide
Thursday, February 25, 2016
In October 2016, the United Nations adopted 'The New Urban Agenda' at the Conference on Housing and Sustainable Development – a set of guidelines and measurements that will support the implementation of the SDGs in urban areas, specifically Urban SDG #11 "Make cities inclusive, safe, resilient and sustainable". As a lead partner of UN-Habitat's World Urban Campaign, World Vision was approved to organise three Urban Thinkers Campuses as part of a global initiative to inform the New Urban Agenda.
On February 11 2016, World Vision International and the International Rescue Committee, co-led the first and only virtual Urban Thinkers Campus, hosted by the Active Learning Network for Accountability and Performance in Humanitarian Action (ALNAP), to discuss the role of resilience in bridging the humanitarian and development divide. 
The Campus put forth a set of 'Resilience Recommendations' - guidelines and principles to support relevant urban actors to both plan for and build resilience-enhancing strategies for all cities to achieve multi-dimensional and sustainable outcomes appropriated to the local context.
The Resilience Recommendations propose that the planning and building of our future cities should be holistic and sustainable, inclusive, innovative, provide multi-faceted solutions, and empower all city dwellers. This vision can be realised through strong local governance mechanisms, social will, spatially balanced planning approaches, and link to urban economics to achieve a better quality of life for all.