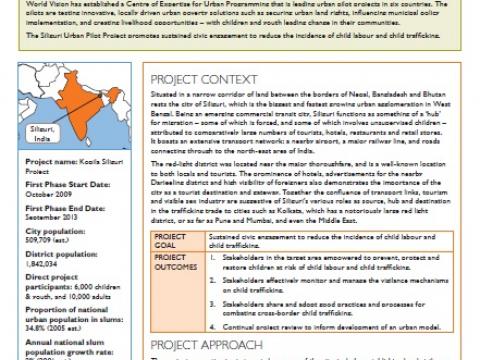 Siliguri Urban Pilot Project
Wednesday, July 31, 2013
"Following the formation of the children's club, we were given training on how to speak up. Our fear of speaking disappeared. Now, we can participate in meetings everywhere'" – Rina, member of Siliguri children's club.

World Vision's Siliguri urban pilot project aimed to reduce child trafficking through cooperation with the authorities and other NGOs, and to reduce child labour by providing non-formal education and mobilising the community around social protection issues.

Located in a narrow corridor of land between the borders of Nepal, Bangladesh and Buhtan, Siliguri is regarded as a hub of both intra-Indian and international human and child trafficking.

The project was actively involved in the Siliguri Anti Trafficking Network (ATN), consisting of seven local and national NGO partners who worked closely with government authorities.  This collaboration collectively helped in the repatriation and reunion of many trafficked children with their families, and several network members with shelter houses set up for at-risk or rescued children.

Within the community, the project established local vigilance committees and child protection units comprising of school teachers, social workers and local leaders. Non-formal education centres were also established offering homework and extra lessons, supporting over 500 children to enrol in the formal school system within only three years of operation.