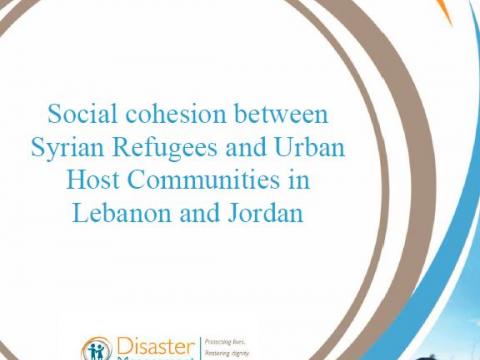 Social Cohesion between Urban Refugees and Host Communities in Lebanon and Jordan
Wednesday, July 31, 2013
This desk review discusses the problem of rising social tensions between Syrian refugees and urban host communities in Lebanon and Jordan and why the investigation into the causes and consequences of these tensions is integral for humanitarian and development programming in the region.
It provides an analysis of key studies on social tensions in the region and offers up potential paths forward for adopting innovative approaches for humanitarian response in these settings. The review also (1) mobilizes expertise from the urban community of practice, and (2) evaluates social cohesion as an organizational approach by examining regional and national response plans.
Findings are derived from work conducted by the author as part of the Social Cohesion Project, established through World Vision's Disaster Management 2020 (DM2020) strategic change program with a focus on urban conflict centers in Lebanon and Jordan that are recipients of Syrian refugees.
This "action-learning" project is intensely innovative conceptually (by linking relief and development, urban non-camp, and conflict / peacebuilding discourses), strategically and operationally (by questioning how organizations position themselves internally and externally to engage with communities, the private sector, and national governments in these contexts), and methodologically (by adapting and, when necessary, designing new tools for capturing, measuring, operationalizing, and evaluating social cohesion in programming).