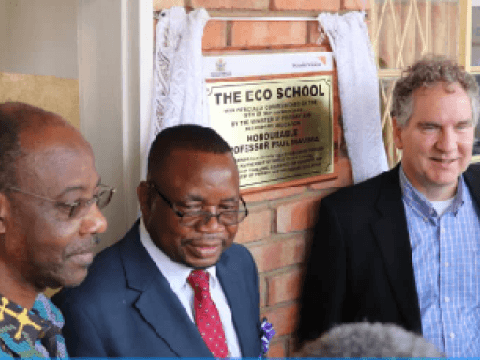 Education Minister commissions E-learning project in Hwange
Wednesday, February 20, 2019
Primary and Secondary Education Minister Professor Paul Mavima recently commissioned the Eco-School Managed E-Learning at St Mary's Primary in Hwange at a cost of US$100,000. The E-learning centre was constructed by World Vison's Hwange Area Programme with funding support from World Vision Canada and technical support from Canadian based Learning for Humanity. The project is set to benefit about 900 school learners. Code named Eco-School Managed (EMS), the centre provides learning solutions that are focused on teachers and learners from early childhood development (ECD to tertiary level.
 The Minister committed that the Government will ensure maximum support is given to development partners who were focusing on disadvantaged children.
Programme Portfolio Manager for West and Southern Africa, Philip Makutsa who was representing WV Canada, and Philip Baker the Chief Executive Officer of Learning for Humanity commended the collaboration of the community, World Vision and the Ministry which is set to benefit the education system of Zimbabwe.