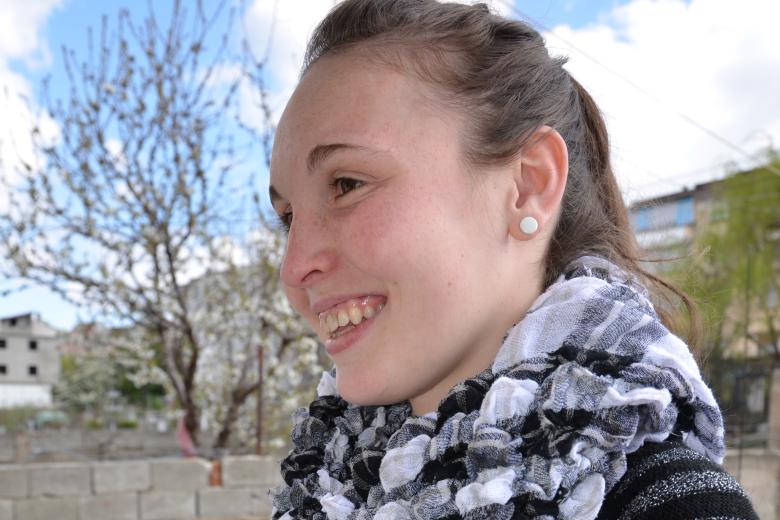 Anxhela, a youth in action
Friday, August 9, 2013
Unlike most of her peers around the world, Anxhela, 17, has a clear focus and set goals for her life. She does not let her age get in the way. Instead, Anxhela is determined to take control of her life and plan for her future.
She is convinced that there will come a day when government will hear to the youths' voices. One day, she will be part of decision making process. She is determined.
"Everything [is] thanks to World Vision," she says, noting how the trainings have transformed her way of thinking. No longer does she believe she is not the center of the world. Instead, she understands that everybody has to do their share if they want the world to become a better place.
Everybody has a story to tell…
Anxhela lives in the small village of Korca with her parents, her sister, and her brother. She is a second year high school student who enjoys literature and biology. She is one of the best students in her class and well on her way to reaching her dream of studying medicine.    
Anxhela's first contact with World Vision was through her church. "I am a Christian and I go to a church," she says. "World Vision started to collaborate with my church three years ago and I was involved from the beginning in these projects and trainings."
Looking back at that time when she was only 14, Anxhela continuously repeats the words "thank you". Thanks to these trainings and World Vision's programmes, her world became wider and more interesting.
Anxhela understood that this participation was an opportunity and she had to make the most of it; to take it seriously so she could change her life and others'. "It is a great pleasure to be part of these projects," she says. "But, above all, it is a privilege and a big opportunity. We are young and we are the future of our country… [I] have participated in much training which has built my capabilities. Now, I feel prepared in several areas, on several issues."
Meeting likeminded world changers
Anxhela was one of Albanian youth selected to attend a regional conference in Armenia. The event was organized by World Vision, and counted on the participation and attendance of youth from around the world. During the conference, the youths realized no matter where they are from they have a lot in common. They face many of the same obstacles and they have the same dreams and the same passion for a better life.
"[The] conference's biggest achievement was that it brought together youth and made possible that their voice could be heard and not remain in silence," says Anxhela. "World Vision is like an ear which hears youth voices and supports them," she added.
After Anxhela and other peers returned they tried to put all their new information and experiences into action. "We organized several meetings… and we shared what we learnt,"  she says.
"I hope radical changes happen in [my] community and I dream that local authorities hear [the] voices of youth," shares Anxhela. Looking into her eyes it is easy to see why Anxhela is an inspiration to her peers, encouraging them to see the world through her eyes—filled with possibilities.
This teenage girl from rural Albania knows she and her peers can change the world. We believe they will.