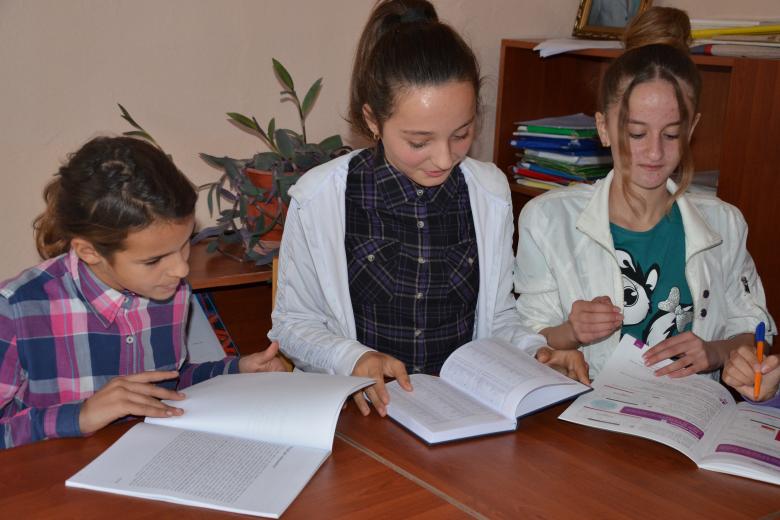 Children, active agents for change and transformation
Wednesday, January 6, 2016
Vanesa, 12, credits World Vision Albania awareness trainings for the change in behaviour she sees at her school. "Through our discussions in class I see that boys in our school have changed their attitude. They used to be disdainful towards children who are poor, clumsy or distanced, but by observing our behaviour  they have started to be more friendly toward these children and even have been playing with them," she says.
World Vision has been running the Education Programme in the Lezha area for several years, reaching students like Vanesa and more than 400 others who now better understand and can support children with disabilities. They are turning their school into a friendlier place, becoming stronger leaders, practicing better personal hygiene and have learned about sustainable, green ways to maintain the environment. These changes are the result of many training sessions conducted by World Vision on how to make schools inviting places for all children regardless of the challenges they face economically or physically.
Recently, with the help of partner organisation Red Cross, World Vision taught children how to administer first aid, and has provided schools with first aid kits and fire extinguishers. In the past six months, around 700 students in Shkodra and Lezha areas have learned how to use the exstinguishers and protect themselves in disaster situations. With the support of their parents, children have also contributed toward replacing the medicines found in first aid kits. 
Ina, 11, Noriana, 12, Silvja, 13, and Daniela, 13, are from Lezha. The girls have received more in-depth training through the Education Programme, which has added to their knowledge and equipped them with good practices for strengthening student government structures and learning about the concept of School as a Community Center. They have also learned how to support the transformation of their school into an inclusive Child Friendly School by promoting an inclusive school culture.
Silvja says that "By learning more about the concept of School as a Community Center we have shared our knowledge with our peers, boys and girls, informing them about this model, inclusiveness, helping and understanding children who have a different ability, maintaining a clean school environment and more." She says that children from the Education Programme discuss what they have learned from World Vision trainings with their teachers and peers during free time at school.
For Daniela, the new information has helped her and others be more accepting of children who they once thought were inferior. Part of this acceptance has led to undertaking initiatives promoting the importance of diversity. Youth from the programme have held awareness initiatives on the right of children with disabilities to inclusive education, creating messages and leaflets with awareness information. "We are more aware, informed and mature now and we will work harder to make our school a better place for us all," says Daniela.
Working with other students from around Lezha, Daniela and her peers created drawings to express the meaning of disability and how they understand it. Children exhibited their drawings to their peers and parents, showing off their heightened awareness and knowledge of inclusiveness.
Daniela and her classmates have also contributed by planting 30 trees in their schoolyard, transforming the outdoors into a greener and more friendly place. Their next mission is to prepare more printed awareness materials regarding violence and child rights.