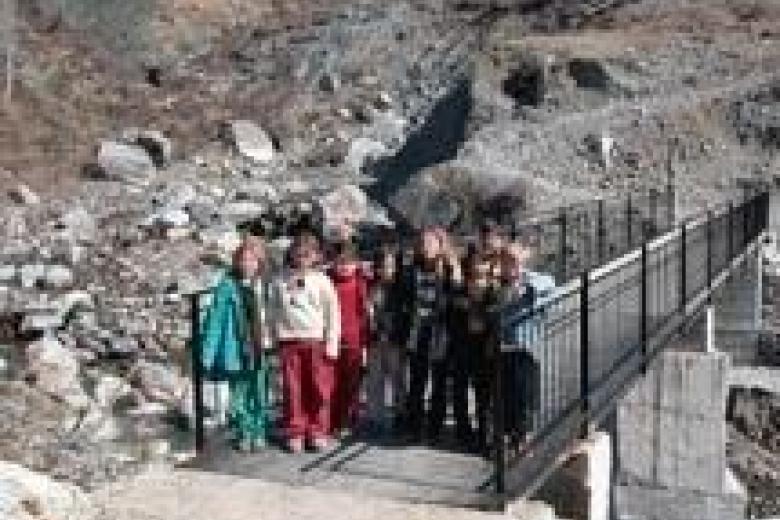 Children now have all year round access to school
Tuesday, March 25, 2003
A Chinese tractor made in 1945 was a vital piece of machinery that contributed to the success of a bridge building project in Albania.

Children had to jump across raging waters to reach school in Derstile, a small community in central Albania. The makeshift bridge collapsed years ago and was washed down the river but the community could not afford to rebuild it.

The river divides the north and south side of a farming community in the Albania mountains. The school is on one side and 37 families live on the other. Small children use to cross the makeshift bridge twice a day to reach the school. The smallest children who could not jump the gap had to scale the mountain side and walk to the next bridge which was over a kilometer away. In the winter rather than do that because of the snow and cold, the children would just miss school.

World Vision and the community prioritized the bridge as part of the 2003 projects. As the river is approximately 50 meters below where the school is situated the transportation of materials for the bridge was a huge obstacle to pass. The community members were so keen for the bridge to be built they all said they would contribute and clear a track so the trucks could bring the materials to the building site. The only tractor in the area is a 58 year old work horse.

The first day of work making the track the tractor broke one of the catapiller tracks. This was repaired with makeshift tools so the work could proceed before the rains and snows fell. The community members learnt new skills under the expert guidance of the World Vision engineer.

The bridge is now complete and the children can go to school even if the snow is covering the ground.