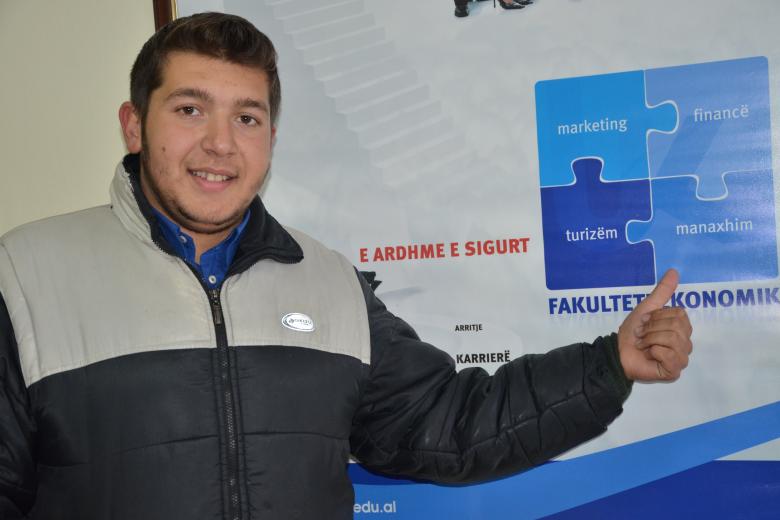 Empowering youth to follow their dreams
Thursday, May 5, 2016
"I thought about giving up, going back to where I was before and doing the same things I used to do," says Flori. "But, I never gave up. I found the strength in myself, my family, and all those who are around me and believed in me even when I lost faith in myself"- continuous Flori as he starts to tell about how his life took a turn…
Although Flori is just 20 years old, he speaks with a wisdom beyond his years. Unlike many his age, he prefers to listen rather than speak. Though his listening, he tries to learn as much as possible. It is easy to see how much he appreciates people by the way he interacts with others. When Flori does speak and when he speaks of his life, it is as if he is talking about someone else's life, the life of someone with more years under their skin. And seems like this fellow is in search of a model, an example. And perhaps, without even realizing it himself, he is already a model, so easy to inspire you, and not so much to follow ...
To live in the dark (literally speaking)
"We have been without electricity at home for eight months now. We are living in the darkness," he says. During the day we don't' feel it. But, when it starts to get dark and night is approaching, it seems like the morning light will never come," Flori says, and then bends his head down and hushes for several minutes. His family owns about 80,000 Albanian Lek (ALL) (roughly $654 USD) to the power company—an amount that represents 10 months of their family income.
Flori lives with his parents: his father Arben, 44; and his mother Dorjana, 39 as well as his three sisters and three brothers. Both his parents are unemployed. "We used to be very happy," he recalls. "But, when our parents lost their jobs (about three years ago), our sufferings began."
"The only income we have is the social aid, which is 8,000 ALL ($65 USD)," explains Flori, noting that almost all their income ($50 USD) goes to cover their 6,000 ALL rent. "It is not easy at all to live like this. When I see my brother going to the cupboard, but finding nothing to eat, my soul hurts and all my dreams start to vanish," Flori says, noting that he only went to school part time during the last two years of high school so that he could help his dad earn additional income.
"Although going to university was my biggest dream, I almost gave up on school because we needed money.
My dad and I were the only ones who could work so I found myself doing small jobs to [help] provide for my family. With dad, we have done many jobs, like cutting wood. We were never paid more than 1,000 ALL (about $8 USD) per day," Flori reveals.
Although he has been short on resources, Flori never lost faith or hope in a brighter future. When World Vision started youth clubs in his community, Flori was among the first to sign up.
To live the dream...
(Flori, in the library of his school. Photo: ©2015 Linda Karameta/World Vision)
"We [knew] that Flori was a born leader, he needed only encouragement," says Isiona, World Vision employee in the office of Korça, as she compares him to a seed planted on fertile soil who is now flourishing. He has been transformed from a silent adolescent to a powerful advocate, she adds.
"[When I joined the club], I believed for the first time that if we young people work for the things that are of interest to us, like: education of children, non-discrimination, how to be a better citizen, we could change things," Flori says. And, in fact, that was the case.
Today, Flori is the leader of one of World Vision's three youth group in Korça. There are about 25 people between the ages of 18 and 25 in his group. The groups, called SKYE clubs (Skills and Knowledge for Youth Economic Empowerment) were created to help young people to develop their skills and bring social and economic change to the areas where they live.
Their group has undertaken several different initiatives; such as teaching children and parents how damaging discrimination is, especially in the area where he lives, where racial discrimination against Roma and Egyptian communities continues. One example is that community members were reluctant to send their children to nearby schools because of the high number of students of Roma descent. Flori and his group visited schools and spoke with students and parents about the importance of inclusion.
While he was working for a better community, Flori was getting increasingly closer to his dream of a university education. What deterred him most was his fear of leaving his family without any financial support and not being able to handle the university.
Right at the moment when he thought his dream of education would be impossible, Flori met a World Vision staff member. "She believed in me from the very beginning, and she believed that I could make it. Moreover, she left me no other choice," he added laughing. "She told me to continue my studies and that is what I did"- he says. 
Today Flori studies in the first year of the Faculty of Economics, in his hometown, Korça. 
"This is a dream for me, my family, and every youngster of my community, the Egyptian one… I do not know what to say, it is the opportunity of my life!" he says. "When I finish school, I want to work with young people, who like, me have a hard life and I want to help them achieve their dreams, like I was helped," Flori says.
Now that he has already completed almost half of the first year, he confesses that there have been cases where he has considered quitting school to work. To date, however, he continues to pursue his dream. "Perhaps one day I will manage my own newspaper," he says, noting that journalism continues to be his favourite profession.
"2 words" by Flori …
It is not easy to tell your story, especially when it is not as you have dreamed it, when there are many days of life which would you like to delete from your memory ...
But I made it though it was not easy. I had a dream and I had faith...