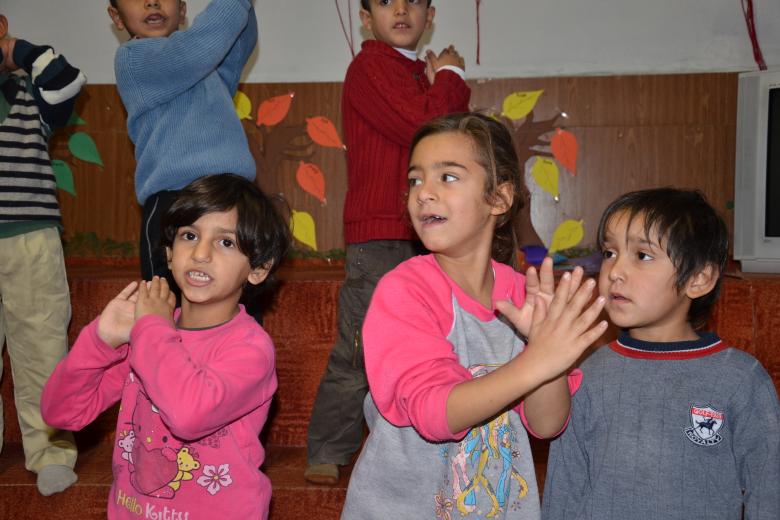 A gift for Christmas
Tuesday, December 23, 2014
Many people say, 'It is more blessed to give than to receive," because you make those whom you give something to very happy. As Christmas approaches, 20 youth of Elbasan Area Programme decide to brighten the day of 40 elders and more than 16 children, between the ages of 3 and 5, who attend every day the daily center of the "Aid for the Balkans" foundation, located in city of Elbasan. The centre exists to serve orphans, divorced or abused woman, widows and those who do not receive any financial support from the government. 
[Helping children draw beautifully, photo by Klevisa Breshani/World Vision]
To make their Christmas special, the youth group decided to split in three groups. One group helped children to draw and sing and play games. Another group spent time making conversations and listening to the elderly people. The third group served food during lunch time and helped clean up the yard.
The Daily Center was buzzing with the sound of children's voices singing Christmas carols as they prepared themselves for a big concert on Christmas day.  Fati, a 5-year-old boy, was one of the singers. "I am very happy today," he said.  "I love to draw and sing because it is beautiful."
The children were gathered in a warm room. They were all smiling just thinking of Christmas and presents. Sindi, 5, and Samuela, 6, enjoyed painting together with the help of the youth leaders. Alesia, 2, was having fun posing for the camera. For the elders it was a special day too. "We had lots of conversations with these kind boys and girls," said one woman"We gave them advice on how to be good at school and in life; we are older and have lived more. But, we thank them for being so nice to come here [and taking time] to talk and listen to us," added another.
[Youth spending time with the elders of the center, photo by Klevisa Breshani/World Vision]
It was the second time the youth had visited the centre. "We came back here because we want to make these people happy," said Enkela, 17, "Even if it is only for one day," she added. " We feel good when we do so because these people need love and care; some of them are totally lonely," she added.
The 20-member youth group was created by World Vision four years ago as part of the Wash for the Health programme. Over the past few years, the youth have organized many initiatives; cleaning the environment of trash, organizing activities in schools to raise awareness on the importance of personal hygiene, and teaching others the importance of living in a clean and healthy environment, among other things.
[Serving food and cleaning the yard. Photos by Klevisa Breshani/ World Vision]
"All they need is a bit of push and encouragement," said Ino Nikolla, World Vision's Youth Development Facilitator for Elbasan Area Programme. "This is why we are here," he added. "They are full of ideas, desires and energy. It's such a joy for me to be on their side," he adds.
Ends