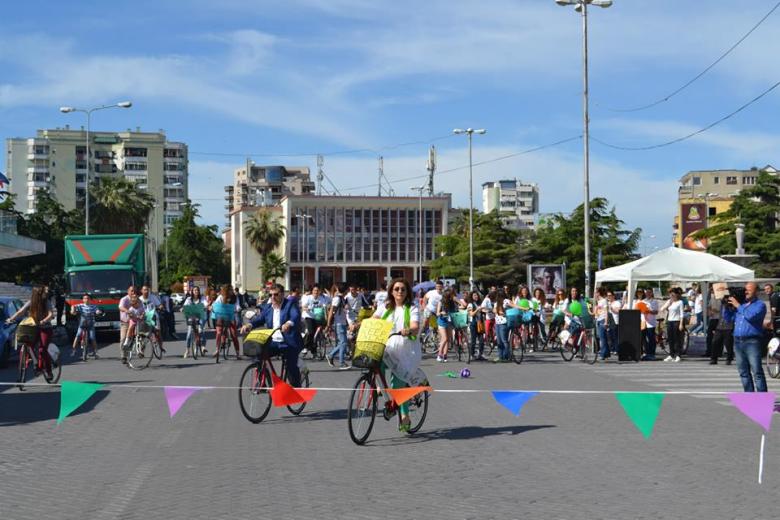 Let's bike to reduce the pollution!
Thursday, June 26, 2014
Realizing that their city is getting more polluted every day, The "Youth Vision" group of World Vision's Durrës Area Development Programme (ADP) together with a group of local actors decided to take action to raise the awareness of the residents that the air is getting polluted and everyone must act to reverse the situation.
Endri, 18; Denis, 18, Stela, 17, and 10 more of their friends and with the help of World Vision, organized an event in which together with 80 other youth and adults biked around the round city for one day. Their motto was: No pollution from car's fumes, fires, etc!  Let's act differently by using bikes not only for fun, but also as a primary means of transportation to reduce pollution.  Participants registered and shared the word through Facebook, on a page created and managed by the youth. 
Youth biked passionately around the city, grabbing the attention of many passersby who were surprised seeing so many youth crossing the city on their bikes. Their message was clear: not only do bikes not require fuel or money; they also help keep people health and protect the environment.
The trajektoria the youth biked:
The starting point:
The arrival point:
Looking back, the youth remember that in their childhood the city used to be cleaner and that bikes were a traditional, and primary, means of transport. People used to see each other while their biking and stop and say hello!," says Denis, a World Vision youth member.
While biking, Stela, another Youth Vision member said: "This day reminds me of when I was a child. In those days, people here used to bike more often. It was such a joy. The city was quieter and we, children, were healthier." 
The children's message was made stronger when the Mayor of the city, Mr. Vangjush Dako joined the youth on his bike. He highlighted the importance of using bikes and encouraged the youth in their effort to raise awareness and reduce pollution.   
"Using bikes brings a better and healthier life for all people," Says Endri, another World Vision youth. "I am feeling very happy and enthusiastic, he says, smiling.
"It was such a great joy to see so many youth riding their bikes for a common goal- to protect their environment of getting polluted," said Brixhida Xheka, World Vision's Durrës ADP manager.
During the past year, the Youth Vision group has organized a number of initiatives, including: collecting and selling recyclable plastic bottles to raise money to buy art supplies for 10 autistic children in Durres, giving them the chance to paint and enjoy their talent. And, soon, the group with be hosting an exhibition to show and sell some of their paintings in order to buy more materials for these children. In addition to these two initiatives, the group is also planning a training to help their peers learn how to protect themselves on line.
-Ends-