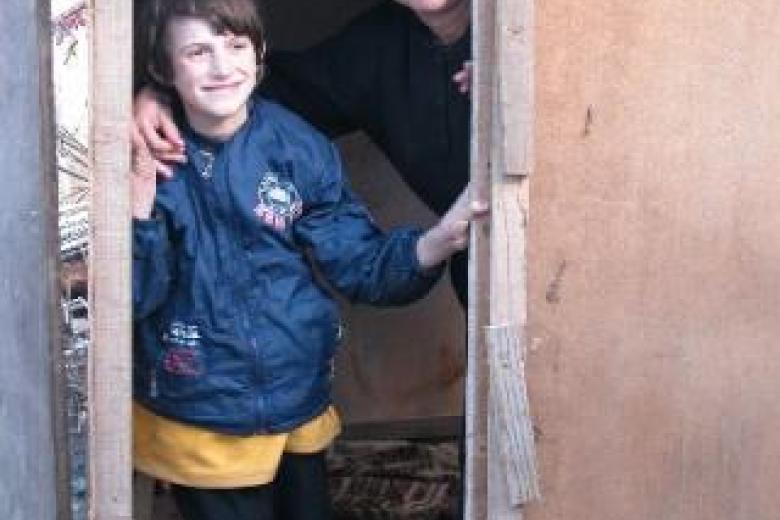 Now Nertila can walk: children with disabilities get first real chance at life
Wednesday, August 11, 2004
Nertila cannot walk or talk, yet she has good upper body strength and all the exuberance of a young girl. She sure knows how to throw stones at her two-year-old sister Suela and she effortlessly climbs the lower limbs of the trees in her back yard. Yet for all her energy, Nertila is dependent on her mother for everything. Lie clothes and feeds Nertila and takes her to the toilet. The shed is the only means Lie has to keep Nertila in a safe place while she sees to the family's needs.

Now when I take her to the field I will not be ashamed by pushing her along in a wheel barrow Lie fetches water for the family from the local river and she takes Nertila with her in a rickety wheelbarrow. She is embarrassed for herself and Nertila and tries to go when there are fewer people on the road, which means going in the dark of the morning or in the heat of the afternoon.

"I am so happy World Vision has given Nertila a wheel chair," says Lie. "Now when I take her to the field I will not be ashamed by pushing her along in a wheel barrow. Her 13-year-old brother Hektor can take her for a walk and this will give every one of us, including Nertila, some respite".

These lines were written two years ago, when World Vision staff first met Nertila and her mother. With the support of World Vision New Zealand, World Vision Albania began a project in October 2003 to support Nertila and her family and over 130 families just like hers.

If a family has a child with a disability, no one wants to marry into the family for fear that their 'healthy' blood will be infected The Cekani family is from Elbasan, a poor industrial area with pollution levels three times higher than the international threshold. Experts estimate that in the past 25 years, 3 million tons of toxic substances have been released into the Elbasan Valley. Whilst a direct link has yet to be proven between pollution levels and rates of miscarriages, physical and mental disability, the local population and media have long made the connection.

Very little is known about disability in Elbasan, or in the rest of Albania. Poor awareness, concern and a lack of expertise make children with disabilities a low development priority. Disability also carries a heavy social stigma, so children and adults with disabilities are generally shunned and isolated.

Parents worry that their 'healthy' children's chances in life will be limited if they are tainted by association with a family member who has a physical or mental disability.

World Vision's Disability Coordinator in Albania explains, "In villages, if a family has a child with a disability, no one wants to marry into the family for fear that their 'healthy' blood will be infected. Families try to deny their children's disability and explain it as a result of childhood illness".

The result is that children with disabilities are largely invisible; their needs and rights ignored. Higher poverty levels and a lack of social services in rural Albania exacerbate this ignorance and stigma.

Children with physical or learning disabilities in the ADPs have little or no access to medical care, education or social support. Schools are not equipped for children with special needs and teachers are not trained to meet the educational needs of these children. The quality of health care in rural Elbasan is poor. Most specialist physicians and physiotherapists operate privately out of the capital city Tirana and Elbasan parents do not have the means to provide good medical care for their children. As a result, many children have never received medical attention. Like Nertila, most have never been properly diagnosed.

Throughout Albania, international humanitarian organisations and some local associations have sought to fill the support gap, however their efforts have largely focused on urban areas. Three disability associations currently operate in Elbasan, providing limited medical and social support for people with disabilities. The resources and capacity of local associations to reach out to people with disabilities in rural areas are limited. Poor physical infrastructure, including bad roads, unequipped health clinics and schools and an inadequate transport service hamper efforts.

In 2000, World Vision established two Area Development Programmes (ADPs) in the rural communities of Elbasan to improve this much-needed infrastructure and provide income generation opportunities. High incidence of child disability also prompted World Vision to focus on children with special needs.

In a project funded by World Vision New Zealand, children with disabilities have received medical attention from qualified physicians. Their parents and caregivers have received vital information, advice and training on how best to care for their children.

Nertila's wheelchair was the first step in gaining a sense of independence, but the assistance did not stop there.

When World Vision staff visited Nertila at her family home in April, many things had changed. The wooden shed however was still standing in the yard, its door wide open. Lie admitted that from time to time she would put Nertila in the shed, to give her the opportunity to cook and clean for the family. Lie explained that Nertila would become nervous and aggressive every time she was placed in the shed, but the family had very little hope that her health would improve and did not know how to assist her.

I have never seen my child so happy. Thank you so much for doing this for Nertila. We had stopped hoping, but now our dream is coming true Despite the fact that Nertila was confined to a wheelchair for much of her day, World Vision's Disability Coordinator believed that Nertila could improve her mobility and activity, if she was given the time and opportunity.

Accompanied by World Vision staff, a visit to a disability centre was another life-changing step for Nertila and the Cekani family.

At the centre, World Vision disability specialists gave Nertila the opportunity to play with toys and enjoy games with other children. Nertila's mother had never seen her so happy and active. Her changed demeanor gave Lie real hope for her little girl.

World Vision replaced the wooden shed with play equipment. Nertila spends much of her day active in the garden. Her improved mobility means she is no longer confined to a wheelchair and this freedom has literally given Nertila a new lease on life.

"I have never seen my child so happy", Lie revealed. "Thank you. Thank you so much for doing this for Nertila. We had stopped hoping, but now our dream is coming true".

Many other parents in Elbasan have similar testimonies. Helpful aids for the home, physiotherapy exercises and combined social activities are giving children greater independence and the opportunity to interact and play with their siblings and other children in the community.

Awareness raising events, aimed at challenging the stigma of disability have targeted local communities and government. Schools and health centres built by World Vision have been equipped with wheelchair access ramps and special needs equipment. Families of children with disabilities have been given priority for income generation grants funded by World Vision's Gift Catalogue in the United States.

Slowly, Elbasan and its various communities are changing their attitude towards children with disabilities, yet there is still much to be done to promote sustainable, quality services for these children, some of whom remain isolated at home. The local government and associations need support to build their outreach capacity.

World Vision is encouraged by the changes and progress of children like Nertila. The memory of what was her \'cage\' however also spurs us on to support families, advocate for the rights of every boy and girl, reinforce their value and seek their very best.

Photo: John Schenk (World Vision)
Lie Cekani and her 11-year-old daughter Nertila stand in the doorway of what used to be Nertila's 'cage'.