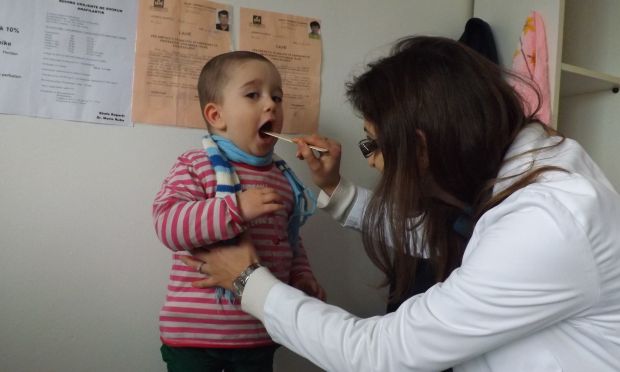 A health centre is supposed to save lives, not expose them to even more health risks, but since 2006 anyone attending the very old health centre in Zejmen commune was being exposed to a higher risk of infection just by being there. Now because of many years of cooperative advocacy with the people of Spiten village and World Vision, they have a modern centre that will provide the health services the people deserve.
Partnering with the Ministry of Health and the head of the Zejmen commune in Lezha Area Development Programme, Albania, on February 25 World Vision and partners unveiled a new health centre in Spiten village, Lezha. The period of living with unhealthy health services is ending.
Since 2006 the residents have been crying out for help, raising their voice to complain about the catastrophic conditions of the old existing health centre and the huge risk of becoming infected. But for five years, no one listened to their voices, but we [World Vision] did!
"The passers-by used to jeer at us saying to our group: "You are like insect in the eyes of the government, so tiny and invisible. You never will reach out to convince them to help you." and it is true, the government did not take us seriously till now," said Alfred Pepa, 22, one of the advocacy members.
However, after five years of determined advocacy, the World Vision Health Advocacy Team finally convinced the government and the Ministry of Health to do their job.
The land where the health services building is constructed was generously donated for free by one of the residents while the commune provided the funds to build it. World Vision helped equip the inside with tables and cabinets. As a result of this determined initiative, today the more than 1,700 residents of Spiten village are now receiving the health care they deserve. The health centre has all the equipment and trained staff (one doctor and three nurses) necessary to offer good quality health services.
The old centre was built six years ago, and was too small, with only 102 metres inside space, resulting in catastrophic conditions. "In the past, there have been many cases where we did not have the physical space for the patients to sit while giving them first aid," said Almir Keli, the doctor who worked at the old centre. "Thank God nothing bad has happened since then, but luck will not go our way in every emergency situation," he emphasized.
"My wife has been nursing at old centre for years and she always brought the medicines home, putting them in our own refrigerator to keep them fresh as there was no refrigerator or other medical furniture at the centre," said World Vision's Zef Pepa, one of the of the most active Health Advocacy Team member.
"My child was sick [during that] period, but I decided I could take care of her better at home than by taking her to the old centre where the risk of getting an infection was much higher," said Florina, 30, a mother from Spiten Village. "Conditions were very bad there. I have been waiting patiently for health services to get better and finally it has," she concluded with satisfaction.
"Now when I look back to where we started I feel very proud for what we did," says Alfred, as he reflected on the long journey, troubles and the great success. "We shared the idea to add some more space at the old one. But we felt right [away] as we proposed the idea as it was illegal. However, at least we reached out to plant some trees and flowers outside it, so the patients cold stay safe of the sun burn. I don't understand where we found all that power to keep on fighting and defeating the problem, while everybody [was] ignoring us. In their eyes we were sort of Don Quixote leading the impossible mission. But it was worth [it]! This situation reminds me [of] a very beautiful verse – 'Knock and it will be opened', he ended.
"I am grateful for all that has been achieved in Spiten community," says Orgert Vlashaj, World Vision Lezha's Area Manager. "It was a long journey, because it started five years ago, but now it is here. I am sure this achievement has paved the way to do even more wonderful things for these people and this community," he ended.
--The end --