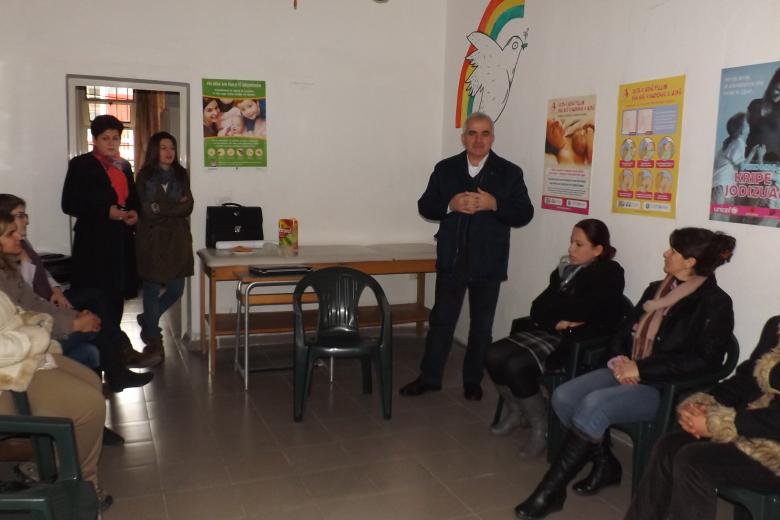 Protecting pregnant women in Albania
Tuesday, August 6, 2013
A story about how World Vision Albania is helping local health professionals support women from rural communities with the information they need to prepare themselves for safe motherhood. The story highlights what women learned through trainings and is complemented by the testimony of a 23-year-old woman who lost her first child five years ago due to an unknown pregnancy complication. 
In most of the poorest villages of Albania, especially in those distant from cities, poor health literacy, combined with old mentalities and minimal information about the importance of visiting health facilities and having health checkups, before, during and after pregnancy are keeping pregnant women from enjoying a safe and healthy motherhood.      
World Vision joined the call started by Peace Corps in area of Shkodra, in northeast Albania.  The call was to empower women and raise awareness about childbirth and safe motherhood. In order to do this, World Vision conducted trainings and created prenatal education classes, a new model implemented for the first time in Albania. Recently these classes have reached rural Albania, where the heart of the need resides. By noticing such needs World Vision extended these efforts in Lezha and most recently in Korça.
In these classes, pregnant mothers came and learned how to keep themselves healthy and prevent different problems during pregnancy as they prepare for childbirth. To make this happen, World Vision collaborated with health specialists and nurses of the areas who helped train mothers about the importance of antenatal check-ups and by teaching them practical information about the basic things a woman should bear in mind during this period.  All health staff was trained and supported by World Vision before the classes started.
Luçiana, 23, is a young mother from Lezha, an area were World Vision works in northwest Albania. She participated in World Vision's recent "Prenatal Education classes" Today she shows only a piece of the tragic picture other mothers in Albania face because she is now aware of the health issues.
She was only 18 when she first got pregnant. She did not know the importance of going for a health checkup just to be assured everything was fine with her health and the health of the baby. Because she didn't get a health check, there was no way for Luciana to know she had an infection in her womb. She learned the truth only when it was too late.  "I lost my baby girl five year ago," she remembers, clearly still affected by the tragedy of her past. "It never crossed my mind something was going wrong with my pregnancy and health. I never thought going at the doctor would be so important and maybe the only one solution to have my baby alive.
Oh, I do wish I have only one single chance to get back on time and fix the problem since when it stated to knit. If I knew what I know now, for sure I could be acting differently," Luciana said, emphasizing that reading is a great help for mother to better understand their health situation. "Rural Albanian mothers must read and pay attention to the information related to health topics because, we know very little and this increases the probability of any kind of risk. But, by learning new things we can be more protected against risk," Luciana ends.  
During these classes women learned, through video clips, how to exercises during pregnancy as well as other information from the specialist. "Women were very eager to learn and appreciated the new pregnancy information they received," said Alketa, World Vision's staff in Shkodra.In Korça, eastern Albania mothers and married young women, planning to have babies, joined World Vision's "Prenatal Education classes" and learned about: the importance of the preparatory health checkups; exercise to relieve stress; the theory of pain management; helpful exercises they can do before delivering; relaxation methods during pregnancy; how to take care of yourself and the baby before and during pregnancy as well as how to be protected from infections and diseases and importance of good nutrition. After listening to such information, which for the most of the participants was the first time they ever heard about it, mothers broke into groups and practiced what the nurses taught to them.

During the discussion, many mothers shared their personal experiences. "That was a lot we heard for the first time and what we learned here will help us to have a healthy pregnancy and better take care of ourselves and for our babies," shared a young mother from Korça.
"Prenatal Education Classes is an excellent opportunity to deliver crucial messages about pregnancy and postnatal care of babies," says Renato Toska, World Vision Albania's health manager. The first 1,000 days of life, which includes the 9 months of pregnancy, is an awesome window of opportunity to ensure a good start in life for young children. This is the first time we are introducing this model in Albania and it has received great interest from the Ministry of Health. We are striving for a greater engagement of men in these classes so they can become more supportive of their spouses in this crucial period of time," he ends.
This is only the start of this process. World Vision and partners are working towards replicating the same platform in all other areas of Albania where the organization works in order to address the needs and equip Albanian mothers with the skills and information to be protected and avoid different incidents, including the loss of life—their baby's or their own.