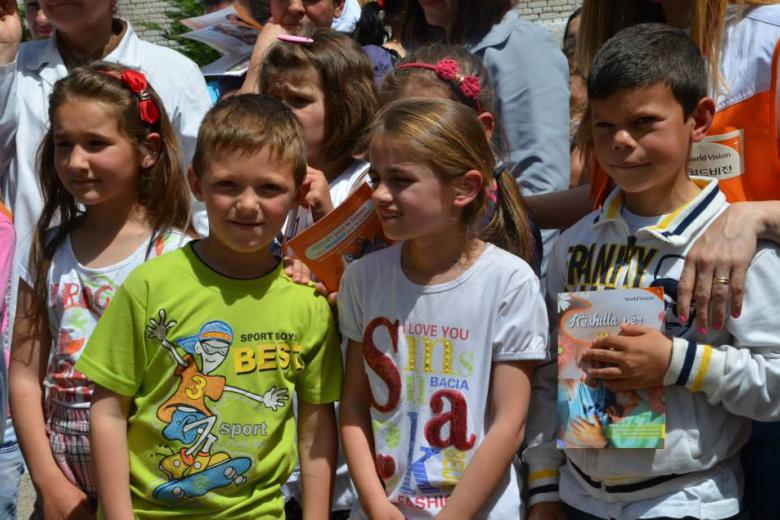 Protection starts in the family #Action2015
Thursday, May 21, 2015
From 4-11th May World Vision offices across the partnership came together in support of the Global Week of Action. With the significance of this year for development, World Vision is using the 2015 Global Week of Action to Stop at Nothing to get to zero, to reach more people, inspire more action in 2015 and build a fairer world for all children.
World Vision Albania and Kosovo approached to global campaign focusing on raising awareness on family values and family child protection, not only for one day but for one whole week, highlighting that "Protection starts in the Family, #zeroviolence #zeronegligence #zerochildlabour.
A large percentage of the domestic violence children in Albania experience, happens where they should feel more protected than in any other place, in their families. So from May 4 to 15 (the International Day of Families), World Vision brought together thousands of children, parents and teachers to celebrate the families who used this week to send a powerful message of hope, regarding the importance of the family, to the entire country.
Children and their parents came together in various activities where they talked about positive parenting; children's rights, their protection and how to build better relationships in the family. They also talked about: how fathers can be involved in the upbringing of children; how parents can enjoy their children more, and how to speak properly in the family, among other things.
With the support of World Vision they held various picnics, created handcrafts, cooked together and delivered food to needy families. Many other parents also planted trees, provided by World Vision, as a message of a healthy family and prosperity while children drew the image of the family of their dreams, shared their messages through photo expeditions and distributed posters with the message "protection starts in the family" to those passing by.
World Vision works with more than 33, 500 children in Albania. The majority of them live in villages and suburban neighbourhoods. A survey conducted among 392 children between the ages of 8 and 11, in May, 2014 in Dibra, Shkodra, Kurbin, Lezha, Durrës, Tirana, Elbasan, Korça, Librazhd and Vlora, revealed that 70 per cent  had experienced physical violence from the adults, mostly from their parents. "Protection of children begins in the family," says Migena Shulla, World Vision's Integrated Programs Director.  "That's why World Vision supports parents to achieve this," she added.
Here are some photos showing parents and their children while enjoying learning together during the week.
"Dear my beloved parents, It's Elisa, writing this letter to you. You are my love and the light o my life. Please protect me in every moment. On this day, I say to all parents: "Protect your children!," said Elisa, 6, from Dibra Area Development Programme in a letter she wrote to her parents as a call for protection and love during one of the Family Week activities.
"I will do my best to give my family all the love they need in order not to miss anything," promised Rezart, a father from Dibra area, while hearing other parents share their personal experiences and learning about the importance of the positive family and how to make it so from World Vision.
"My family is my life," wrote little Xhovana, in her colourful painting. She was one of the children participating in the event organized in Lezha area during the Family Week initiatives
"I will put this painting on the wall so it can always remind me of this day," said Oksana, a little child from Vlora area.