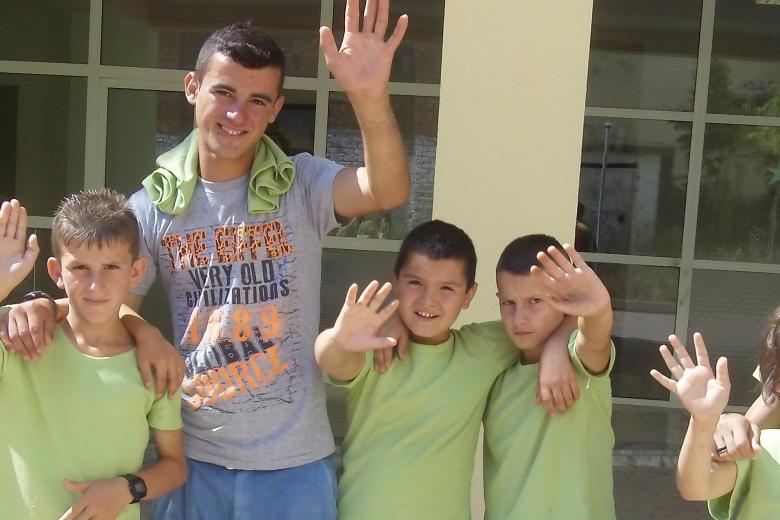 The story of my life …
Thursday, January 16, 2014
This is Moisi's story, a young boy from a poor community of Albania, who lacked: freedom, food, love, and friends as a child. But, when he grew up, he found much more than he could imagine. Through World Vision's intervention, he is now one of the most enthusiastic youth in the Dibra Area Development Programme and is helping his country through different volunteer initiatives.
Going back in time…
"My name is Moisi. I am 19 years old. I was born in a village of Dibra, [in] an area called Cetush. [It is] a small village with few families, most of them living with difficulties and struggling to survive and provide the necessities of life."
"At first sight [our village] is beautiful, but we have no jobs. Because of this, many people choose to escape. Many emigrated in order to provide the everyday bread and a better future for their children. I planned to do the same when I was 15, but the destiny wanted me to remain here and follow another path of life."
"I am the oldest son of [my] family. My mother, Shkurte, 58, got sick when I was 2, suffering from mental disorders and thyroids. I suffer of thyroids too and so do my other brothers: Hasan, 17; Rexhep, 15, and Olsi, 12. Only our only little sister, Megi, 7, and our father, Zylfi, 50, enjoy normal health."
"This disease has terrible effects, such as headache, fever, and irritations. By that time I learned to speak, my mom was often aggressive.She couldn't control herself from beating me."
"My father used to work that time as a watchman in the forest. He earned a small wage, about $90 USD.  I was alone [with my mother] with no protection. Our life got worse when we became more members in the family. [There was] not enough money, no food, no medicines, and no hope. We were just breathing.  I was forced to stay inside, all the time, taking care of my mother, my brothers, Megi and the only domestic pet we had, our lovely cow."
"The home we still live in was built 60 years ago. Three years ago, before we met World Vision, and they helped us restores the inside of it, the building looked more like a cave - wet and cold - than a real home. We had no bathroom, only one unconstructed room inside for seven members to live."
"Our hunger was bigger than the room we lived in. We all needed clothes, food, medicines, books and above all love."
"I remember, as a little child, I used to dream and dream so much that time to have a warm place to not get cold, with food and a table where I could do my homework.  Inside of me something was whispering: 'Keep on believing!  One day someone will listen to you and will help you!"
"The first time I could enjoy a piece of freedom was when I was 7, and started the first grade. The first day of school was a day to remember.  After school time, I went out and for the first time I meet friends and played a bit. What a special joy it was! For months, years, and days I had dreamed of that moment and imagined what it would be like to enjoy it for real. I wanted to sustain that day as much as I could, testing what freedom was like; smelling it, adoring it."
"Suddenly I felt a big desire to run. So I ran freely, imagining with the child fantasy that I had wings to fly and escape from everything bad. Nothing could stop me from running. Nothing!"
"Although poor and hopeless, I was courageous and very good in math.My dream was to become an economist or a lawyer; maybe because I wanted justice in my life."
"At that time, my mother's condition got worse. She started to abuse us again physically and my father was forced to quit [his job] and send herto the hospital. Our family's economic situation was very bad. I said to myself,'I am the biggest child of the family, so I must do something to stop this! We cannot go this way anymore!"
"It was not easy for me to make this decision. My heart was crying because I had to drop out of school. I knew that, with no education, I was lost.  I was feeling alone and miserable. I did not know who to ask for help, who to shout out and seek for salvation."
"At that time, Genta Belilaj, the Dibra ADP manager, appeared in my home. I was preparing myself to go to Italy to look for work. She discussed my education and importance of it with my father and in the end promised to help us."
"Her visit changed my life and my family's life once and forever.  World Vision supported me, financially, to continue high school and it is still supporting us with: medicines, health check-ups, clothes, books, and food.  I remember I jumped with happiness because my dream to finish my education was not done yet."
 "Similarly, I had been hoping for so long to have a better house and space to study. Then, this past year, this answer came. Thanks to World Vision Korea [staff and "Happy Friends" group] now my dream has come true.  I have a better home, a normal bathroom, and brand new furniture."
"And, World Vision in Dibra is still supporting me and my family with food, clothes, medications, health check-ups for me, my mom and my brothers, books, school supplies, etc."
Giving back
"Because I was inspired by what World Vision did for me and my family, I joined even the youth volunteer group. Now,I am participating in different activities with children, in the youth conference and I am giving my own time to contribute during summer camps."
"I feel free and happy. My desire now is that my parents, brothers and my sister could be as happy as me and have a brighter future."
 "Today, I am part of a big family. Thanks to World Vision and school my friends are so many I cannot count them. Life has given me more than I thought. Years ago I did not have even one friend.  Today I have very good ones. Life is long and full of obstacles, but if you really want something, all you have to do is believe…"
 --Ends--