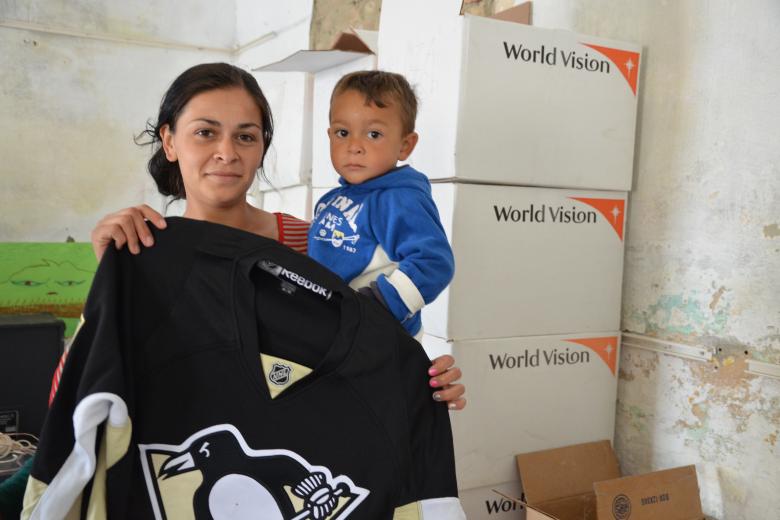 Sweaters and blankets warm the hearts and bodies of families in need in Albania
Thursday, April 17, 2014
There is a saying that: "Things given in love and kindness always have the effect of making those who receive them very happy."
In October 2013, World Vision's office in the United States donated more than 1,284 boxes filled with t-shirts and sweaters for children and adults as well as blankets for the people in need of Albania.
Families arrived at the distribution point hours before the event was set to begin. They were very curious to know what was in the boxes.
In Dibra, in northeast Albania, where the winter is harsh and it snows a lot and temperatures often reach well below freezing, World Vision delivered 1,231 boxes filled with blankets and clothes to the same number of families. Each family received clothing and blankets for all of their family members. The remainder of the donation was given to 53 Roma families, living in Tirana, Albanian, the capital city, whose needs were also great.
Sonila, 26; Xhuljeta, 23, and Anxhela, 17, were some of the Roma mothers who were longing for help as they prepared for the cold winter weather that is on its way. Together with 50 other Roma families, these women and their families were recently displaced from where they had set up their makeshift shelters; the land was not theirs so when the owner returned, they were forced to abandon their shelters, their possessions, their jobs, their routines and everything familiar.
Today, these families are sheltered by the government in a building called the "Transitional Emergency Centre".  All 53 families share one building and each family, which usually consists of at least six members, has only one small room.
"They were transferred here during September of the past year," explains Mrs. Liljana, the centre's director. "They needed clothes," she said. "The clothes and blankets they received from the donation really helped them a lot," she added.
[Anxhela and her baby boy, Gersi, covered on warmly with one of the donated baby blankets, photo by Klevisa Breshani/World Vision]
Anxhela delivered her first son, Gersi, only three months before she and her husband lost their home and were forced to move to the centre. "It was chilly and the room we live in is very humid," she explains. "The clothes I received, for my son, for me, [for] my husband and the blanket for the baby really helped," she says, showing the donated items.
Migena, another Roma mother looks at the clothes she received.  "Such good quality and so useful for me and my family," she explains, in gratitude.
In Dibra, both mothers and children were looking forward to receiving the donation. Just looking at their faces, it was easy to see their happiness. The children were smiling while trying to find out what World Vision had brought them. 
Erebara, 45, of Dibra said: "If I had received only the soaps, that would have been enough for me. I needed them so much to wash my clothes at home.  They smell so good too,"she added, while taking the gifts and going back home.
"You have made our children so happy with this donation," said Suzana, another mother from Dibra. "Thanks for bringing love and gifts for us," she added.
 ENDS