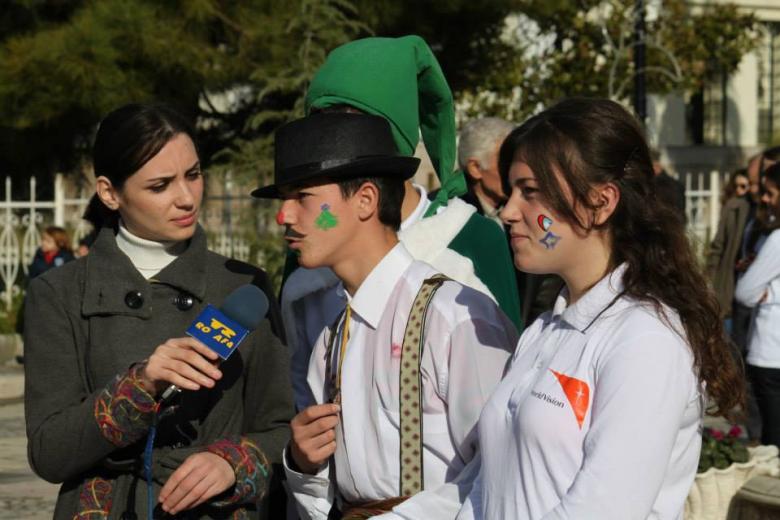 We are here for children!
Thursday, October 23, 2014
Angered by poverty which has stolen the lives of countless innocent children in their community, pushing them towork, beg, and suffer from hunger as they live alone on the streets with no one to love and care for them, 22 of World Vision's peer educators, between the ages of 14 and 17, decided to capture this hidden reality and bring it to life, using social media.
The peer educator group was started by World Vision just one year ago. Over the past year, the youth have learned about their rights, how to protect themselves and others as well as received training on becoming advocates for those less fortunate. Today, these 22 young people live their lives passionately trying to bring attention to issues regarding child protection and child exploitation, especially as they relate to their community.
In addition to their latest social media campaign,the youth also organized a donation event, called "Help for Children" and raised more than $100 (USD) which they used to buy small gifts for children living in one of Shkodra's three orphanages. Through their gifts, the youth were able to help more than 90 children in need.
"I believe that even a small group, like ours, can change the world somehow. In the history of humans, I have seen that many small groups have made big changes," says Alba, 16, one of the group members.
Here are some photos of what the youth captured and used in theirsocial media campaign to raise awareness:
 "The most beautiful things are made to be experienced in our hearts. There is no need for philosophy. The glory is in the simplicity," Muhamer, 16.
 "To help others is a virtue that not many have," Jetmir, 16.
"The world without children would be like the fish without water. Children are the ones who bring many beautiful surprises," Jetmir, 16.
 "We should all work until there is no more sadness on children's faces," Alba, 16.