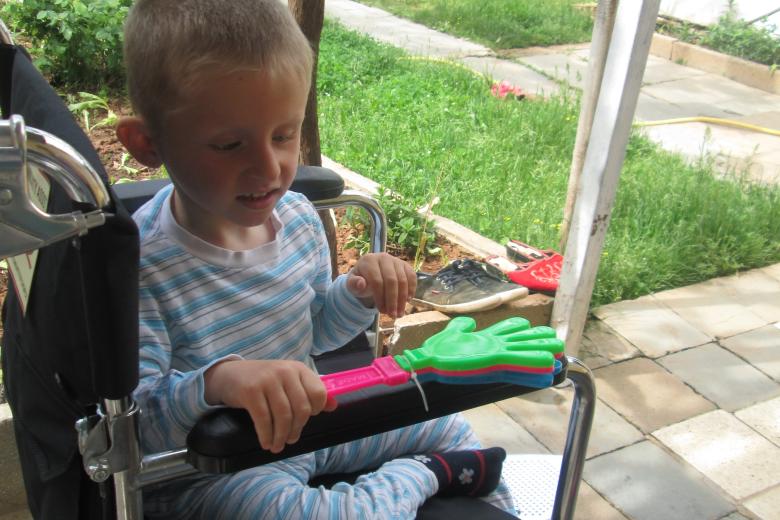 Wheelchairs change the lives of six people
Sunday, October 6, 2013
In collaboration with the local "Dolphin" association and the Albanian Community Assist (ACA) programme, World Vision's Dibra ADP distributed six wheelchairs to children and adults with disabilities, whose families were unable pay for them. Parents, the community and the young children themselves felt very happy about the opportunity that was given to them as they are now able to do many activities that were previously impossible.
Jetmir, 15, suffers from the effects of Polio. At first glance,you see a very smart but shy boy. His illness, however, has not only robbed him of his mobility, but also of his desire to be expressive to others, including his family. He seldom speaks. His eyes tell the story of someone who suffersgreatly.
"He used to be such a happy child before the illness advanced," remembers his mother, Mimoza, 42. "By the age of 10, my son started to feel weak, compared with his peers. He was unable to play and run just like them," she says, choking back her sadness.
Jetmir has two other siblings, both are younger than him. Unlike Jetmir, they enjoy full health.
Jetmir was like them. He was born a healthyl child—or at least that is what everyone thought. As time passed, however,his limbs started to weaken and wither. At first he was just slower than others; eventually his feet stopped working at all.
Bere, the World Vision's Dibra community mobilisation , remembers how Jetmir used to speak normally when he was in school and he also had a social life and friends—all things he lost with his mobility
As a child, Jetmir's father, Artan, would carry him to school and sit nearby while he learned. After third grade, his father was no longer able to take him to school nor was Jetmir able to sit in class. Both his hands and feet started to wither. And, with his strength, his happiness also vanished.
After he left school, Jetmir did not laugh or talk any more like before. Instead, he decided to love nature, watching the bountifulness of it and enjoying the serenity outside. His village, Deshat, is close to a small stream which makes the view Jetmir admires every day, more beautiful. But, being trapped inside made looking at the beauty outside even more painful.
"Sending him daily for a walk was the best thing we could do to cheer him up before getting the wheelchair," remembers Mimoza, sharing how they would carry him outside. "For us, it was impossible to do this all the time. My husband and I keep our hands at work all the time, taking care of all we possess in the house; starting from our children, home (domestic) pets, chopping wood in the mountain, cooking, washing the cloths, etc. Now, thanks to this beautiful gift, my son can go outside by himself, with no other's help. Now, he can see and enjoy the light of the sun, like everyone else does," she adds, happily.
In Albania, wheelchairs start at $100 USD. "They are expensive," says his mother. "But, apart from [the price], we did not know how or where to buy one."
Additionally, their village is only accessible by foot. "We carried the wheelchair on our shoulders while going to the Jetmir's home," says Bere. But, the great desire was ours to rejoice with Jetmir when he received the chair. "He was looking so much forward. [That] was the motive which kept us energized to complete our mission," she adds.
The day Jetmir received his wheelchair was a special day for him. "He could not say thanks that moment we gifted him the wheelchair, instead his way of looking at us with admiration was more than a great thanks," says Bere.
"You changed his life," says his grandma, Fidane, 78, who was also touched by the gesture. "We were looking for a wheelchair like this. My grandson used to prevent himself of lots of opportunity to go outside wherever he wanted to, but now he can," she added.
There are many people with special needs; however, their opportunities are scarce. It is our duty to help them to feel equal and be involved in the community," says Valentina, Dibra's World Vision health coordinator.
 --The end--