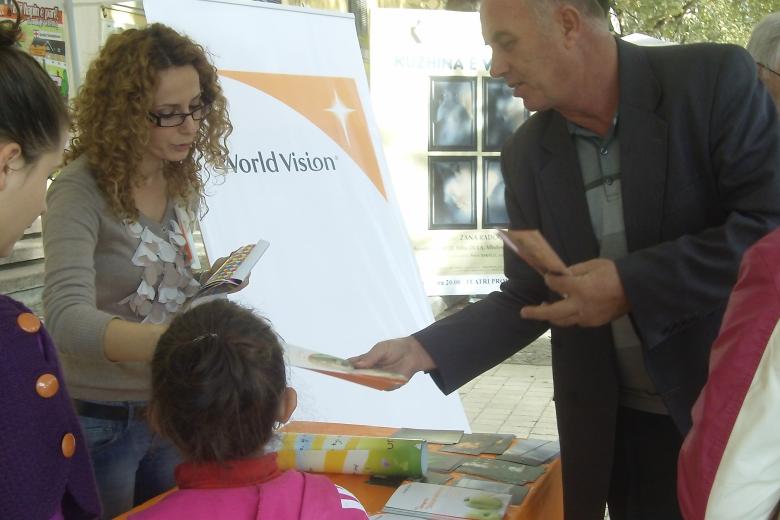 World Vision and other NGOs commit to promote children's rights
Monday, February 4, 2013
In Tirana, the capitol of Albania, children put on a theatre show titled, "A Journey with the Sun." In the show, four children from vulnerable area on the outside of Tirana become the main protagonists of their own story, the core of it which highlighted the importance of children's rights; how children should act when their rights are not being respected and where children can go to ask for help when their rights are being denied.
Through their drama, the children (some of them were children who are forced to work, others were children living in institutions) spread awareness regarding their rights and educated their audience—consisting of parents, teachers, organization members, government representatives and fellow children—on the matter.
After the show, children and all the participants joined the children's fair, prepared especially for November 20. The fair was intended to help participants walk down a path to understanding children's rights. Children and participating adults could visit different stations to learn about their rights. These stations were organized by different international and local NGOs which promote and protect children's rights in Albania. The path was organized as a game where children after learning about their rights, would get a fun sticker and move to the next station. At the final station, all children received a child-friendly version of the Convention of the Right of the Child.
"We have the right to enjoy our rights, but firstly every child must know well [and] in detail all that has been written in the Children's Convent," said Ermelinda Ferhati, 13, a child from Bathore, Tirana Area Development Programme. "Every child must hear about children's rights, especially children who live in far-away villages. For them it is more difficult for the information to reach them, so they must be eager to read a lot, in order to know each right they have and then enjoy them," she ended.
"This day is a special one for you [children], said Miranda Pashi, the Head of the National Agency for the Protection of Child Rights. "But at the same time, this [day] reminds us [of the] duties that we have to fulfil for you, [in order for you to be able] to be raised healthy and happy."
In the meantime, the director of World Vision, Reid Dekker, said, that on the 100 anniversary of Albanian's independence which coincides with 20th anniversary of the signing of the convention—Children should be in the centre of attention of health, education and social institutions.
"Children are the strongest advocates of their rights, we simply need to create the space, dedicate to listen and keep our promises to them," said Ridiona Stana, World Vision's Child Protection Manager."We are committed to walk alongside the governmental structures to prevent child abuse and to improve the protection mechanisms for children in Albania and Kosovo making them accessible to all children," she ended.
In Elbasan Area Development Programme, a group of children from the city's three communes: Paper, Gjergjan and Shirgjan, designed a beautiful flag with their rights stated on it.  They named it, "The flag of children's rights". This flag was shown to other children and parents too and after that children delivered it to the representative communes and displayed it together with Albanian and European flags.
Children hung pictures on the walls of their schools that transmit messages of children's rights. Also, they put big boxes around their schools, communes and health centres titled with signs that read, "Express your own idea," where adults, children and passer-byers voted for what they believe the children's rights are that mostly are respected in this area. Children delivered informational materials to the passer-byers and parents to raise awareness among them about Children's rights. 
At the same time, a group of students from the student government of three communes advocated, through writing, by creating a petition to push the government to give more [financial resources] for social services and for children.
"When I saw our flag put together with Albanian and European ones, it made me feel involved and important as a child," said Marsida Cekrezi, 13, Gjergjan commune, Elbasan.
"We [children] are the future," said Adelina, a 14-year-old from Lezha Area Development Programme. "But to be a bright, one we must rejoice all our rights and be raised healthy."
Serbian and Albanian children in Kosovo held a Peace Walk through the roads of Janjeva, Cabra, Koshtova and other communes in Kosovo with banners related to this day and talked to those watching,  sharing with them about Child Rights and delivering the Child Convent.
Meanwhile, children of Sallagrazhda, Mushtisht and Gelance communes held a quiz about Child Rights between to see who knew more, children or parents, at a local cultural centre in Suhareke commune.
"None children should be discriminated, despised or excluded because of the skin colour, gender, the language he/she speaks, or even [their] faith," said  Zgjim Gashi, 14, of Semetisht village, Kosovo.
In Vlora Area Development Programme, World Vision partnered with schools and health centres to organize activities related to children's health rights—one of the rights they have among many others.  Surrounded by many children, doctors shared about the importance of the healthy meals, while children asked questions about the matter. Children also joined a fair where they and passer-byers received materials related to children's rights, health and many others rights written in the convention.
The children of Dibra Area Development Programme held several activities in the local kindergartens titled, "[The] dolls speak" where they learned about their rights through dolls. The children also had a picture exhibition with their pictures where children expressed their talents and drew their rights. 
In Librazhd Area Development Programme, children led activities related to their rights. They helped teachers and groups of health and education professionals from Karkavec village and Qukës Commune. Know more about the rights of children, which were written down on paper and then shared among their peers.
I wish all children in Librazhd [are able to] live happy and receive more love," said Ira, 10, from Librazhd.
"I want children to be protected by every government institution," said Arselda,12, also from Librazhd.
"I have expressed my rights through my pictures, so people and visitors can look at them, learn about our rights and learn to respect them more," said E.R,12, of  Dibra.
"I am very happy [that] all people's attention is on us today," said K. M, a ten-year-old girl from Dibra. "But our rights are not only [ours] on November 20. Our rights should be respected every day," she concluded.