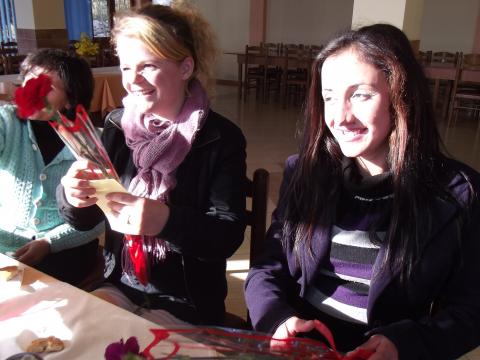 World Vision promotes the equality of women in Albania
Tuesday, April 9, 2013
Through the years, the unequal status of Albanian's women has been a constant presence. International Women's Day maybe the only day the society and families honor women. The other 364 days many Albanian women in poor villages have to live by an oppressive, devaluing and antiquated code in a very male dominated culture.
"Women in our area [especially those in the rural ones] are still bound by their husband's authority," says Alda Zenelaj, World Vision's gender coordinator in Vlora Area Development Programme. "Therefore, they are limited and denied [the chance] to decide themselves what to do and [where to] go.
"I remember when I was young and pregnant," says Vasilika Hoxhaj, 60, a resident in the Vlora Area Development Programme, and participant at Vlora's Gender training about the role, position and needs of women, in general, and also pregnant ones. "I have to do everything in my home, even to serve the others nonstop, [even] though my physical circumstances were not appropriate. I had to make very hard job with no complaining. It was a shame for women at that time to say, 'I can't! I am not able and strong [enough] to do this job!' Men [would] call these women useless," she remembers. "Nobody was able to understand that I was in need for their help [at] that time [and] not [able] to give help to the others. But this is kind of life is normal here even now and this is what makes me feel sad… It will take time for us to change this traditional attitude," she ended.

Little has changed in the last few decades. "This is the first time I am making a present to my wife," said Mr. Fation Spahiu from Pilafe village, in the Dibra ADP. "I never realized how wonderful I would feel by surprising my wife with a present," he said.
But there is a lot to be changed is the men's mentality and in their attitude against women. "Women in Albania are not well treated as they deserve," says Meri Hoxhaj, 21, a pregnant woman from Vlora. "They don't have a sustainable status and do not have their husband's respect, understanding and care as it should be."

In order to raise awareness, empower rural women, and teach men about the deserved rights of women, World Vision in Albania hosted many awareness activities during the month of March where both women and their husbands were invited to participate.

In Dibra Area development Programme, 80 women and their husbands, participated to discuss about women and their position in the family and the society. During the activity, women also shared their own rights, their situations and status in the family. Together, they sent a clear message to their husbands that, "we deserve the best! We need to be respected and cared [for]". At the end of the event, each man surprised his wife with a card where they wrote down a personal note of gratitude. This was the first time they did this, men themselves admitted.
"I am so happy our husbands joined us today and learned about the world of women," says Mrs. Donika Reci, from Tomin village. "I wish it would always be this way, so we can avoid lots of misunderstanding between women and man!"

In Korça Area Development Programme, World Vision organized three activities involving women talking about their rights and their status. Around 210 women participated in the activity organized by World Vision and two churches in the area. Both activities were led by World Vision staff and the youth ministry of the respective churches.

During the activity, World Vision and guests talked about Albanian women's status and their roles as wife and mother at the same time. Representatives from the church shared the way God sees women and World Vision staff pointed out the importance of men and women working together as a team to build a healthy family and relationship, highlighting the women as a key factor to influence the life skills of her children.

After discussions were had and the information received, women themselves emphasized the importance of having a closer relationship with their family members. "This is much more important than our daily basic needs," the women repeated together in one voice.

"The only way to a better communication for women and man is to share their problems and concerns. These are two things I learned today at the meeting," says Redinela Doçi, 48, of Vreshtas village, part of Korça ADP.
In Vlora Area Development Programme, World Vision hosted a special meeting only for pregnant women and their husbands. Throughout the developing world, women are the primary caregivers for their families. World Vision's Gender Coordination Staff, Esmeralda Zenelaj and women shared about the needs of a woman during pregnancy and how men should take care of their wives during this phase; how much time men should commit while their women are pregnant, and what is the right model for a happy and healthy family, among other things. These training sections will last until September of this year. "Additionally, World Vision will host more women from four villages of Vlora to be part of this initiative and benefit through it," says Zenelaj.

During the meeting, the women also shared their own life experiences, sharing how they are trite in their families; their challenges during pregnancy, and how they want to be treated. They also learned more about their status, among other things.

"Man and women should have a normal communication with each other," says Valbona Papa, 23, a mother from Vlora ADP. "They [men] should not raise their voices to us and treat us as their slaves."
These initiatives are not the end of what World Vision is doing to help communities in Albania overcome such problems. World Vision is also working through similar awareness activities and meetings in other ADPs throughout the country. The organization works tirelessly to help Albanian people living in poverty, including women, to have a better life and a better future.