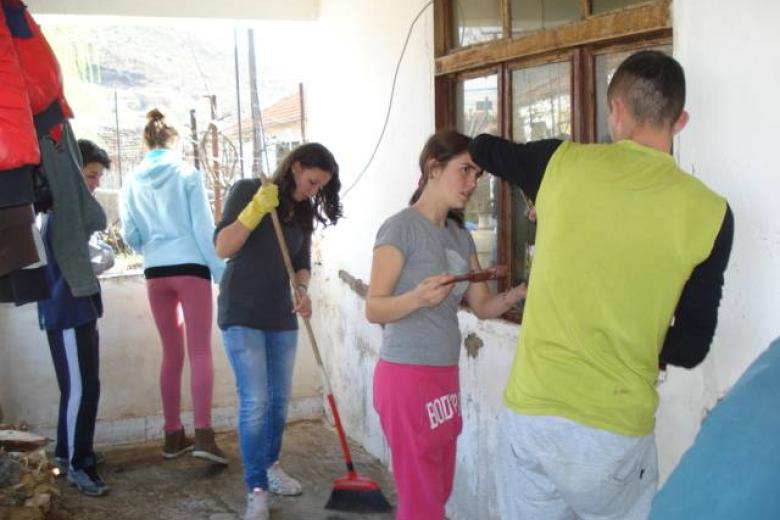 You smile too!
Friday, July 11, 2014
This story shows the heartfelt work of a Christian youth group comprised of  World Vision's young boys and girls from Libonik village, Korca ADP, Albania who put all their efforts and love to help a poor family in the village composed of an old woman, 80, and her 45-year-old son who lives with a mental disability. Their house was damaged by explosions in a nearby mine. The youth helped fix their home and stock it with furniture and food.
Aiming to give love and help to the people who lack it, with the motto 'you smile too smile,' 44 youth between the ages of 13 and 22 from World Vision's ART project, (Aware Raise voice Take action) came together to put smiles on the faces of two people in-need in their village.
Nazmie, 80, lives with her son, Vasil, 45, who suffers from a mental disability. Their home was recently damaged by the explosions from a nearby mine.  With no formal income and no one to help them, Nazmie and Vasil survive on just on just $70 (USD) a month, the small stipend that Nazmie receives from the government each month.
Klea, 16, one of the youth members tells more about the first time they meet with the family. "When we went to the grandmother's house and asked her 'what is your need' she replied- 'I want food and someone to clean up my home because I cannot,' Klea remembers.
"We were so touched [and were] nearly in tears, so we strengthen our hearts and decided to do our best to help them," she says.
After meeting the family and observing the conditions of the house: the walls were damaged and the house needed to be cleaned, the youth started the work right away.  The group was supported by World Vision with the materials they needed to clean the house and restore the walls.   
One of the youth, Arnold, who works with his father in restoring electricity was able to help restore service to Nazmie's house. The youth worked three days together; they plastered the inside walls, and painted them and the doors and they cleaned every corner of the house. While they were working, the youth also cooked for Nazmie and Vasil.
After cleaning and restoring the house, the youth brought lots of furnishings from their own homes: a bed for the grandmother, a mattress, and a big table where they could eat as well as lots of cloths they found in their homes. 
[The inside house- before and after youth's work]
"It was worth it when we saw the face of the grandmother," says Arnold, 18. "She started smiling for the first time in those three days… In the beginning she was sceptic, but when she saw what we did for her she thanked us with so much sincerely that we were all deeply touched," he says.
Nazmie was also moved when the youth gave her a big box of food and hygiene materials bought by World Vision. One of the youth parents, Vangjel, 47, was as touched about what his son, Ervin, and his friends did that he prepared some food from his shop and donated it also to Nazmie.
"Well done to this group for helping people in need in this area," he said. "This way they are becoming a good example even for our people to follow and help," he added.
"Our greatest reward was the blessings the grandmother gave us every day," said Anxhela, 17.  "She said: 'Thank you my children!' and hugged us in tears. 'Differently from other days, today I am going to drink my coffee in company,' she said" Remembers Anxhela.  "I am so very happy that [we] transformed her tears [of sadness] into tears of joy," she says.
Anxhela and her friends continue to visit the grandmother. Anxhela prepares food, almost every day, in her house and goes to give it to the grandmother.
[Giving love and food to the grandmother Nazmie, in the photo Anxhela, 17]
 -----------------------------
This is not the only family the youth have helped in the area. "[And], it won't be the last we help," says Arnold.  Over three years, since the ART group was formed, the youth have been volunteering in a number of activities in their community. They have done many activities for children, especially for those with disabilities and children in need.
The group has also raised funds by selling their crafts and saving their pocked money to buy food packages for children and families in need. They also have also led many activities to strengthen parents and teach children how to stay safe online and how parents can protect their children. The youth also advocated for the opening a Child Protection Unite (CPU) in their commune, which is now functioning normally. Now with the help of World Vision, the youth are raising the awareness of the residents to report the child risks cases in the CPU.
 -Ends-