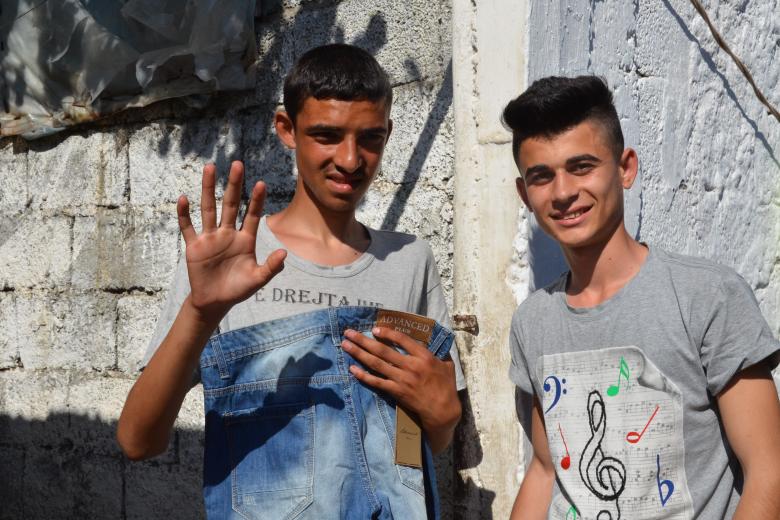 Youth raise funds to help six children living with disabilities
Friday, May 15, 2015
Twenty youth from World Vision's Tirana Area Development Programme (ADP) dedicated their time and energy to help six children and youth between the ages of 6 and 15 who are living with disabilities. The youth organized a charity concert where they invited more than 150 participants, including a well-known local band in the music industry to sing to help raise funds. 
[Vitmar Basha from the Copyleft, a local musical band, singing on the concert to help youth raise funds]
The youth performed dances, poetry and songs. They opened the concert with the message: "Alone we cannot do anything. But, united we can do many things".  To make their point even stronger, the youth added:  "They [the disabled children] are able to do anything, it's us who prevent them from doing so. With the $ 121.5 [USD] they raised through the sale of concert tickets, youth bought clothes and shoes for all six of the children in need. World Vision also helped their families with food packages.
"Thank you very much for coming here," said Skerdi, 14, one of the disabled children who was helped by this effort. "Love you all." Not only did Skerdi attend the concert, he also performed a dance and everyone applauded him, bringing joy to his face.
"I would have came to the concert even if the concert ticket would have been more expensive than $1 [USD] because these activities make them feel important," said Skendër, Skerdi's father who was with him at the concert and see Skerdi's dancing performance.  
"[Children with disabilities are often] distanced and closed in their worlds because they feel discriminated against and different," explains Altin, 17, one of the youth members who helped organize the concert. "So, we decided to do something for them as away to make them feel important,"
[Altin and Skerdi at the mall. Skerdi bought a pair of jeans with a part of money Altin and his friends gaind at the concert to help Skedi and five more members, photo by Klevisa Breshani/World Vision]
To identify the children and youth in need, the group visited the local health centre at Bregu i Lumit area, a Tirana suburb, and asked those responsible who the most needy children were. The staff from the health centre identified six children, including a 4-year-old girl with Down Syndrome.
After the concert, the youth bought jeans, t-shirts and dresses from the money raised and went directly to give the gifts to the six children and youth in need. Together with World Vision staff they delivered their gifts. World Vision also delivered a food package for each family each filled with: oil, chococreme, spaghetti, flour, rice, etc.
"May God protect you and love you," said Valbona, 33, the mother of 7- year—old Anila, a girl with autism who was helped by World Vision's youth. She received a lovely t-shirt and colourful child tights. Anila was asked by the youth beforehand about her idea present. She told them she wanted new clothes for the first day of the coming school year. Valbona was nearly in tears knowing what these "stranger" youth did for her daughter. "She is going to love them after she wakes up from her afternoon sleep," said Valbona picking up World Vision's food package.  
"I am so happy we did this," said Megi, 14, another World Vision youth member. "It was worth it, just to see how happy we made them today," she said.
[Valbona, Anilas' mother carrying the clothes and thanking the World Vision youth  for the cloths they bought for her daughter, photo by Klevisa Breshani/World Vision]
The youth are planning to act more in order to reach more needs on their area. "Our big goal is to collaborate with more youth from our area to engage them in our initiatives and help more children with disabilities in other areas of Tirana," said Altin, after they had finished delivering the presents.
Four of the children, including Skerdi and Anila, who were helped by the youth are registered children in World Vision's Sponsorship programme. They are regular participants in World Vision's activities. Both Skerdi and Anila are enrolled in school.