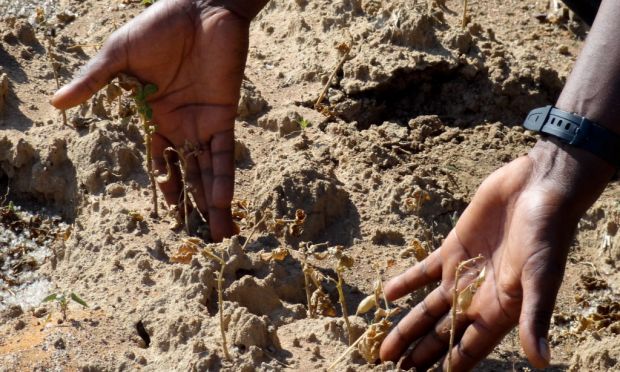 As I write this, the food emergency situation in Angola is deteriorating.
On May 14, 2012, we declared a Category II Emergency Response. In September, we declared a Category III Emergency, National Office response. Today, we want to scale up this response and call on the Partnership to urgently help our office in Angola to deal with thousands of people who are going hungry.
WV Angola has been monitoring and responding to the drought situation caused by low and poorly distributed rainfall. It is considered the worst drought suffered by Angola since 1978.
According to the UN in Angola, a total of 1.8 million people are affected by the drought in 7 provinces. The government estimates that 366,000 of the above figure are in extreme need of food aid. About 1 million (134,000 families) of the affected people are actually in areas where World Vision operates, in the provinces of Huambo, Kwanza Sul, Bié and Benguela.
The most painful part of this emergency is the high levels of malnutrition affecting children under the age of five.
In addition to the hardship of food shortage, some communities are walking long distances for water – an average of up to 4 hour round trip to carry 20 litres of water. Thousands of children are suffering from diarrhoea and malnutrition, in particular.
It is important to mention the good news of rains being experienced in some parts of the country. However, lack of seeds for planting will not change the lives of those who want to grow food.
Just to put things in perspective, our market access program recorded a 78% increase in the revenues of 22,000 smallholder families by December 2011. Right now, 50% of these families are reporting zero sales of produce. Families that produced potatoes through irrigation report a 38% reduction in revenues. Producers of beans have reported a 75% reduction in revenue.
A recent USAID assessment of the 2011/2012 agricultural season found a 60% shortfall of rain and an estimated 400,000 ton decrease in agricultural production compared to previous years. Thousands of children are facing various levels of malnutrition.
World Vision is responding to this situation in partnership with the Government of Angola, UN agencies and will lead a consortium of international and national NGOs in the areas where WV Angola is already working.
Our response will entail both short and long term interventions.
We appeal for help to mobilize resources to support this response.
May the Lord bless you!
Rudo Kwaramba, Regional Leader, Southern Africa