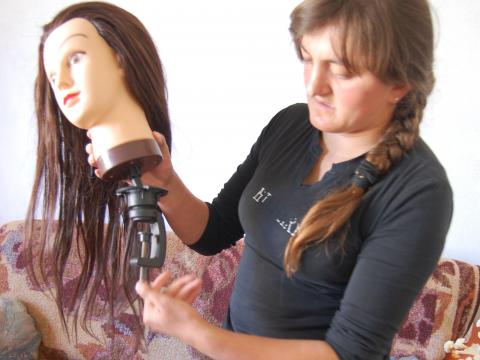 "The Only Dream I Ever Had Was to be a Normal Person"
Thursday, May 10, 2012
American Businessman Wally Amos is known for these words…"You may not be responsible for getting knocked down, but you're certainly responsible for getting back up." 21-year-old Alketa Bajo of Bathore, Albania, a poor area outside the capital of Tirana, is really good at "getting back up" after life has knocked her down.
Alketa is the second oldest of four sisters and one brother. Her family came to Tirana from the mountain community of Kukes years ago. Alketa's suffers from: pulmonary dystrophy (degeneration of lung tissues and muscles) which she contracted when she was just a little child. On top of that, Alketawas born with only one kidney and underwent kidney surgery.Both her legs are very thin. When she was 12, she broke one leg. It was in a cast for a long time. She hobbles when she walks; getting along without crutches but she tires quickly.
As a result of her physical and social struggles, Alketa didn't attend school. She didn't even go outside to play like other children. Life for Alketa was a life of isolation. She didn't have contact with any children her age. Her mother registered Alketa for first grade when she was six years old, but at school Alketa started crying and did not felt comfortable because she was not in good health and was not able to keep up with lessons in the class. Alketa dropped out of first grade after a few weeks. Later when she felt a bit better, she wanted to go back to school but her father would not let her because of his old mentality believing all Alketa needed was a husband not an education.  So for years she stayed hidden in her home, a prisoner of her disabilities as well as from the "culture of shame" that rural Albanian families often believe about children who are less than perfect, especially if they are females.
            "It was not easy for me to stay alone at home doing the housework while my friends where going to school," she said.  "I loved being involved with others and going to school to learn to read and write,"she said.
Fidaie, Alketa's mother, said "I wanted Alketato be like the others, to go to school, have a social live and be happy. But this was not possible, for two big reasons, her physical condition and my husband's poor mentality about women receiving an education," she said.
One year ago, the World Vision monitor of Bathore invited Alketa's mother to attend a meeting.  World Vision and partners organized the meeting to address issues concerning integration and treatment of children with different abilities. For Alketa, this meeting was the beginning of a change for the better inher life.
"The only dream I ever had was to be a normal person," said Alketa. "If I were normal, I would have my own friends, go to my school and have things many teens have.But I did not have a normal childhood. Now I want to open my own hairdressing shop. I want to do this so much I cannot describe how strongly I feel about it. But we are poor. I still have hope.  Who knows what tomorrow will bring," she said with resolve.
Recently, World Vision asked Fidaie if she would like Alketa to attend a hairdressing course. "That was how it started,"she said.
Alketa attended the hairdressing course and earned a diploma. During her training, Alketa blossomed in many ways.  She had never been given an opportunity to grow before. Alketa said the course and the encouragement of her teacher and other students enabled her to learn to write in capital letters, add and subtract, and to do accurate accounts with money. "This was the first time I have been around children of my own age.  It was the best time I've ever had in my life," she said with happiness in her eyes.
Her mother said "Alketa was different when she participated in World Vision's activity. She was happier; and perhaps for the first time ever Alketa was smiling. I have never seen her like this. World Vision helped take away my great anxiety about Alketa." Fidaie said she no longer feels uncomfortable because of her daughter's different abilities. "Before attending the course Alketa didn't talk much with people; now she gives her opinion freely. She actively takes part in conversations, even though she is still a bit shy. She is clearly more active and courageous."
Alketa's prowess as a hairdresser is rubbing off on her younger sister. Her sister is absorbing Alketa's technical hairdressing knowledge while she arranges her cousins' hair for family parties.
The pride on her mother's face is obvious to all. Alketa lights up the room.Now she feels like she is a "normal person."