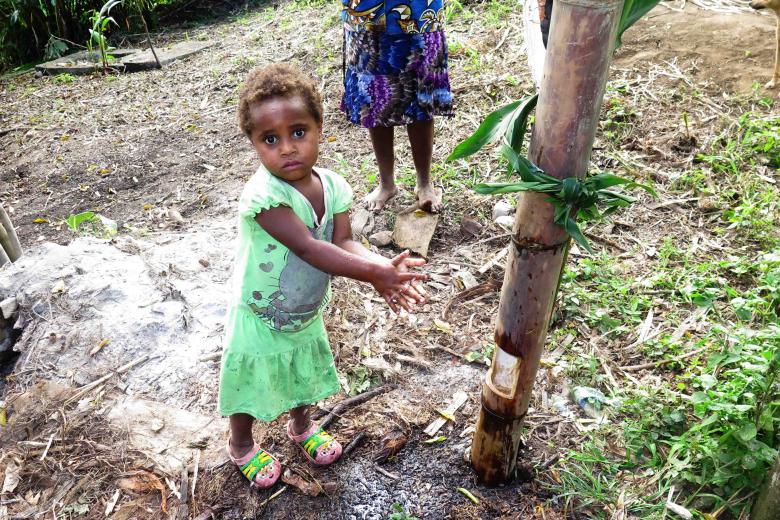 The bamboo tippy tip: a Vanuatu innovation
Wednesday, August 16, 2017
A community member from Yelkis village in southwest Tanna has created an innovative tippy tap using bamboo instead of the usual plastic bottles. Last week, World Vision held a celebration in Yelkis to acknowledge the inventor and celebrate with the community. 
In the past, people from Yelkis and other communities in southwest Tanna faced water shortages.  Provincial authorities asked World Vision to focus on southwest Tanna, which had the highest prevalence of malnutrition and illness.
From 2013 to 2016 World Vision implemented the Water, Sanitation and Hygiene project in southwest Tanna.  
The project was supported by the New Zealand Aid Programme and private donations from the New Zealand public. 
In addition to constructing water systems, World Vision worked with community members to build bush toilets for themselves.  
To promote good hygiene practices, World Vision introduced tippy taps, which are plastic bottles filled with water attached to a piece of string and placed near bush toilets.  Having tippy taps and soap near toilets makes it easier for community members to wash their hands after going to the toilet.  
Clean water, toilets and tippy taps have had a positive impact on the lives of people in the community.  World Vision staff observed that most community members placed tippy taps near their toilets, but some did not.  And in Yelkis community, this led to an innovation. 
Tom Yaken, father of two, didn't have any plastic bottles to make a tippy tap so he decided to try something new.
"I remembered my grandfather used to fetch water with bamboo when I was a little boy, so I decided to create a tippy tap using bamboo for my children to wash their hands", Mr Yaken said.
Mr Yaken removed the inside nodes from the bamboo and drilled a tiny hole at the bottom where water exits when the plug is pulled so children can wash their hands. 
Tom Yaken washes his hands using the bamboo tippy tap he invented. Photo: Terence Malapa/World Vision
The bamboo tippy tap is a simple device that stores more water than the small plastic bottles that are usually used for tippy taps. 
The chief of Yelkis community, Tom Nial, said in the past in his community children were not very healthy but thanks to World Vision things have improved a lot for children. 
"World Vision taught us how to plant and eat nutritious food, installed water supply systems, helped us build toilets, introduced tippy taps for good hygiene, and we invented this bamboo tippy tap.  You can see everyone washing their hands – it's becoming a routine, particularly with children, and it's something they will keep doing for the rest of their lives and pass on to their children," shared chief Nial.
Lenakel hospital nursing manager Louis Naling said Yelkis village has experienced significant changes compared to before when children were often sick and their parents had to spend money to transport them to the hospital.
"Today the children in this village are very healthy and I don't really see them at the hospital anymore. Seeing them washing their hands using the bamboo tippy tap is great. I must say this is a wonderful invention", said Mr Naling.
World Vision offices from Pacific countries have an internal innovation challenge each year.  The Vanuatu World Vision office has received an internal award for sharing this innovation with other communities.
Michael Wolfe, World Vision Vanuatu Country Director shared, "Last year I was in Torres and I saw bamboo tippy taps at a kindergarten because World Vision staff from Tanna had spoken with World Vision staff from Torres about the bamboo tippy taps. 
Michael Wolfe, World Vision Vanuatu Country Director, congratulates Tom Yaken on his invention. Photo: Terence Malapa/World Vision
World Vision staff have also introduced bamboo tippy taps in communities in Santo and Pentecost.  The bamboo tippy tap is a wonderful Vanuatu invention.  We are very proud of the people from Yelkis.  World Vision celebrates the ingenuity and resourcefulness of the community members we serve."  
It is World Vision's hope and prayer that ni-Vanuatu innovations such as the bamboo tippy tap will contribute to the sustained wellbeing of children and communities across Vanuatu.