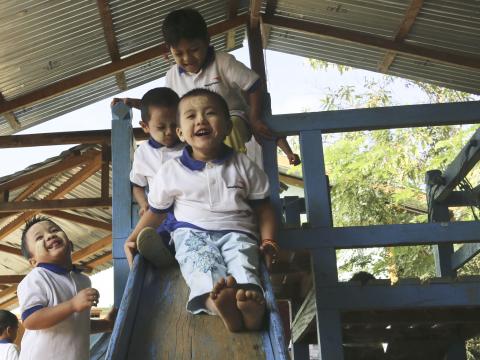 Blog: Shining hope
Friday, February 5, 2016
Thirty-five miles outside busy Yangon, there's a village called Gyo Gone in Hlegu Township. Next to the main road, and surrounded with a sturdy fence, a well-established early child care centre is there to nurture children ages 3 to 5 to grow physically, mentally, and emotionally.
As I enter the compound, I hear children's voices chanting poems with their teachers.  I heard their greeting in Myanmar 'Mingalarbar' while crossing their arms across their chests, and bowing their heads to show their respect to the visitors.
The children are very smart answering their teacher's questions as they sit in a circle.
Today the lesson is about plum trees and fruit. I saw two kinds of plum fruit sitting on the table – one small and reddish and another green. I follow them as they march outside to the compound to see the real plum tree with thorns and fruit.
The teacher shows them the tree, which grows at one corner of the compound.  Children touch the leaves, the green fruits that had not yet ripened, and the small thorns on the branch.
There is a coconut tree nearby, so the teacher gets coconut leaves and compares them with the plum leaves and shows the children the differences.
I watch as the children enthusiastically take part in the outdoor classroom.
I check the timetable hanging on the wall and see the different learning topics by month -mangos in June and lighting festival in October.  
Afterwards, the children return to the classroom to have playtime. I hear the children singing, playing traditional Myanmar musical instruments, and arguing over toys – though not to the point of fighting.
I saw some girls pull child-size longyi (traditional sarongs) from the cupboard and fit them on. I am pleased to see that longyis are introduced to small children as they will be ready for the traditional dress when they grow up.
The morning goes quickly.
Returning the playthings to their cabinets, children get ready for lunch. They queue to wash their hands before eating.
The full lunch boxes set out on the long tables and the smell of the curry makes me hungry!
The children take their seats in front of their lunch boxes and dig in. They don't need any help from their teachers. Soon it will be naptime.
I recalled my childhood.
I didn't have a chance to learn like these children and I'm thankful they have authentic experiences to help them get ready for primary school.
World Vision's work on Early Childhood Care and Development
World Vision Myanmar's Education program creates a learning foundation for children aged three to five through quality Early Childhood Care and Development (ECCD) services. In collaboration with the community, World Vision constructs ECCD centres which meet recognized minimum quality standards and trains caregivers to properly care and support children.