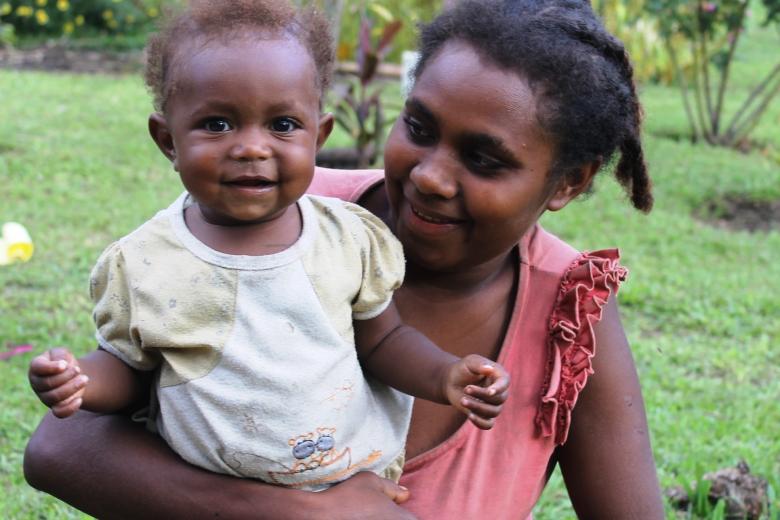 Blog: Turning Hope into Reality in Vanuatu….Three Months after Cyclone Pam
Saturday, June 13, 2015
You know when you remember something and some days it feels like it happened yesterday, other days it feels like it happened years ago and then some days you question whether it actually happened at all?
Welcome to life in Vanuatu three months after Cyclone Pam.
Sometimes I feel like Pam tore my island home apart yesterday. Sometimes I struggle to remember what life was like before, and other days I look around this amazingly resilient country and wonder if it happened at all?
Cyclone Pam devastated Vanuatu, leaving thousands of people homeless – in the country most vulnerable in the world to natural disasters - without access to food or water and at risk of disease like diarrhoea and skin infections. Cyclone Pam washed away villages, schools, roads and livelihoods.
And in just three months, this small island nation on the Ring of Fire - replanted gardens that were washed away - creating into crops of nutritious island vegetables. People rebuilt villages that were blown away, and made makeshift classrooms when schools were destroyed.
In the past three months I've heard stories of disbelief, relief, survival, and resilience – nearly always told with a smile.
Days after Cyclone Pam, mothers in evacuation centres told me how they survived the worst cyclone to hit Vanuatu, fleeing with their terrified children from fragile homes to sturdier community centres.
One week after Cyclone Pam, mothers told me of their worries – would their gardens regrow? Would Vanuatu recover? Would they have enough food for their children?
Now three months after Cyclone Pam, mothers tell me of their hopes. They hope their children will never have to experience a cyclone like that again. They hope that as tourists return to Vanuatu and markets re-open they will be able to earn money again. They hope Vanuatu will be stronger and more resilient when there is inevitably another disaster.
Organisations like World Vision have spent the past three months working alongside communities and partnering with the Government of Vanuatu and other aid agencies at every step of the way to help the hopes of mothers around the country become a reality.
In just three months World Vision has reached more than 30,000 people with access to basic items like tarpaulins, hygiene kits with items like soap and toothpaste, blankets, kitchen kits with items like pots and pans.
As immediate essential needs of people are met and turn into longer term needs, World Vision is working with communities to teach families about the importance of preparedness for disaster, how to preserve food and crops and rebuilding back homes and buildings stronger and safer.  
But this isn't just what World Vision did. It's what the people of Vanuatu did. And it's because of what people like you did, that made this possible. Perhaps you donated, prayed or shared our stories, videos or blog. Maybe your workplace donated. Or you work for one of the many governments who provided funding to help rebuild Vanuatu.  In three months Vanuatu has regrown and rebuilt, but it will take years to fully recover.  World Vision has been partnering with communities and the Government of Vanuatu for over 30 years.  Your support is helping World Vision turn the post Cyclone Pam hopes of mothers into a reality.