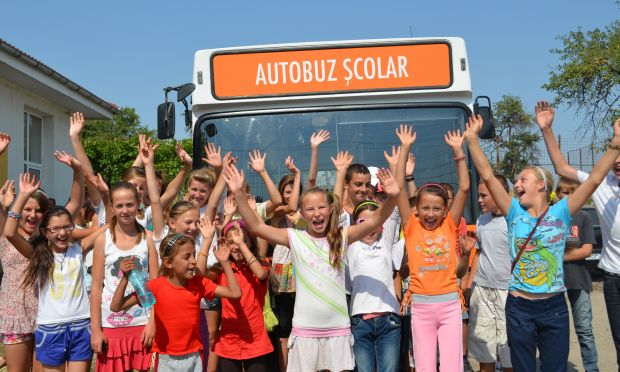 At the beginning of the new school year, 150 children from Rebricea commune, located in north-eastern Romania saw a dream come true before their very eyes. Their dream, in the form of a brand new school bus, was donated by World Vision Romania. The bus is the result of a successful fundraising and advocacy campaign called "How am I supposed to get to school?"
The key to the school bus was officially handed over to the school in at the beginning of September, coinciding with the start of classes, as part of a local event that brought together students, parents, local and county authorities. They all shared the joy and happiness of the children.
"For a very long time, this school bus was only a dream," said Bianca, 14, one of the students who used to walk up to 10 kilometres to get to school and back every day. "Now, it has become a reality and for this we are very grateful to all who have contributed. We are happy that we will no longer have to wake up at five or six in the morning every day and walk through cold, mud, snow or rain to get to school [on] time. We will no longer be exhausted at the end of the day and I am sure that our school results will also improve significantly," she says. "Thank you for choosing to support our cause and for giving us the hope for a better future."
"It's an incredible feeling to see the children actually [reaching] their dream[s]. And we are grateful to all those who helped us make it possible. It was truly an exciting adventure and a great team effort," recalls Adela Fundulela, marketing manager for World Vision Romania, noting the many groups who contributed, including Romanian celebrities, private schools and the children themselves.
"We even had a website where the students from Rebricea were able to speak directly about their problems and advocate for all children in the community," says Adela. "We chose to do this campaign both to solve this serious issue that the students in Rebricea were facing and to raise awareness about the educational challenges that children in rural areas deal with every day."
"Since I've heard about the campaign I became more hopeful," says Valerica, Bianca's father. "Now that I can see the bus, I can say that my hope has become a reality," he says. "Bianca is now in her final year here. Next year she will be going to high school, but we have another child who will be enjoying the bus," he says.
"Because Bianca is a girl, we were very worried at times," he admits. "But now, I am happy", he ended.
Vaslui County is one of the poorest counties in Romania and in all of Europe. According to data offered by the Vaslui County Education Inspectorate, in the first half of the 2010 – 2011 school year, 80% of students from grades five to eight who abandoned school came from rural areas and the main reason they gave for leaving school was their poverty and the excessive distances.
World Vision Romania started working in Vaslui County in 2009 and is currently present in 14 communes in this area, including Rebricea commune. Access to quality education and prevention of school abandonment is one of the main goals of World Vision Romania's community development programs in Vaslui County and this bus is just one of the actions being taken to ensure that children have hope for a brighter future.