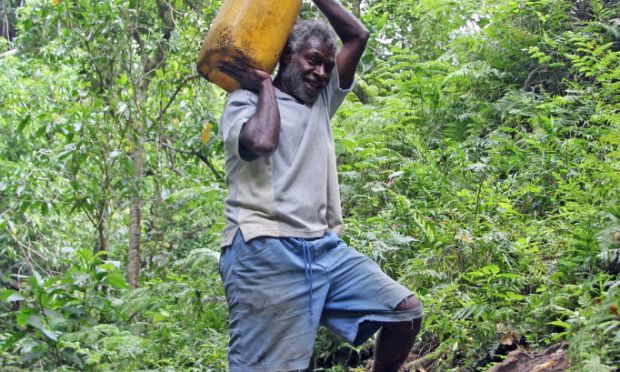 This wet season in Vanuatu has been one of the driest of record.
Small tufts of green grass try to poke through parched dry soil on the island of Tanna. This is symbolic of the recovery effort of Cyclone Pam being hampered by drought brought on by El Nino but also symbolic of the resilient and fighting spirit of the people of Vanuatu.
The people of Vanuatu began to replant their gardens almost immediately after Cyclone Pam, but for many families this harvest has been one of the poorest in years, as low rainfall ushered in by El Nino meant seedlings failed to thrive.
Chief Tom, from Lounapkiko village has lived through cyclones and droughts before. He says the people of his village are strong, but now they are nearly "broken".
"This is the toughest life has ever been, for everyone in this village. The El Nino season in 97/98 was stronger than it is now…… but we are struggling more now than we ever have before.
"Never before have we had two such disasters, a cyclone and El Nino so close together. Cyclone Pam destroyed the garden but this hot sun has destroyed the crops all over again."
World Vision is working with communities on Tanna to improve water systems to ensure people have safe access to water even at times of disaster, while working with families on Tanna to adapt local planting methods to help make crops more resilient to changing climate.
Cyclone Pam didn't just mean people had a lack of food, the majority of water systems and sanitation like toilets were destroyed on Tanna. Homes and gardens were also damaged or destroyed leaving people who are generally subsistence farmers without any food to eat, or means to earn money, whilst also without access to traditional building materials like coconut palms and nantagora leaves.
Although Cyclone Pam was one year ago for primary school kids like Chanel the memory of it is still fresh.
"When Cyclone Pam hit it destroyed one classroom, the toilets and tank…… The cyclone destroyed all the food. Only half the students came to school," he says as if it was only days ago that Cyclone Pam devastated the island that he lives on.
"World Vision helped rebuild our (school) toilet and they also gave us a water tank…they also gave us food at the school," said Chanel with a smile.
Since Cyclone Pam, World Vision has supported communities rebuild more than 300 toilets and helped 23 communities access clean water, helping to reduce the spread of illnesses like diarrhoea.
One year after Cyclone Pam and despite much progress, there is still much to be done. As one of the most vulnerable countries in the world to natural disasters and having experienced two in the past year alone, the people of Vanuatu have once again proved to be some of the most resilient.