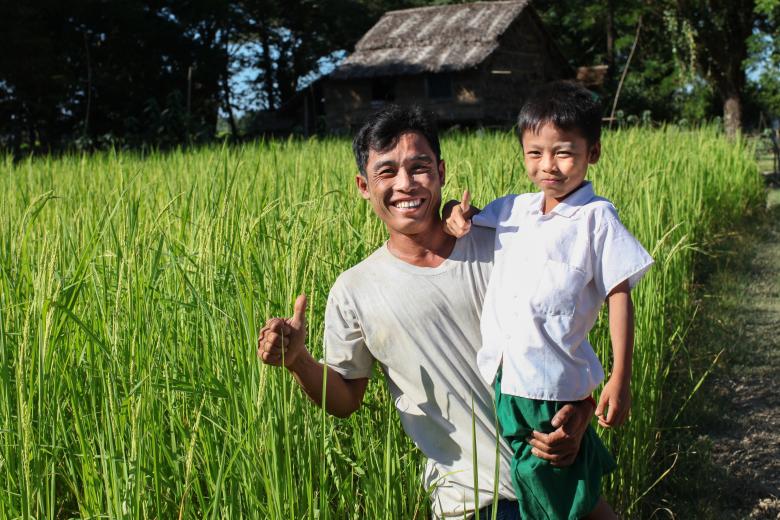 Farming dreams: Filling in the blanks for Soe's family
Tuesday, March 1, 2016
Eight-year-old Soe Thit Sar is one of the sponsored children who lives in a small village on the bank of Ngawon river, in the Delta Region. Soe lives with his parents and two other siblings. He has been a sponsored child since he was 4-year-old.
Soe enjoys being in the fourth grade. "I would like to be a doctor when I grow up" Soe says with a smile. "I love paintings and drawings and my favorite sport is football," he adds. 
The main business in Soe's village is growing paddy. Farmers grow paddy using traditional methods of cultivating lands with cows. Soe's father, Soe Naing Hla, a 36 years old, ordinary farmer grows paddy to feed his family too.
But life was not easy for their family.
When paddy-planting season comes, though the land is ready to cultivate, Soe's father was still visiting neighbours in the hope tha he could borrow cows to cultivate his land.
Thinking long term
To help the community plan for the future, World Vision provided a cultivating machine and a water pump to the village farmers group. Small groups of farmers, who have similar interests, were teamed together. For the long-term revolving fund, World Vision provided the initial funding, and then they selected a farmer who lacks financial resources and is more vulnerable than others.
Soe Naing Hla was selected and the changes for his family have been dramatic. He will pay back a portion of the machine to the revolving fund in installments, and will soon become the owner.
Their farm productivity has increased.
"If I didn't get this support from World Vision, I would still have to borrow cash from money lenders. But now I can live without burdens of high-interest loans."
"It used to take 2 days to cultivate the land using cows, but with this new machine, it takes only 2 hours per acre. I can prepare 4 acres in a day," says Soe Naing Hla.
"I used to borrow around 100,000 Ks (about USD $100) from money lenders with high interest rates, like 20%, as I didn't have enough money to start farming each year. In some years I had to plant twice due to the unexpected rain. I was in a total debt," he shares.
"If I didn't get this support from World Vision, I would still have to borrow cash from money lenders. But now I can live without burdens of high-interest loans," he explains.
Other farmers also come to borrow the cultivating machine. He rents the machine to other farmers at a very low rate, and with that income he continues to pay back his loan. When the full loan amount is repaid, the famers group, with the support of World Vision, plan to buy another machine for another farmer.
"I rent this machine for 3,000 kyats for one gallon running. With this rate, they use their own labour. If I have to provide my labour, I earn 5,000 kyats (US 5$) for one gallon operation. For water pump, I earn 500 ks. (US 0.5$) kyats per hour for running it,"
"With this machine, it has reduced my working hours and the labour charges and also other farmers get the same benefits from it," he adds.
"Previously, my income barely met the needs of my family. Now I can even save at least 80 baskets of rice for my family to consume for the whole year. I sell the extra paddy and can fully support my son's education and family," says Soe Naing Hla. "I used to visit to other farmers to borrow cows but not anymore."
Soe learning his school lessons after school at home. (Photo credit: Khaing Min Htoo/World Vision)
"I want my son to be an educated and a good person. I will try my best to support him. I want him to become a doctor as he dreams," he adds.
Soe can learn without worry now.
To help the families like Soe, World Vision has also established a village saving and loan groups in the village. With agreement from the groups, the needy family borrows money from the group with very low interest, around three per cent.