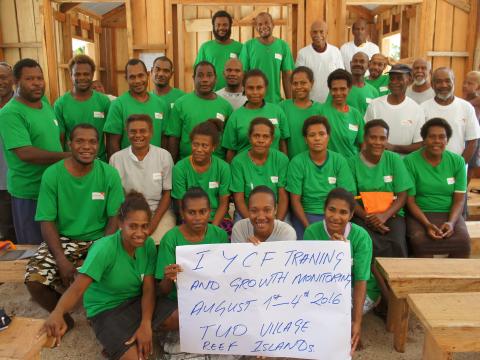 Hope for Temotu mothers and babies
Monday, August 29, 2016
Roselyn Tata, 40, is a Village Health Volunteer (VHV) from Matu village on Santa Cruz Island in Temotu Province.
Like 22 others on Santa Cruz Island and Reef Islands, Roselyn volunteered to support World Vision's Maternal Child Health and Nutrition (MCHN) project, as a VHV, earlier this year.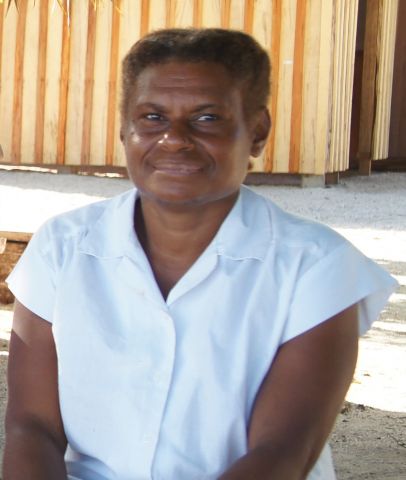 She missed out on the first training for VHV but was fortunate to attend the second training (Infant Young Children Feeding and Growth Monitoring) held at Tuo village in the Reef Islands early in August.
Roselyn, mother of five children and now a grandmother, is a form three leaver of Lusalemba Secondary School on Santa Cruz Island in 1991, got married a year after leaving school.

A deep desire to learn new things and a passion to help women (especially pregnant mothers) and children are the two things that made her interested in becoming a VHV.

Prior to training as a VHV, Roselyn was helping mothers in her village who give birth using home knowledge- but with little confidence. Roselyn says this is another reason why she wanted to be a VHV. 
"My interest is to gain more knowledge and skills. From the second VHV training I attended, I learn a lot of things," 
"Now, I know how to weigh a child, something only nurses do. I enjoy this role very much because I work like a nurse," Roselyn says.

Becoming a VHV has made Roselyn realise her "mistakes" with regard to how she raised her own children.

"I feel guilty. I didn't realise what I had done to my children until I become a volunteer," Roselyn says. She says she did not offer many things to her children.

Now, with what Roselyn has learnt, she is helping other women in her village, advising them on the right things to do to help their babies.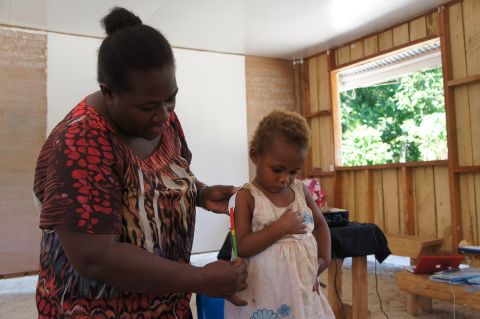 "Even how to lay a baby at the right position when breastfeeding them is important to the baby," Roselyn says.

Roselyn comes from a village where mothers seek medical attention from Lata hospital. It's a half hour travel by dugout canoe. Taking a boat is the best option but it's costly, as much as SBD $300. Moreover, at times it's impossible to cross the bay to Lata hospital when the weather is bad.
Often mothers resort to giving birth in the village because of the weather.
"When a mother gives birth in the village, the baby will not be weighed," Roselyn says.
With people like Roselyn volunteering and equipment provided by World Vision, women and babies from communities like Matu are now able to receive health advice and assistance on their doorstep.
The MCHN project in Temotu Province is jointly supported by UNICEF, World Vision Solomon Islands and World Vision New Zealand. World Vision is partnering with its key partners like the Ministry of Health and Medical Services to implement the project.