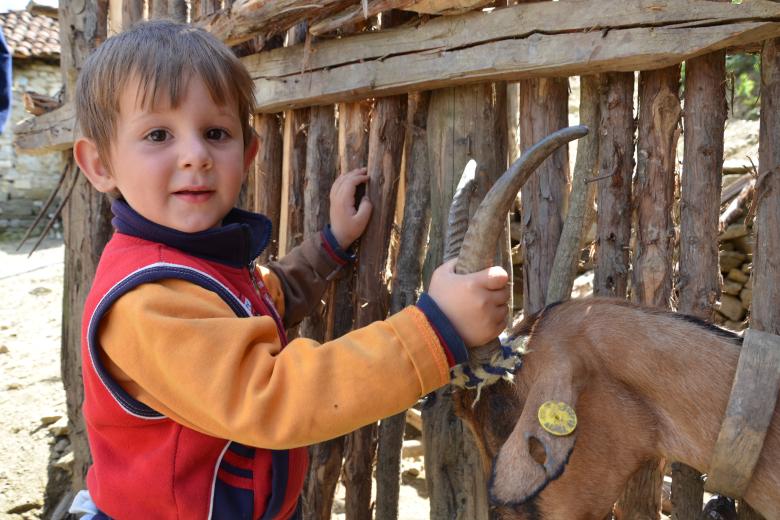 I can think about the future now
Tuesday, August 20, 2013
Lukan is a small village in Albania near Elbasan. Although the distance isn't great, one needs a lot of time and patience to make the trip because you can only get so close by car. Once you reach the village of Pobrat, visitors and residents must continue on foot.
As an outsider, the 30-minute walk which brings you to the village, nestled next to the river—a village that is peaceful, inviting, and enchanting. Those who live here, however, have a different perspective.
Zana, a resident of Lukan, is waiting for us. She remembers when she saw the village through outsider's eyes. "When I was engaged, I came at my husband's house for the first time. I took a lot of pictures, because I liked the view a lot," she remembers. Now that I live here with my husband and my children, I regret that I was married here."
Lukan, home to 15 families, not only lacks a road to access it, it also lacks necessary resources for children to live proper lives.
In January, 2012, World Vision delivered goats to 240 families in need in the Vlora and Elbasan areas. The mountainous terrain of these two areas is ideal for breeding goats. Selected families in Elbasan each received two goats so that poor families could at least have some milk for their children, especially since buying milk is often times out of their reach. "I have two children," says Zana."[And], even though I don't have enough money, I was forced to buy milk in the village, especially for my 3-year-old daughter, Aleksandra, who is very sick." Aleksandra suffers from epilepsy.
Having these goats has changed Zana's life, her family's way of thinking and helped them accomplish their dream to be able to start something on their own. "I am thinking to keep the baby goats and maybe, someday I can have a small flock," says Agroni, Zana's husband who has been unemployed for a long time. Every day he makes the trek to Pobrat to see if someone will pay him even a small amount of money to help them with what is often physically demanding jobs they cannot (or don't want to) do on their own. For their 9-year-old son, Fatmir, having these goats around is fun. "I like playing with baby goats, they are beautiful," he says.
In the village, we met other people(among the 15 families who benefited these goats) - especially women - who were very grateful for these animals which they consider to be their friends, because they spend so much of their time and energy taking care of them. Other people in the village were also inspired by the idea of raising goats. When they saw how useful and productive goats can be, those with the means to do so bought some for themselves.
Once the children no longer need milk, many families (Zana's included) are planning to sell the milk and other milk-based products to generate much needed income.
World Vision also provided medical services for these goats. Wherever there is a problem, a veterinarian goes and checks the goats to ensure they are healthy and give healthy milk. Finally, World Vision also provided families with training; teaching families how to care of their animals, especially in the winter and provided some fodder for the goats for the very cold months where grass and other edibles are no longer readily available.
Although not everyone received goats initially, the whole community will benefit from the project and eventually have their chance at goat raising as the animal's offspring are shared with their fellow neighbours in need.  "I am the first who will give the baby goat to another family in need," says Zana. "I want that other people feel the same as me when I received this gift," she added.
Zana is thankful for World Vision's presence in her community. "When I have a problem, the first thought that comes to my mind is to call Erlisa (World Vision staff in Elbasan ADP). My daughter is very sick. She has epilepsy and the last time that she was sick, I thought that she was going to die. I took her in my arms and started to run, but the highway is so far away, I was desperate. When my hope was gone, I came across a World Vision car. I was relieved. They took us and we all went to the hospital. They took care of my baby and provided her medicine. It is thanks to them that she is alive."
"I know now that this is my life, and I am used to it," says Zana. "But, I want a better future for my children… That's why I believe in World Vision, because its staff is really helping us to improve our lives."
 It's interesting to see how something small can change your life. We all know that are days when just a friendly smile makes us happy. Life is full of these tiny things that make us feel better. I believe that this happened with all these families in Elbasan and Vlora. Their goats are a constant reminder that someone cares.