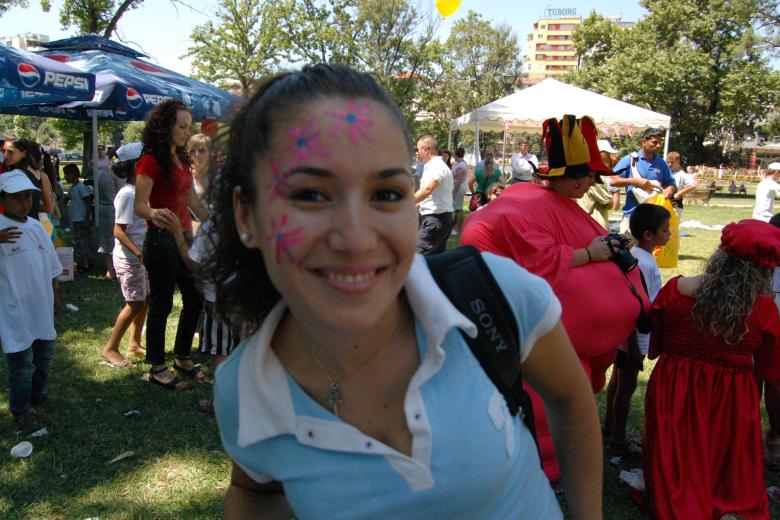 "I have walked in their shoes"
Thursday, March 8, 2012
Bardha Prendi Qokaj is the communications manager for World Vision in Albania & Kosovo. For five years, she has interviewed many of the Albanian children World Vision works with and reported on their stories. In almost all of them, she says she could see herself and her story reflected in their eyes. This is Bardha's story:
"As the world pauses on March 8 to remember how the lives of women have improved, I decided to pause to reflect on how God's love has transformed my life.
Just a few years ago, I was a poor child that I now write about.
I come from the poor rural village of Miredita in northern Albania. I know what the poor feel and think because I have felt it and thought it myself as I grew up. I have walked in their shoes. 
It has definitely been an uphill climb all the way; a climb I never could have made on my own.
I am the oldest of five children in my family. Like so many fathers then, my father did what he could with the few skills he had to keep food on the table and clothes on our backs. 
My mother and father built our first very small childhood home room by room at the bottom of a hill. It had no heating, electricity or water. It was 1989, the year everything started to change in Albania. While my mother and father built our home, I took care of my baby brother while other children my age went to kindergarten.
In 1990, I entered first grade. I was so excited to learn, but I was embarrassed to go with my old clothes and old school bag while many other children had newer school stuff. I was so eager to learn that I absorbed knowledge like the desert absorbs water. I took whatever free time I had during the day or mostly at night to do my studies. I did the best I could with what I was given.
In 1998, I completed eighth grade, which was the legal minimum requirement then, and my parents decided that I was done with school. 
Sadly, for almost all girls in our village, this would be the end of their school lives. I cried a lot when my parents told me, but resigned myself to accept my lot in life. 
I still remember that time wishing and asking God to change my father's mind but not speaking to him. Next fall as class began, the teachers realised that I was not in school. Several of them came to our home to talk with my father saying, "It is a shame Bardha is not in school, she is one of the best in school." 
Finally, one of the most respected teachers told him, "I will take full responsibility for her in school as if she was my own daughter, just send her." Two weeks later, my father came to me late one night to say, "You can go to high school tomorrow."
The very next day, a Friday, I was there. As I stood in line with my classmates, I couldn't believe I was still in school.
My excitement for being in high school gave me such momentum. I did really well for the next four years. During high school, I had dreams unlike most of the girls – I dreamed of going to the university to be a journalist or an actress. Most of the girls dreamed only of marriage and babies, they thought my dreams were stupid and unrealistic.
After four years of high school, I faced two big hurdles: money and the mentality for women of my age. 
My parents were poor and had no money for university education. They believed that I had more than enough education for life. They thought it was time I found a husband and settled into rural Albanian life. 
I could resist the mentality but not the money issue. I was out of school for one year after high school, until God did what I believe is a miracle.
My father wanted me to learn to be a dressmaker but I wanted to learn computers. I finally convinced him to let me take a computer course in nearby city of Lac. The first computer I ever saw was in that class. 
But that was not the best thing. When I went to Lac for the course, I also went to church there. In the church I met a pastor from the UK. One of my friends mentioned to him that I could not afford university but dreamed of going. The pastor said, "In that moment I felt God was leading me to support her."
One year later, I began studying Albanian language and literature in the University of Tirana. For three years I couldn't believe I was in the university and I asked my friends to pinch me because I thought I was living in a dream.
Time flew by and when I graduated, I could not believe that this little girl from Puka was a college graduate.
Soon thereafter in 2007, I started as an intern in the communications office in World Vision. I have been with World Vision for nearly five years. 
Every time I write a story about poor children from rural Albania, I hear echoes from my own life.
I truly have walked in their shoes.